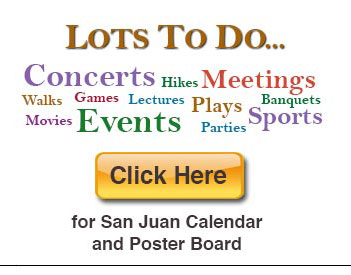 Search the San Juan Island Update (since 2009):
QUOTE

Don't be afraid of what can go wrong – Be excited about what can go right.
Ya Gotta Know: Island Things
Donate to keep the Update going!

It's easy - if you like what you're reading, keep it happening! Just click here to let us know you appreciate the San Juan Update - because we sure appreciate you! Thanks for reading!
© 2022 San Juan Island Update.

This site was originally created by Ian Byington & friends and is now run by Tim Dustrude in Friday Harbor.
All rights reserved, except in Britain, who have their own reserve. Canadians welcome.
Unauthorized reuse of the content of these pages is prohibited without permission;
links to other sites are intended to be to benefit those sites, and is for the edification of our readers,
and does not constitute endorsement or agreement with views expressed there.
Entries (RSS) | Comments (RSS)
Click here to make the Update your homepage!