All Aboard Sailing
SJI Chamber of Commerce Featured Member of the Month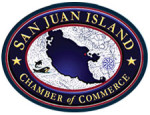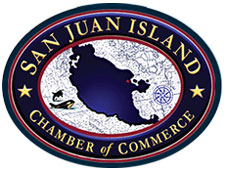 I originate from Lands End, Cornwall England, where on the granite cliff top there is a signpost pointing West that reads 'New York 3147 miles'. I joined the Sea Shepherd Conservation Society as an engineer and photographer, sailing from Cornwall to the far reaches of the US Aleutian Islands combating issues of whaling and indiscriminate fishing. Jumping ship, I moved on to studying and internet sharing the acoustics and underwater video of Orca whales at a place called Orcalab in Johnstone Strait, Canada.
I first came to Friday Harbor driving a school bus with the display of a one-mile-long patchwork banner. The banner made by kids from around the world called for the release from Sea World of the Northern Resident captive orca Corky. The County Fair was the last stop in our tour so I stayed here working with friend Ben White and the Natural Guard Tree Company. Settling into island life I trained with our local San Juan Fire and Rescue, with the EMS and Island Air Ambulance
House prices here were high so I bought a boat, a 1956 classic wooden sailboat recommended to me by Anacortes shipwright Andy Stewart. Learning the islands waters I took friends sailing and they had such an amazingly good time that it occurred to me to make this a business and help support the boat's maintenance. I'd also been working with the Whale Museum's Soundwatch Boater Education program, with the Lime Kiln Point Hydrophone System and then with Maya's Legacy Whale Watch as skipper. So the background was there for me to extend running my sailboat as a whale watch and islands tour boat. Pieces further came together when I met Barbara, who was excellent at whale identification and had previously worked with the Center for Whale Research.
We began in earnest last year as a team taking folks on day sails around the San Juan Islands and North into Canadian waters: sightseeing educational family adventures. It's been more successful than we imagined, giving people experiences and memories sailing with the winds and currents, witnessing the intricate web of marine life and marine mammal cultures with which we share these islands.
We've made the life we wanted, sharing our love of the ocean, our fascination with whale culture and contributing to motivate the steps needing to be taken to increase their chance of survival. It's very satisfying to have a job where our clients thank us saying "This is the best day of my life", "That was Epic!", "I'll remember this day forever".
Our web site includes a photo diary of our trips and we like to send our passengers a photographic record of their day. We look forward to more interaction and co-operation with the chamber's members as we go into our next season."
Capt. David Howitt 360 298-1918
Sailing Vessel PENIEL –
Spring Street Landing
685 Spring Street, #2020
Friday Harbor, WA 98250
https://www.facebook.com/all.aboard.sailing