Letter from Gay Graham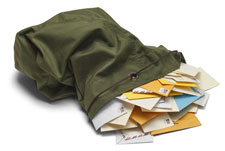 In the SJ Update mailbag this morning we find this letter from Gay Graham…
To the Editor:
My husband and I had a wonderful experience Wednesday, January 10th: we were a part of the SJIMA Art Excursions Program that took us to the Andrew Wyeth exhibit at the Seattle Art Museum.
Kudos are decidedly in order for the meticulous planning and educational presentation that RaVae Luckhart put in and shared to make this a memorable occasion. A special nod needs also to go to Linda Marsaudon who put the final touches on a very fine day.
Approximately 50 of us were whisked via Belair Shuttle to the Seattle Art Museum where we were met by two very knowledgeable docents who took us through the incredible exhibit of Wyeth's works, regaling us with facts and stories about this artist, his techniques and the people who were central in his life. There was time after our tour to explore SAM and all the stores and restaurants that surround the museum.
RaVae asked us all if we would like to see another such art excursion. To this, we give a resounding, "Yes!"
Gay Graham and Ron Hanson