Kaila on Color Commentary
Former "Wolverines Voice" Mike Martin shares this FHHS Sports update with you…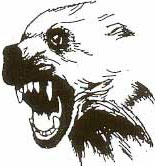 The Friday Harbor Wolverines take on the Oroville Hornets in Wenatchee Friday Night at 7:00 pm for a trip to the state tournament in Spokane. The game will be broadcast live on 1650 AM in Friday Harbor and on fhtinyradio.com. Oly Archibald and Kaila Olin will have the play-by-play. The Lemon Computers Pregame Show starts at 6:30PM.
*******
In the fall of 2016, after 4 years of being the Voice of the Wolverines, Friday Harbor Tiny Radio's Sports and Information Director, Mike Martin, decided to hang up his microphone. In doing so he scoured the internet for his replacement and found 40 year play-by-play veteran, Oly Archibald. "He's one of the best in the business and we were fortunate to get him," Mike said. "Clearly an upgrade from me."
For nearly four decades Oly has been announcing high school and college sports across the State of Washington. His first gig was in 1978 doing the sports news on Forks Radio 1490 KVAC at 13 years old…he has done it all and seen it all. Or so he thought.
Mike tried helping Oly with the the color commentary whenever possible but Oly needed someone at his side on a consistent basis. That's when the ol' friend-of-a-friend-of-a-friend came into play…
"A guy that I work with was dating a relative of this person that I went to school with and said that they had a friend, Kaila Olin, that was looking for a place to start her broadcasting career," Oly remembers. After connecting on Facebook they agreed to meet up at an Everett Silvertips hockey game for an interview. There she told him that In December she graduated from the University of Washington with a degree in communication and played high school basketball. Oly figured it was worth giving her a shot.
"Normally I trust Oly's instincts but when he told me that he wanted to bring on somebody with no broadcasting experience, that was fresh out of college, I'll admit that I was a bit skeptical," Mike says. "However, in our 5 years of doing FHHS sports on FHTR we've always looked for up and coming talent so I agreed to see what she could do."
FHHS student Tyla McKay was their first color commentator in their first season. Jordan Davis also did color commentary for a few games. Bill Revercomb and Sam Paul-Barrette took over the play-by-play duties for a couple of seasons while Mike slid into the color commentator role.
"Kaila told me that she was point guard for the Port Townsend Redskins," Oly says. "So I figured that she would quickly read the defenses and understand what adjustments need to be made. That's what a color commentator's main role is."
A week later Oly and Kaila were courtside at Mt. Vernon Christian High School as the Wolverines took on the Hurricanes. It didn't take very long for Mike to realize that he had a hit on his hands.
"Within minutes of Kaila going on the air my phone blew up," Mike said. "Friday Harbor fell in love with her immediately."
During the commercial breaks Oly says he would coach her up and she took to it like a fish to water. "I've had this passion that borders on an addiction for 38 years and, quite honestly, I've not seen a talent grow as quickly as Kaila has," he said.
Kaila's talents go well-beyond the hard court. At age 8 her father, Don, got into driving demolition derby cars. "I was a girly-girl up until that point," Kaila says. "But I didn't mind getting my fingers dirty at all. So I would help my dad fix the damage whenever possible."
After her mother passed away when she was 11-years old, Kaila and her younger sister, Kassie, would join her dad in the shop for hours. By the age of 14 she found herself behind the wheel of her dad's #58 car (now named Killer Kaila).
"I was going against 15 and 16 year olds and won my first derby." She even won the "Mad Dog" award for the hardest hitter. In fact, in four years at the Forks 4th of July Demolition Derby she's 4-0 against others nearly double her age.
"Her locks of gold are merely a deceptive facade," laughs Mike. "She's one tough cookie." Kaila doesn't mind blasting the opponents because she and her dad know how to fix the damage.
Her younger sibling says that Kaila was a Mad Dog on the basket court as well. "Her biggest asset was enthusiasm and effort," Kassie says. "She was always the hardest worker on and off the court." Kassie also says that one thing that her big sister wants to do with her degree in communications and her leadership from UW is to inspire the next flock of Port Townsend Red Hawks.
Kaila was also a High School Cheerleader All-American in 2013….one of 100 selected.
"I can see one reason why she's so successful at everything she touches is that she's a great listener. I think it takes a strong person to listen to a coach when they're at the age when they know everything," Mike said. "Sometimes I think that she's 'listening' to my 'suggestions' to be polite but then she immediately puts them into practice and I realize that she was just soaking it all in."
Some six weeks after her debut at Mt. Vernon Christian she will find herself courtside at 7:00 pm Friday night in Wenatchee as the FHHS Wolverine boys take on Oroville and look to punch their ticket to state. "Although she has only 5 games under her belt, to the listener she sounds like a grizzled broadcasting veteran," Oly says.
"I'm just glad that we got her while we can afford her. I get the feeling that she could probably change an engine block while doing backflips if she wanted to," Mike joked. "The sky really is the limit for her. She's going to accomplish anything that she wants to accomplish in life."