A Sailor's Woolie Mystery
Posted August 1, 2018 at 5:48 am by Tim Dustrude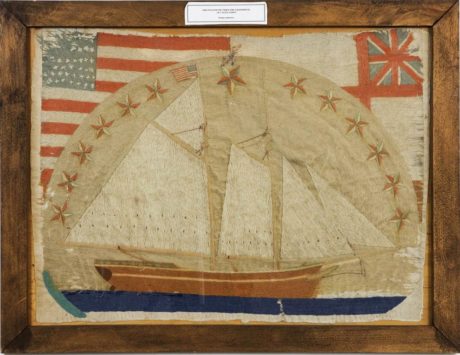 Here's the month­ly His­to­ry Col­umn for August from San Juan His­tor­i­cal Soci­ety and Museum…
Deter­min­ing prove­nance is a par­tic­u­lar ele­ment of his­tor­i­cal research. As view­ers of PBS Television's Antiques Road­show know, prove­nance is "a record of own­er­ship of a work of art or an antique, used as a guide to authen­tic­i­ty or quality."
The prove­nance of this item from the Museum's col­lec­tion is a lit­tle sketchy, but what is cer­tain is that it is a piece of folk art in a cat­e­go­ry known as "Sailors Wool­works." These are com­mon­ly called "woolies" or "string pic­tures." Sailors Wool­works are rel­a­tive­ly rare in the collector's mar­ket today. They were typ­i­cal­ly designed and stitched by Amer­i­can and British sailors dur­ing the years rough­ly between 1840 and 1915.
This par­tic­u­lar piece mea­sures 40.5 inch­es by 31 inch­es, includ­ing the wood frame. A com­mon scene on a "woolie" would include a sail­ing ship, often­times dis­played with a flag in the back­ground. This one fea­tures a gaff-head­ed schooner and two flags — one Amer­i­can and one British. One can assume this is a ref­er­ence to the Pig War era of our region's his­to­ry. An attached label stat­ed that it was found under the light­house at Cat­tle Point on San Juan Island.
Although unproven, it does add inter­est to the sto­ry. Since the design includes 13 stars around the ship, the sug­ges­tion is that they rep­re­sent the orig­i­nal 13 colonies and that the piece was cre­at­ed by an Amer­i­can sailor. It's unfor­tu­nate the embroi­dery is frayed in the upper left cor­ner. If we could count how many stars were stitched on the Amer­i­can flag, we might have more spe­cif­ic clues as to its age.
Those read­ing this who are mem­bers of the San Juan His­tor­i­cal Soci­ety and Muse­um may recall see­ing this pho­to­graph of the "woolie" before, as it was fea­tured in a recent edi­tion of our newslet­ter. Many inter­est­ing arti­cles about local his­to­ry, as well as the lat­est news from the Muse­um, are found in every issue of the newslet­ter sent to mem­bers. Learn about this and oth­er ben­e­fits of mem­ber­ship on our web­site at www.sjmuseum.org. Join­ing a local his­tor­i­cal soci­ety is a great way to sup­port his­toric preser­va­tion at a com­mu­ni­ty level.
You can support the San Juan Update by doing business with our loyal advertisers, and by making a one-time contribution or a recurring donation.