Dan Levin Originals Closed
Posted October 24, 2018 at 5:54 am by Tim Dustrude
Tama­ra Weaver shares this with you…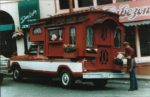 "Thank you! Thank you! Thank you!" Dan Levin Orig­i­nals has closed it's doors, and after 34 years in busi­ness, Dan and Diane Levin are danc­ing off into the sunset.
Dan and Diane's orig­i­nal hand-craft­ed gold pen­dants — the Islands heart… the orca tail with sparkle of dia­mond… those pen­dants which catch me star­ing when worn by for­tu­nate friends, are now col­lec­tables. We've missed our chance. Because, on August 14 this year, on Dan's 80th birth­day, he knew it was time to close the doors to their cute lit­tle shop on 50 First Street and trav­el!
By the way, Dan's secret to look­ing so great at 80 is walk­ing 2–4 miles, every day, and being mar­ried to his won­der­ful wife, Diane. They were mar­ried in this van 50 years ago! When asked which of his pen­dants best rep­re­sents their work, with­out hes­i­ta­tion, Dan chose the dol­phin and anchor pen­dant, because it reminds him of their love and life­long partnership.
Hap­py retire­ment, Dan and Diane!
You can support the San Juan Update by doing business with our loyal advertisers, and by making a one-time contribution or a recurring donation.