OPALCO News
Posted December 19, 2018 at 5:45 am by Tim Dustrude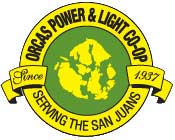 Bills are Going up in Jan­u­ary — 2019 bud­get includes a 5.2% rev­enue increase
Pend­ing board approval at the Decem­ber 20th board meet­ing, OPALCO mem­bers will see a rate increase when they open their bills in Jan­u­ary. The bills will be on aver­age, $9.50 higher.
OPALCO is rais­ing rates as a nec­es­sary part of pro­vid­ing pow­er to our 20-island arch­i­pel­ago. This increase is dri­ven by the loan expense (cap­i­tal­iza­tion) for the sub­ma­rine cable replace­ment (George), infla­tion and pow­er cost increas­es. The bud­get also includes two new Appren­tice Linework­er posi­tions to pre­pare for retire­ments on the horizon.
The 2019 bud­get includes a 5.2% rev­enue increase, which will be applied equal­ly between the ser­vice access (facil­i­ties) charge and the ener­gy (kWh) usage por­tion of mem­ber bills for a total of around $9.50 more per month (based on the aver­age res­i­den­tial month­ly house­hold usage). Learn more about what costs are includ­ed in the ser­vice access charge and how trade-offs are bal­anced at www.opalco.com/rates.
If pay­ing your pow­er bill is a finan­cial strain, OPALCO offers a month­ly cred­it through the Ener­gy Assist pro­gram.
P.S. CAPITAL CREDIT checks go out in Decem­ber. If you were an OPALCO mem­ber in 1993 or 1994, watch your mail­box for your co-op div­i­dend! Learn more.
You can support the San Juan Update by doing business with our loyal advertisers, and by making a one-time contribution or a recurring donation.