Hospital District Meeting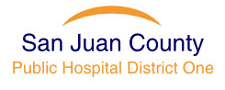 San Juan County Public Hospital Board No. 1 will be holding its February Regular Board Meeting next Wednesday the 27th at 2:00 p.m., at Frank Wilson Memorial EMS Building (1079 Spring Street).
Note that the meeting times for all Regular Board Meetings will be held at 2:00 p.m. until April, or at 1:00 p.m. in the event of a work session. This is to accommodate an ongoing EMT training class held on Wednesdays but ending in April.