Chamber Featured Member of the Month
San Juan Island Chamber of Commerce Featured Member of the Month – San Juan Canvas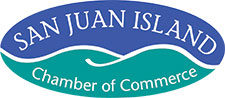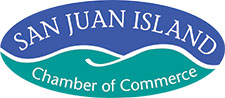 On April 8th the San Juan Island Chamber of Commerce helped San Juan Canvas celebrate 40 years in business. Lauren Cohen and Derek Steere, who have been the owners for the last 10 years, invited Chamber Members to come celebrate. Van Go's was the caterer and all were treated to pizzas, salads, cookies and beverages. Mayor Farhad Ghatan presented a special gift to the owners, a Town Proclamation honoring their 40 years in business.
Peter and Susan Risser were the original owners along with their partners Tom and Mary Blevins. The company started their high quality work by making sails and canvas. They built a solid reputation over the years and passed the scissors to Patrick and Andra Pillsbury who continued on with the tradition of high quality workmanship.
In 2009 Lauren Cohen and Derek Steere took the business over from the Pillsbury couple and have continued their predecessor's quality work. Lauren and Derek have the goal to "come up with creative solutions to each customer's unique world of skilled, maritime craftsmanship and carry on a long lived practice." They have expanded the business over the years, selling canvas bags to Pelindaba Lavender, selling their unique bags at art fairs and in the summer at the artist kiosk at Roche Harbor Resort.
Lauren served on the Chamber of Commerce Board of Directors for many years, finishing her term as a 2 year president in 2016. Their dedication to the business community is evident in the work they do, not only in their business but on our beautiful island as well.
Congratulations San Juan Canvas!