Island Senior: Volunteer Jim Biddick Helps Seniors File Taxes
Island Senior is a regular column on the San Juan Update written by Peggy Sue McRae…
What a relief it is to fix a stamp onto that envelope addressed to the IRS and send it off in the mail. Phew! I'm sure I am not the only one who finds filing taxes both mysterious and stressful. Thanks to volunteer Jim Biddick from Orcas I have confidence in what I just sent to the IRS. On two different Thursdays before the April 15 deadline, Jim came over to San Juan Island to take appointments at the Mullis Center with seniors of low to moderate income that need help filing taxes.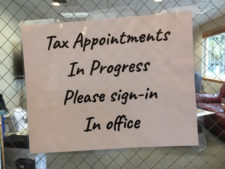 Most of my working life I sent in my W2 forms and waited for my refund. Never intentionally starting a business my current livelihood relies on my social security and a few part-time contract labor jobs. Hence, I now file taxes. In the big scheme of things mine are fairly simple but for me it is incredibly helpful to have someone knowledgeable guide me through the process.
We don't know Jim Biddick over here as well as they do on Orcas where he and his wife Sylvia have lived for 17 years. Jim is an active member and treasurer of the Lions Club. He served on the board of the Orcas Historical Museum where his friend Jesse Clark McAbee said of him, "He worked tirelessly, often doing unglamorous jobs like fixing toilets and installing printers, routers, etc. All this while volunteering at many other non profits on Orcas; Lions, Blood Drive, Senior Center, Dental Van, etc. as well." We appreciate him over here too. Thanks Jim!