Hospital District Meeting
In person meeting or call in?? Read on…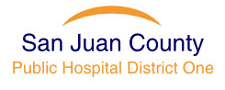 San Juan County Public Hospital District No. 1 is giving public notice of a Special Meeting to be held on Tuesday May 5, 2020, 6:00 p.m. at the Hospital District Offices ( 849 Spring Street Unit B-5).
Call-in information for the public follows:
Call-In Number: 509-824-1884
Conference ID: 817 959 336 #
Governor Inslee's Proclamation 20-28, issued March 24 and extended through May 4 by Proclamation 20-28.1, restricts public meetings to remote-only access. It expired at midnight [last night]. If extended on May 5th, members of the public will be required to call in and there will be no physical location available. As we do not know whether this will occur or not, we are proceeding on the basis of an in-person meeting.
Members of the public are strongly encouraged to call-in regardless.