The Old Military Road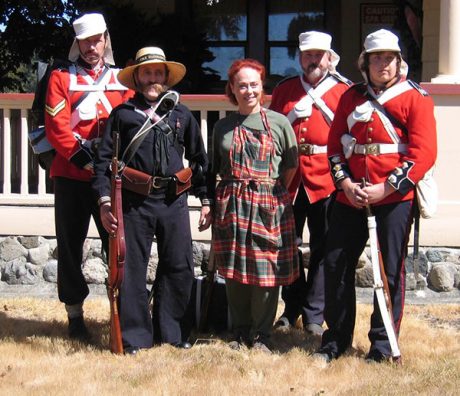 This article was written by Mike Vouri, local author and former NPS Historian…
The heat was already stifling at 11 a.m. in late July 2004 when I encountered four Canadian reenactor colleagues taking a breather in the shade at the corner of Little and Douglas roads.
Clad in the scarlet and blue wool uniforms of the mid-19th century Royal Marines, they were running sweat and still had more than nine miles to go on griddle-hot pavement before they reached English Camp. Their object was to highlight the festivities of our annual Encampment event by roughly duplicating the route that ran about 13 miles between the British and American garrisons during the joint military occupation of the island.
It was on this "military road" that soldiers and marines in the 1860s would have marched en masse for similar celebrations, and most importantly, on which messengers would have carried vital dispatches by wagon or horseback. The road also provided a trunk line, as it were, that tied one end of the island with the other and accommodated European settlement. This is a key element of island history and, to our Canadian friends, a story worthy of preservation, even if they were slapping leather on county roads rather than the original path.
As with the South Beach Trail on the American Camp prairie, the Military Road followed the lines of least resistance as it diagonally spanned the island, cutting through forest, crossing prairies and pushing through the hills, from the Cattle Point peninsula to Westcott Creek (now Garrison Bay). However, the road was not born in a vacuum; that is, the respective officers did not simply take a straight edge and draw a line between the points. Instead, they selected a central path from which a web of foot and stock trails—some undoubtedly blazed by indigenous peoples—led to a network of grazing lands occupied by the Hudson's Bay Company's Belle Vue Sheep Farm.
The farm was founded in December 1853 to affirm British possession of the San Juans, which had been in dispute since the signing of Treaty of Oregon in June of 1846. After landing 1,369 head of sheep at Cattle Point, Chief Trader Charles Griffin—with an able assist from Chief Factor and Vancouver Island Governor James Douglas—spent the winter building the Home prairie facility at what is now American Camp. By April 1854, with an eye on expanding the flocks and turning a profit, Douglas, Griffin and their employees led crews of Cowichan and Skagit Indians in clearing sheep runs to the adjoining prairies.
Thereafter, as the seasons unfolded, they sliced through forest and thicket, bridged creeks and laid corduroy (log) roads over swampy areas until, as Douglas wrote in a December 1855 dispatch:
"Upwards of 2300 head of horses, cattle and sheep, are now ranging over that Island; a large extent of land is under cultivation, and roads have been cut through the forest nearly from end to end of the Island….Thus has been accomplished, at a great expense, an enterprise of which no private persons would willingly incur the risk." (This was in justification of his unauthorized corporate takeover of the island.)
Griffin was raised in Montreal, therefore in his official journals—ably transcribed and interpreted for the National Park Service by San Juan Island historian Boyd Pratt—the woodland north of today's American Camp Road is the Grande Bois (Great Forest); a seasonal creek, running from The Oaks to Griffin Bay, is called Riviere Castor (Beaver River); and a pass through the hills dividing San Juan Valley from Cattle Point Road is Port L'Enfer (The Hell Gate), later Anglicized to Portland Fair.
Eventually as many as 10 sheep stations—each with a hut and corral— dotted the island from stem to stern, bearing names such as First Prairie (Frazier's farm), Winter Station (the gravel pit south of Friday Harbor, once known as Bald Hill), Blake's Station (Little Mountain in San Juan Valley) and Limestone Station (the slopes of today's Limestone Point State Park). Royal Navy surveyor, Captain George Richards, named Friday's Bay (now Friday Harbor) for the shepherd at Chandler's Station, which was located on a hill above today's University of Washington Friday Harbor Laboratories.
At six-foot-five, and easily more than 250 pounds (18 stone), James Douglas was a big man, and, holding the two top jobs besides in the British colony, was used to having his way. But no matter how much he bullied his adversaries (foreigners and countrymen alike) he could not stop Americans from inhabiting San Juan Island, which nearly led to war. Consequently, in the wake of the Pig War crisis of 1859, Douglas had to sit back and watch as military forces adapted his sheep trails into a classic frontier "military road."
Military roads are as old as the first armies marching between Ziggurats in ancient Mesopotamia and as late as Dwight Eisenhower's interstate highway system. That's right, the next time you take that little jog on I-5 on your way to Costco, remember that road network was designed not only to stimulate commerce, but to speed troops, communications and materiel rapidly and efficiently between far-flung points. In addition to noting the effectiveness Germany's autobahns during World War II, Ike undoubtedly studied the Romans at West Point. All 50,000 miles of their roads were cut by and for the legions as I learned while hiking one of them last summer below Hadrian's Wall in northern England.
Built at first to haul supplies by wagon to advanced army posts, American military roads were often "the only means of communication between outlying towns" as the frontier marched to the Pacific, wrote West Point engineering instructor, Professor P.S. Michie. I nearly missed this point while perusing his 1893-94 report to the 53rd Congress, as he opened his treatise by literally backing into his subject: "With regard to the subject of military roads and bridges from an American standpoint…I am at a loss to find anything of interest to say, whether new or old…(as) we have never had any military roads in this country…"
Fortunately, I read on.
Washington Territory was prepped for settlement beginning in 1853 when Lieutenant George McClellan, West Point class of 1846, arrived to survey and build an immigrant road from Walla Walla to Ft. Steilacoom. But in a preview of his later performance as a Civil War general, he talked a better game than he played and slinked out of Puget Sound with nothing gained from the $20,000 he was issued for the work. His classmate, Lieutenant George Derby, did much better four years later completing a wagon road from Fort Vancouver to The Dalles.
Graduating near the top the class, Derby and McClellan had earned the prized assignment to the Company of Engineers, based at the academy. Another classmate in the territory, Captain George E. Pickett, graduated dead last. This may be why a contract engineer was engaged in August 1856 to help him build a military road from his newly established Fort Bellingham to the Village of Whatcom, three and half miles away. Roughly anticipating Marine Drive, which runs along Bellingham Bay, the road ended in a bridge over Whatcom Creek. A replacement built downstream and named for Pickett in 1918 was stripped of the name last fall by the Bellingham City Council because Pickett fought for the Confederacy.
Pickett first came to San Juan Island in July 1859 in time to help ignite the Pig War crisis, but was then ordered back to Fort Bellingham (at the urging of Douglas) in December and did not return until the following April. His second landing, combined with the Royal Marines' arrival on Westcott Creek the month before, meant that two seasoned "community builders" were in command on the island. Marine Captain George Bazalgette's detachment had been part of the contingent that helped the Royal Engineers build New Westminster, B.C.
Why the marine camp was sited so far away from Pickett's camp remains subject to interpretation, as time and distance contributed to the miscommunication that characterized the Pig War crisis. Royal Navy Captain James Prevost of H.M.S. Satellite, who was assigned this task, evidently was sold on the site by his third lieutenant, Richard Roche (for all you newcomers, pronounced ROACH as in clip or pest, not a Parisian perfume), who extolled the sheltered bay and abundance of fresh water. Prevost also liked Friday's Bay, but oddly thought it was too far away from the Americans, which was a source of amusement for Lieutenant Richard Mayne of H.M.S. Plumper:
"…(the marines) are to live in camp on the north end of the Island, near Wescote (sic) creek…sticking them at the opposite end of the Island as if they were to eat each other."
Actually, the lads and Yanks preferred mutton and venison to fuel their labors, which the garrisons commenced almost immediately, working in both directions over the well-trod sheep runs. The letter books of both camps are sketchy on the construction details, though one can imagine them clearing glacial erratics, logging old-growth Douglas firs and stacking rocks to support the right-of way along hillsides. Pickett requisitioned trusty army mules instead of horses to handle this mixed terrain.
What we know of the route comes from maps drawn of both camps, the Americans' first iteration completed in 1860 by Lieutenant Thomas Casey, an engineering officer from Fort Steilacoom (who would go on to finish the Washington Monument and oversee the construction of the Library of Congress). The camp roads were further clarified in a copy of the map later rendered by Lieutenant James Forsyth, Pickett's second in command. English Camp's road network was not charted until U.S. Army Major Nathaniel Michler surveyed the area in 1874 following the end of the joint occupation.
But our best period view of the route was born of the very controversy it was designed to resolve after two Americans in November 1860 were caught by the marines doing a test excavation of limestone at Roche Harbor. The marines insisted that the future quarry site was part of English Camp, which prompted the two governments to order Pickett and Bazalgette to redraw their camp boundaries. The marine commander delivered his version of the map in May 1861 (a month before Pickett resigned his commission), which included a sketch of the complete Military Road. As crude as it may be, the map reveals a track that, in addition to showing generously extended reservations, has the road cutting across San Juan Valley and climbing over the central hills to West Valley and Garrison Bay.
Our next view did not come until after the boundary dispute was settled in the United States' favor when a survey was conducted by the U.S. Government Land Office in 1874-76. When the island was formally divided into townships and the land auctioned off the Military Road was suddenly crossing private property, where traces may be found today.
Those wishing to relive the days of yore without trespassing can walk an approximate track that begins behind the American Camp visitor center and pushes up the Frazer Homestead trail between the park boundary and Rosler Road. At English Camp you can view a 50-yard stretch behind the Sandwith orchard at the south end of the park that Michler labeled "Road to San Juan City." Or bushwhack your way through a spur, farther east, that terminates on a rocky shelf in the Mitchell Hill trail network. This path he described as an "Unfinished Government Road." No one really knows why or for what purpose this route was attempted.
However, what we do know is that, because of the road, peace was maintained throughout the joint military occupation despite lime controversies, whisky sellers, smugglers, claim jumpers and innumerable other incidents that could have incited international tensions.
And this was a fitting thing for our Canadian friends to celebrate, despite their exhaustion.
To learn more about the joint occupation and plans to develop an Old Military Road Trail, visit: