Town To Construct Roundabout On Mullis Street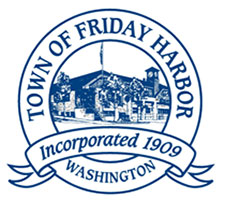 From Town of Friday Harbor
The Town of Friday Harbor will add a roundabout to part of Mullis Street from March 22 through May 28.
"Local access on Mullis Street from 818 Mullis Street to the Spring Street Intersection will be impacted while contractors reconstruct the road and install a roundabout," said Town of Friday Harbor Administrator Duncan Wilson. "We ask the local businesses and their patrons for patience as we work through this necessary disruption."
The project will reconstruct approximately 1,300 linear feet of Mullis Street from 818 Mullis Street, the Guard Electric and Airport property, to Spring Street.
This project includes a cement-treated base, paving, ADA-compliant ramps and sidewalk, curb and gutter, and a painted roundabout at Spring Street. Plans and specifications are available at town hall for review.
The contractor, Konnerup Construction, has been asked to expedite the project with as little traffic disruption as possible; however, road closures and detours will be unavoidable.
Travelers should expect delays and limited or no access during certain phases of the project. The public is asked to exercise patience and to make every effort to be respectful of surroundings when using detours.
The contractor will begin mobilizing the week of March 22. Work is authorized 7 a.m.-7 p.m., Monday through Friday. Typically, working hours will be a combination of 4-10-hour work weeks with the exception of April 5 through April 16. Work will be substantially complete by May 28 in a total of about 50 working days.
Northbound and Southbound lanes will remain open initially. There will be times when the contractor needs use of both lanes and vehicles may experience up to 10-minute delays. Traffic will be diverted around the work or stopped entirely when necessary.
The Southbound lane will be closed for approximately two weeks beginning April 5 when heavy road construction takes place.
Limited parking will be permitted and determined on a day-to-day basis.
Local access will remain open at all times, however, neighbors of the project should anticipate short delays during certain portions of construction. Pedestrian access will be maintained.
Flaggers will be on-site as needed. The designated detour routes are Market Street and Argyle Avenue depending on construction tasks. The detour routes will remain in effect for the duration of the project. The public is reminded that detour routes are considered part of the project zone.
Plan alternate routes and parking to avoid delays. The town recommends that vehicles traveling to or from the south end of San Juan Island consider using Argyle Avenue or intersecting with Douglas Road to downtown to help ease congestion and wait times on Mullis Street.
Pedestrians and motorists should exercise common sense and caution. Be aware of equipment, construction workers, trucks and construction materials. Make sure you are seen while moving within the job site and abide by flagger instructions.
Information and updates on the project will be posted online as often as possible. Questions for daily operations can be directed to the contractor Justin Konnerup, Konnerup Construction 425-508-0847, or project inspector Pedro Mena at Town of Friday Harbor at 360-378-2154.