WaterWorks Hosts Exhibit on Jewelry Made of Recycled Tires, Broken Glass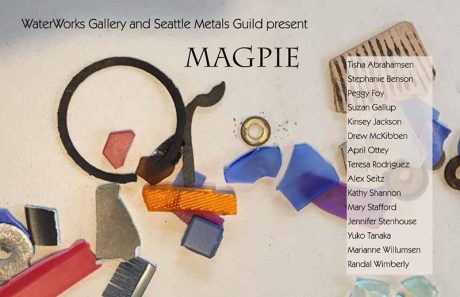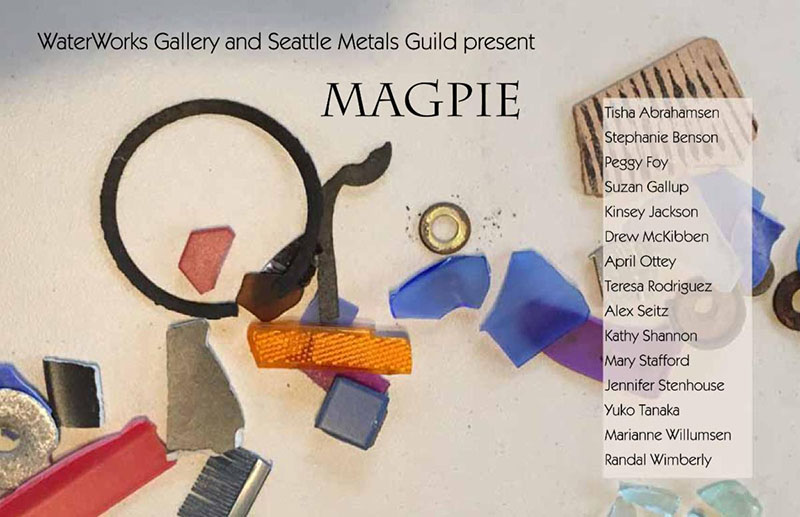 From WaterWorks Gallery
WaterWorks Gallery and the Seattle Metals Guild will host an exhibition titled "Magpie" to celebrate Earth Day 2021.
Join for a socially distant opening from 4-7 p.m., Thursday, April 22, which is Earth Day. The exhibit runs through June 5.
Micki Lippe, also known as Magpie, opened her studio to 12 Pacific Northwest jewelers to rummage through her collection of shiny bobbles to bring new life and recycle them into truly unique wearable works of art.
A magpie is a creature that loves collecting bright and shiny objects.
Transforming a bit of the tread from a car tire, it becomes a dark, black matte surface. A piece of broken glass takes on a mysterious beauty. All these objects collected by Micki, have been transformed by each artist into a newly constructed piece of wearable art.
Engaging you to rethink your concepts about what is precious, each piece in this Magpie series creates a visual narrative of its own.
Each of the following artists was asked to make up to three pieces:
Tisha Abrahamsen
Stephanie Benson
Peggy Foy
Suzan Gallup
Kinsey Jackson
Drew McKibben
April Ottey
Teresa Rodriguez
Alex Seitz
Kathy Shannon
Mary Stafford
Jennifer Stenhouse
Yuko Tanaka
Marianne Willumsen
Randal Wimberley
Learn more at www.waterworksgallery.com/artists/magpie-exhibition/jewelry.