Freezer-Burned: Tales of Interior Alaska
"Freezer-Burned: Tales of Interior Alaska" is a regular column on the San Juan Update written by Steve Ulvi.
A Matter of Weather and Physics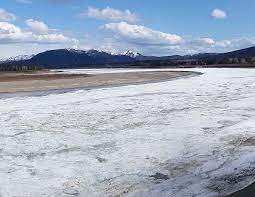 The arrival of spring in the north is a penultimate pleasure. For a nature lover, anyway. Like dropping a heavy burden after a long slog up a mountain ridge leading to a soul-stirring view and sense of accomplishment. It's was a great comfort just knowing that we did not have to cope with brass-monkey cold and dark anymore. This sense of elation is certainly increased by latitude. I'm guessing that being rescued after months on a deserted island would result in a more explosive elation and greater existential relief, but the comparison is not absurd.
It is, of course, the same tilt of the earth's axis, the curvature toward the north pole and the elliptical course around the sun that forge the long winter and short summer characteristics of the sub-arctic. Spring is a short, steeply inclined bridge to the vaunted midnight sun of summer. In the Brooks Range, that arcing buttress between the Arctic proper and the northern Interior, it is said that "summer is just a sweet lie."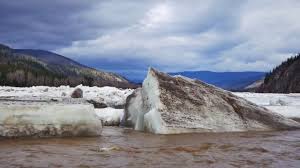 The erasure of winter by the radiant weeks of April is the most rapid and intense of the four sharply distinct seasonal transitions in that climatic region. The extreme deep cold that solidified everything (except warm living flesh, hibernating creatures and deep water) for many months is overcome by a bombardment of solar heat over several weeks at an inexorable, climbing rate. The Interior of Alaska is a region underlain by discontinuous permafrost but even the top two feet of the ancient cold from beneath begins to thaw.
Riverbanks, especially those south-facing, quickly expose dirt and fine glacial silt to blow around and accelerate snowmelt. Melt water pooled up to a foot deep and 25 feet wide to moat the main floating ice from the shoreline. These changes were hard on the dog's feet, equipment, travel speed and our sense of safety. Travelling in the lingering dusk of nightfall, under a smear of stars after the air temperature dropped into the 30s, was necessary as the end drew near.
Due to river upwelling, places of more rapid current, and "candling" of the exposed ice from the top via surface heating, the thick main ice and certainly areas of thinner ice, become unpredictably and invisibly dangerous. I still shudder, with a sickening feeling in the pit of my stomach, in recalling close calls on bad ice where my amygdala flared in the instant realization of imminent danger, with no escape but to back away some and proceed cautiously.
Sometimes with family. With a dog team you have a lighter footprint and extended traction to negotiate dicey areas. They sense it too. But inadvertently on fresh rubbery ice in early winter you grip harder, lean forward over the sled and give the dogs the seriously urgent "Let's go! Let's go! Thinking of plunging through and being swept under the ice into watery darkness was unthinkable.
I used a dry pole to stab hard at the crusty surface ahead in crossing the wide river; thunk, thunk, thunk a hundred times then croosh, punched right on down! The pole was stout and long enough to span the hole if I fell through (and had the presence to turn it horizontal) in the moment of panic. Sometimes we roped up. Yet much of the rotting river ice would be plenty safe until it lifted and began to move and fracture. I never knew of any life lost through the spring river ice. One nearby bushman was on the ice when it started moving but quickly retreated. Out west with winter trails crossing deeper lakes blanketed by accumulated snow, poor decisions, sometimes clouded by substances, took the lives of villagers on powerful snow machines every year.
For us, it felt good to call it quits with the last of mail, hardware, a few gallons of fresh gas and treats from the little store in Eagle. The town was only 12 miles away, but on the other side of the river. We had no means of communication. Two weeks earlier we had packed up the kids to mush the well-worn trails 35 miles upriver to visit good friends in the Yukon Territory before traveling conditions went all to hell. One day up and one back.
Every sensation felt so regenerative. The eaves of our small cabin in the forest dripped and formed icicles as the dead grasses growing out of the insulating sod emerged. An armful of firewood warmed the place easily for the night. Snow slumped, trails grew icy, forest odors multiplied and mixed where there had been none. Breezes caressed rather than seared. Light clothing seemed a luxury, bare skin a delight. The slow "bomber mosquitos" that had wintered over would emerge early in small numbers. We were re-invigorated as we happily shifted priorities and settled in for 3 to 4 weeks of complete family isolation. Break-up of the river would clear the way for boating season, wages and all that lay ahead.
Everything changed markedly with soil, mud and running tree pitch. Wisely, after several years of this seasonal melt (plus cloth baby diapers washed on a glass scrub board) my hard-working wife, Lynette, put her foot down and ordered a gas-powered wringer washer. At $500 from Sears in Fairbanks it was a very costly item to be picked up on an early supply run. She and the kids still had to haul buckets of water or melt snow to fill that wondrous machine.
With the rise of the mercury, our sled dogs began shedding winter coats to add old fur to months of turds thawing and emerging from the packed layers of winter within the radius of each chain. Our birch dog sled and toboggan, nylon dog harnesses and wall tent gear were dried and stowed under cover. The wheelbarrow came out for hauling stuff to and from the riverbank. A rifle was carried everywhere now as bears, an important source of fresh meat, emerged from their dens.
Cutting firewood was a far less laborious chore as we had finally purchased a chain saw after 5 years of hand sawing and axe work. Garden beds were turned. The buried chum salmon guts that had been dug in during the late fall gill-netting were turning into whitish emulsion. Veggie seeds sprouted in a temporary plastic attachment to our front south-facing cabin window. The river was regularly checked for promising signs of the approaching break-up.
While moving empty drums and fish-cutting tables further up into the trees above our steep beach we paused, elated by swarms of small passerine birds chittering through the treetops like swirling smoke. Skeins of ducks streaked low over the heat-shimmering ice intent on reaching nesting grounds farther north. Of all the breeding bird arrivals to our forest, the thrushes were most vocal and exuberant. The late evening and early morning flute calls from the extraordinary Swainson's Thrush seemed other-worldly. On tattered wings Mourning Cloak butterflies emerged unsteadily from 7 months of hibernation in the leaf litter, to take flight again to lay eggs in their last weeks of life. Wood frogs emerged no worse for wear from being frozen solid in their mud holes.
Spring in the northern hemisphere is always exhilarating, never the same. Especially with the obvious wilder swings of climate change becoming evident in the 1980s on. So, the "big show" starts at any given place on the upper drainage (the Yukon is 1,800 miles long; we lived near mile 1,225) between late April and mid-May as a result of interplay of winter snowpack, warm or cool April temperatures and the average thickness of river ice. The mighty Yukon breaks out beginning from the eastern headwaters in Canada and eventually domino-like down to the 5-milewide mouth on the Bering Sea. Some "big shows" began with low snowpack, moderate ice thickness and cooler weather resulting in a slow, low-water "rot out" that lifted to break out and run for a week, then drop leaving huge chunks and packed cliffs of ice to slowly melt onshore and in back sloughs.
Some shows were tumultuous and massively destructive. Once, just once, in a divine moment; being in the right place at the right time, I stood looking over the expanse of static ice, felt more than saw a ripple of energy as the immensity of ice lifted and began moving. That moment of potential energy transformed into kinetic movement on such a scale boggles my mind.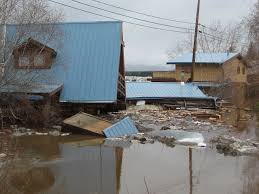 Living many years in the same place gives a nature observer a lot of perspective. High latitude, say about 64 degrees north and low elevation, along a large river in an extreme continental climate, is the place to be. We felt fortunate to have a front-row seat from which to experience one of the great natural shows on earth: the liquification of a vast blanket of snow on well over 100,000 square miles of upper basin and a deeply frozen large river like the Yukon, rapidly giving in to the relentless barrage of solar radiation striking the landscape from nearly overhead by the end of April. Daylength was growing by six minutes a day.
This particular breakup, around our sixth year of living at Windy Corner, would be one to remember. The combination of lots of snow and a deep cold that built thick ice promised a spectacular event. We had a tradition of picnicking with the kids on a grassy overlook in front of the shop cabin. Treaty snacks awaited the one with the closest breakup guess. The sweeping view was of a mile and a half of river bend, steeply rising to a high forested tabletop, cleaved by Boundary Creek and marked by the international border cut following the 141st meridian.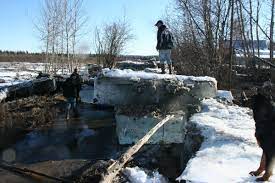 I hunted successfully for a few days on the subalpine slopes of the low mountains behind our place with the whole country blushing fresh leaf green. With huge sweeps of frozen river and islands below, migrant birds of prey, like Red-tails, Sharp-shin hawks and Kestrels, soared along the warming slopes. Four panting dogs and me, packs loaded down with sheep and bear meat, had returned weary but glad that we had the river bank to ease our walk back rather than bushwhacking in the forest edge. This treasured spring meat, fat and organ delicacies would be dug into the creek ice at the cabin. In a week or two we canned or jerked what we couldn't eat fresh.
On about May 5, the river ice was lifted by immense hydrostatic pressure, fractured and quickly rose well up into the higher bank willows rumbling by at 6 or 8 miles per hour. It kept moving inexorably toward the Bering Sea for a couple of days without pause, when we realized an eerie silence and saw the water level drop and ice decrease to a few pans among uprooted trees and muddy water. Ice jam! We were working around the garden while the kids played with toy trucks in a sandpit, when I heard the distant whine of an outboard motor. Immediately concerned that one of our Canadian neighbors had an emergency we stepped out onto the grassy outcrop to see a skiff racing along toward us from upriver. Soon I recognized our friend Gaetan, a French-Canadian fellow newly settled at Poppy Creek about 7 miles up.
We dropped down onto the beach, now exposed by the drastically lowered Yukon, awaiting him with concern. He stood and curved the slowing boat into shore with a big smile and wave. The bow softly bumped on the dark sand.
Hey Gaetan, how are ya? Good! Good to see you, Steve. Hi there Kids! (in a fluid French accent). I took his bowline as he stepped out to hug Lynette with the kids clinging to her legs. His skiff was nice and clean, first time in the water this year. There wasn't much to tie to on the steep, muddy beach but then as he would soon learn, he wouldn't be staying long. The kids liked Gaetan, we all did, and they didn't often see people even in the languid summer months and never during breakup.
I looked at him curiously and asked Well, what's up and why are you on the river? Whadyou mean? He cocked his head quizzically mumbling something about heading down to Eagle for mail. I looked at my watch, did some quick mental calculations. Gaetan, breakup is only half done. There is a jam upriver, maybe Cliff Creek bend. If it has let go, I figure that you may have only 30 to 40 minutes to get back to your place and pull the boat up into the trees. If you make it you should bow and pray to the River Gods and enjoy some homebrew.
The full weight of a newcomer's error and impending danger immediately changed his demeaner. If he hadn't stopped by but instead had continued on to Eagle he most likely would have lost his outfit meeting the ice surging half way home. He would have had no choice but to beach his rig and scramble up into the trees to view the destruction of puny human materials. I gave him some gas and a good chunk of sheep meat. He wasted no time pushing out, throttling up and speeding upriver dodging the clear ice lenses bobbing in the dirty water to disappear around the bend.
Just over an hour later, regularly checking my watch as we turned garden beds and burn piles, thinking of our friend's fate, there came a low vibration, almost like distant breaking waves but continuous. The water at our shore started to steadily rise. Within minutes a surging white wall of tumbling ice became visible upriver and our water rose many vertical feet. Soon enough jumbled ice was coursing by bank to bank and water was longer visible for a couple of days. The river stayed high but more water and floating tree trunks became the norm for a couple more days. It was the real end of breakup.
While I was dragging our small aluminum boat and 18 horse Evinrude to the water between stranded bergs, preparing to go to town, Gaetan showed up grinning ear to ear and shaking his head. We hugged and laughed heartily. He described the day he hurriedly left us to rope-winch his boat and motor up into the trees just in time to see the ice wave mashing trees on low islands upriver. A weeks later we motored 30 miles upriver beyond Cliff Creek to see the destruction; miles of barked mature spruce and acres of dripping dirty icebergs high centered in back sloughs. The hardwood groves on some low islands and along the outside of bends were completely flattened, jumbled like pick-up sticks with acres of icebergs stranded atop them melting.
We listened to radio reports of some villages flooding. Later we heard via the "river grapevine" about the misfortunes of others in our area. Unfortunately, high water behind the Cliff Creek jam had flooded our friends low-lying cabin. To add insult to injury, a half barrel of diesel oil within the cabin had floated up and spilled coating every surface as the water level dropped. Once they recognized that there was a serious ice jam downriver, they had managed in a day-long frenzy to move most of their valuables to higher ground using dogs. But it took two weeks for them to laboriously clean and repair and to find stuff back in the woods. Others had spent a couple days with their dogs on the roofs of inundated cabins, boat or canoe line tied around the stovepipe. Living back in the trees on a high bank on the inside of a long river bend protected us from breakup anxiety and unpredictable destruction for 10 years. We never said anything to others of Gaetan's mistake but he owned up to it.