State Utility Disconnect Moratorium to end July 31, Set Up OPALCO Payment Plan Today
From OPALCO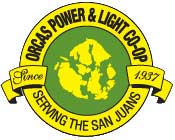 Washington State Gov. Jay Inslee is expected to lift the moratorium on all utility disconnects July 31.
Since the beginning of the pandemic, OPALCO has worked with its members to offer bill-pay assistance and long-term payment options for those who have fallen behind on their bills.
Members who have payment plans in place will not be disconnected.
OPALCO staff are available from 8 a.m.-4:30 p.m. to help members to create a payment plan so no one gets left behind. Call 360-376-3500 today if you are behind on your OPALCO bill.
There are resources available to help those who are struggling with bills due to COVID-19 impacts. Contact your island family or community resource center to learn more or visit wa211.org to access information.
After the moratorium is lifted, OPALCO will return to the normal cycle of billing and collections, including disconnects, and normal penalty fees will begin again after Oct. 27.
Payment Options
OPALCO has a variety of options for members to pay their bills including autopay, online billing, budget billing and traditional paper billing.
A new payment option will be available to co-op members starting this fall: pre-pay billing allows you to pay as you go.
Members keep as much of a balance as they want on their account and simply deposit more funds when the account balance gets low.
It's like filling the gas tank on your car: put in as much as you can and refill when empty. Stay tuned for more information on pre-pay billing.
Capital Credits
On your OPALCO bills in June, you'll see your capital credit allocation to be paid out to you in 25 years (2046). Capital credits represent each member's ownership in the cooperative.
A statement of accrual is issued each summer for the previous year and checks are sent out after 25 years at year-end. Capital credits cannot be paid out early, except in the case of death.