Going The Distance with Artist Nola Ahola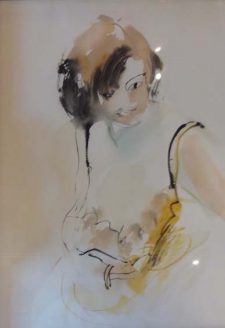 Autumn's blustery days and chilly air offer the perfect opportunity to take advantage of the many attractions the San Juan Islands Museum of Art (SJIMA) has to offer . Especially one currently on display, Going the Distance featuring the work of Seattle artist, Nola Ahola.
Nola Ahola's art career spans more than sixty years and this exhibit is representative of the artist's lifetime of exceptional artistic achievement. The artist and teacher first gained recognition for her figurative art during the 60's and 70's, while working with live models, capturing movement and postures with swift brushstrokes in ink. During this period, the artist completed over 100 large works featuring brush drawings of dancers, many of which are on display in this show.
Her other works include vivid watercolor paintings and intricate, large-scale collages; both figurative and abstract. Several of Ahola's watercolor works as well as her trademark collages are part of this exhibit.
Ahola resided on Lopez Island from 1992 until 1999. Much of her work was exhibited throughout the San Juan Islands during this time. Also at SJIMA, Francie Allen's On Being Alive show is paired with the current Go Figure! exhibit on display until December 6, 2021.
Going the Distance is sponsored by The Honeywell Charitable Fund, Lamar Efaw Interiors, Elan Video and Framesmith.
Located in Friday Harbor at 540 Spring Street, the hours are Friday-Monday from 11-5. Admission to the whole museum is $10, with SJIMA members and those 18 and under admitted free. Mondays are Pay As You Can Days. For further information go to www.sjima.org