Harbor Life Ring Donations
Town utility customer donations will benefit local food bank; Town to match November contributions up to $3000.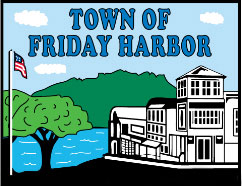 All donations made in November to the Town's Harbor Life Ring utility assistance fund will be forwarded to the Friday Harbor Food Bank. The Town will match community donations up to a total of $3,000. This is an increase of $1,000 over last year's match. Utility customers can donate by marking the Harbor Life Ring line item on their bills that are going out on November 1st.
Now in its ninth year, the annual November contribution from supporters of the Harbor Life Ring program helps the Food Bank provide for island families during the holiday season when the need threatens to outweigh the supply. "The need is already higher than normal and growing," said Mayor Farhad Ghatan. "The Town has increased the amount of matching funds for the second year in a row as the ongoing pandemic is putting a tremendous strain on our local Food Bank."
Last year, the Food Bank received $5,010 from this annual campaign, including $2,000 in Town matching funds. Food Bank manager Rachelle Radonski says this significantly improved their ability to offer fresh vegetables and protein. She says they are funded entirely through donations and spend over $8,000 each month to serve over 500 households on the island.
The Harbor Life Ring program was established in 2013 to assist families in need of financial relief on their Town utility bills. The program is funded through donations that Town customers add to their monthly bill payments.