Jan Murphy Joins SJIMA in Marketing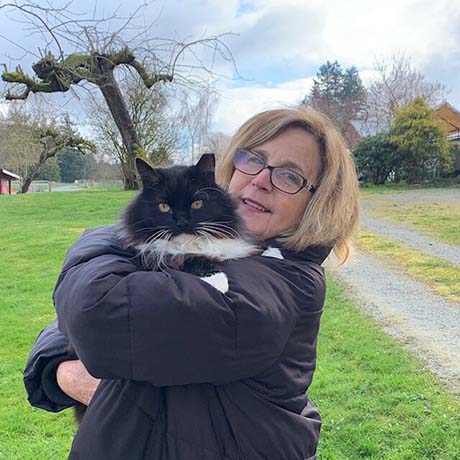 The San Juan Islands Museum of Art (SJIMA) in Friday Harbor is excited to announce that Jan Murphy is joining our marketing team.
As an artist, Jan has been a frequent exhibitor in the annual SJIMA Artists' Registry show. Her works include paintings and mixed media assemblage art. Her work has been exhibited in several galleries throughout the Pacific Northwest.
Jan Murphy has been a resident of San Juan Island since 2010 and has been active in the community since then. She has particularly been interested in the areas of animal welfare and the arts.
Many may know her as having served on several local boards, Jan has focused a great deal of time on volunteerism to contribute and give back to the community she loves to call home. Her volunteer activities have included work for The Animal Protection Society of Friday Harbor, San Juan Island Hospice, The Home Trust, The San Juan Island ACLU and Wolf Hollow.
If you have read the Pet of the Week column in the past, you will be familiar with her work. Jan has always been impressed with the exhibitions and programs at SJIMA and looks forward to this new challenge.
Jan shares studio space with seven other artists at The Friday Harbor Atelier and often exhibits her work at shows and receptions there. She is a member of the Atelier Masters group and often teaches art workshops there.