Notice of Intent to Operate a Boatyard Permit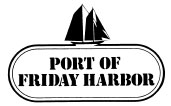 The Port of Friday Harbor intends to assume operations of the Albert Jensen and Sons Shipyard at 1293 Turn Point Road, Friday Harbor WA as of November 1, 2021. Boats currently in the boatyard will be able to be launched immediately upon assumption of operations by the Port. New lifts and boatyard work will not be available until the Department of Ecology boatyard permit has been issued to the Port. We anticipate that new lifts and work will commence in early January of 2022.
The Port envisions operating the travel lift and yard including pressure washing and boat blocking. Working with local private businesses as the providers the Port anticipates the ability to have bottom painting, mechanical, electrical, and a host of other marine services available through local contractors.
The Port's objectives for this facility are to support the development and growth of local marine businesses, accommodate a broad range of commercial activities and self-work in an environmentally prudent fashion that follows State and County laws, and increase the type and volume of services available to the boating public.
The Port of Friday Harbor Commission and staff will be refining the details of the facility operations over the next two months. The public and business community are encouraged to attend our port commission meetings and contribute to the planning for the facility. The commissioner meeting schedules and agendas are posted on the Port's website at www.PortFridayHarbor.org