Pet of the Week: Cookie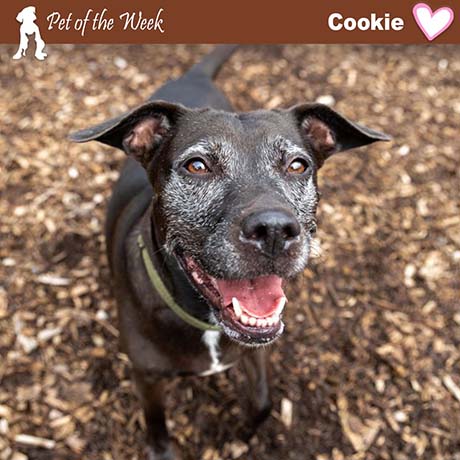 "Y'all have any sweet tea?" No, sorry Cookie, we think you're sweet enough as it is! This little Southern Gal flew all the way from Louisiana just after the devastation of Hurricane Ida hit her home state – now she is looking for a fresh start here in the Pacific Northwest!
Cookie definitely has that classic southern charm…she is kind, warm, and welcoming of strangers. She is especially gifted in the art of conversation. Cookie expresses her feelings with confidence and does not shy away from deep dialogue – and no, it's not incessant barking, it's thoughtful and meaningful thank you very much!
If you fancy yourself a conversationalist, and would enjoy a daily tête-a-tête with Cookie, perhaps she would be a perfect match for you? Bonus! We are just in time for PNW Fall weather and Cookie would look fantastic in flannel!
Age: 7 years young
Sex: Female
Breed: Lab/Hound Mix
Application: https://www.apsfh.com/adoption-program/canine-application/
ABOUT
Origin: Lake Charles, Louisiana
Weight: 54 lbs
Personality: Chatty, Cheerful, Youthful, Expressive
Energy Level: Medium-High
Likes: Deep Conversations, Tennis Balls, Southern Hospitality
Dislikes: Sharing Tennis Balls, Being on a Diet, Boredom