Pet of the Week: Tiramisu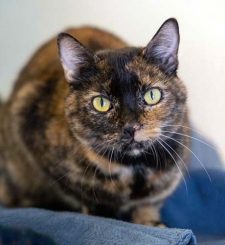 Eye of newt, wing of bat,
this is one cool, crazy, Calico cat.
From dusk till dawn she'll spellbound you
and tell you telepathically what it is you should do.
No handsy hands, no fast feet,
but if you conjure them up, she will take some tasty treats.
Cat nor kid does she want to greet.
Make your motions fluid and smooth, your voice soft and sweet,
and she'll be the best feline you ever did meet.
Lap sits, forehead rubs, and honeyed words is the best she can do,
it is what it is, let her come to you.
Follow these strange steps true and through,
you could be the one to change her hiss to a coo.
Age: 11 years
Sex: Female
Breed: Tortie
Application: https://www.apsfh.com/adoption-program/feline-application/
ABOUT
Origin: Orcas Island
Weight: 9 lbs
Personality: Mysterious, Superstitious, Talkative Gremlin, Mesmerizing
Energy Level: Medium-Low
Likes: Wand play, Cursing Cats, High Perches, Silver-Tongued Talks, Story Telling
Dislikes: Kids, Catnip Concoctions, Cute Curious Cats