Plastic Film Recycling Pilot Program Launches this Week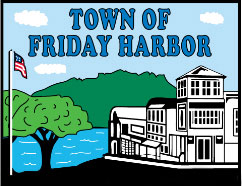 The Town of Friday Harbor's free monthly residential curbside pickup of plastic film for recycling begins Wednesday, October 27th. Customers have been given "Plastic Film Only" recycling bins and asked to participate in a one-year pilot program sponsored by the Town in partnership with SC Johnson, the global manufacturer of Windex® and other household brands.
Clean, dry, flexible plastic film such as sandwich bags, bubble wrap, and paper towel packaging is recyclable, but cannot be mixed with standard recycling as it can damage sorting machinery. This program will send the film to Delta, B.C., for recycling into pellets that can be used for new bags, pallets, containers, crates, pipe, and composite lumber.
Friday Harbor is the second community in the state to be selected by SC Johnson for this program after Point Roberts, WA, which was the second city in the country to participate in the program. So far, the programs have collectively stopped more than 6,000 pounds of plastic film from ending up in local landfills.
"Plastic waste is one of the great environmental challenges we face today, and at SC Johnson, we believe we have a responsibility to help solve this critical environmental issue," said Alan VanderMolen, Senior Vice President and Chief Communications Officer at SC Johnson. "Our partnership with Friday Harbor, one of three curbside plastic film recycling programs we are launching this week, is one of the many steps we are taking to move toward our vision for a waste-free world."
Specifics about the plastic film recycling program are on the Town website at fridayharbor.org/2151/Refuse-Recycling. Residents who did not receive their bin or want to sign up for refuse pickup should call Town Hall at (360)378-2810.