Focusing on Their Future
This is from the Center for Whale Research…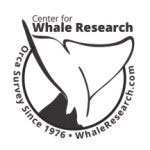 Please help us raise $74,000 by year's end!
The $74,000 represents one thousand dollars for each of the seventy-four (74) whales in the Southern Resident orca community.
We all remember J35. In 2018, the whole world watched J35 carry her deceased baby for 17 days and 1,000 miles on what became known as the Tour of Grief. Fast forward to 2020, J35 gave birth to a healthy boy, J57. As you can see in the above picture, he's close to his mom.
For five decades, the Center for Whale Research has focused on doing its best to help the families of the Southern Resident orca community, like J35 and her sons, J57 and J47. Our hopes are high for the next half-century: not only that the Southern Residents will survive . . . but that they'll thrive. Your financial support of our research, outreach and education, and conservation efforts make it possible for the Center for Whale Research team to fight for a better future for J35 and her family and all the whales in the Salish Sea orca community.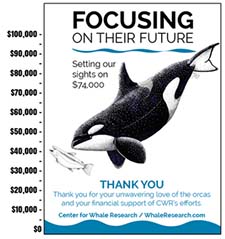 Today is the launch day of our month-long Focusing on Their Future fundraising campaign (thru December 31).
Donate in the name of your favorite whale and track the campaign's success on the Orca and Salmon graph at WhaleResearch.com. Watch the water rise as donations accrue.