Mamma Mia! Closing Weekend – Four More Chances to See the Show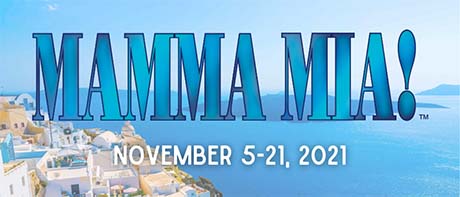 San Juan Community Theatre is so grateful for the reception of our debut musical production since the start of the Covid-19 pandemic, Mamma Mia! We love seeing the community come together and enjoy live, indoor theatre on the Whittier stage once again. The cast has been having a blast performing for everyone, and audience members have nothing but praise to share after seeing this enlightening show:
"San Juan Community Theatre's production of Mamma Mia! is outstanding!! So incredibly entertaining and well done. The costumes were spectacular too. I just can't get over how much talent and commitment we have in this small community. Highly recommend!"

"We are still glowing from Sunday's matinee excellent performance. Their talent, perseverance, and patience bringing the show onward despite Covid is truly a testament to hope and adaptability, much appreciated these days! Since all but the performers wore masks and patron vaccinations were checked at the door, we felt safe and encouraged that life can still have many such pleasures in this, for now, new normal. Thank you San Juan Community Theatre and our vibrant community."

"This evening Mamma Mia! ignited the hope that we are getting back to how things were. Not only did we get to see our neighbors and friends perform beyond expectation, but as a part of the audience you could almost hear a sigh of relief, even behind our masks. Just being together again after so long. How do you describe that feeling? Well, it was wonderful. Hope you get a chance to see the production."
We also hope you get a chance to see the production – and there are only four performances left! This Thursday, Friday, and Saturday at 7:30pm and Sunday at 2:00pm. Thursday is pay-what-you-can at the door, and all other nights are $24 for adults, $13 for students, and $5 student rush. For more information about the show and to purchase tickets, please visit our website HERE.