SJI Fire & Rescue is Seeking Volunteers
Posted November 3, 2021 at 5:38 am by Tim Dustrude
Become a Vol­un­teer Emer­gency Respon­der with San Juan Island Fire and Rescue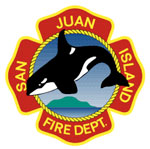 San Juan Island Fire and Res­cue (SJIF&R) is seek­ing vol­un­teers to join our com­pre­hen­sive emer­gency ser­vices agency, in a num­ber of roles to serve our islands' communities.
Become part of an emer­gency ser­vices orga­ni­za­tion with a cul­ture of team­work and cama­raderie, focused on our com­mu­ni­ties' needs. We are seek­ing vol­un­teers to par­tic­i­pate in upcom­ing train­ing academies.
Fire­fight­ing train­ing will begin in Mid-Jan­u­ary 2022. Receive pro­fes­sion­al train­ing in a wide-range of skills to pro­tect our islands' fam­i­lies, friends and neigh­bors. Mas­ter emer­gency ser­vices skills include: Fire­fight­ing; Emer­gency Med­ical Tech­ni­cian (EMT); Marine Response and Tech­ni­cal Rescue.
We are accept­ing appli­ca­tions now through Novem­ber 22, 2021.
Appli­ca­tions can be picked-up in per­son at the office in Fire Sta­tion 31, 1011 Mullis Street in Fri­day Harbor.
Ques­tions? Want to know more? Come vis­it us or you can call (360) 378‑5334.
SJIF&R is also seek­ing vol­un­teers inter­est­ed in sup­port posi­tions. We have oppor­tu­ni­ties for any­one com­mit­ted to serv­ing our islanders. Inter­est­ed? Come by and vis­it us and meet our team.
# # #
The San Juan Island Fire & Res­cue was estab­lished on Octo­ber 6, 1958. Fire Dis­trict #3 cov­ers all of San Juan Island, includ­ing Brown; Hen­ry; Johns; Pearl; Spieden and Stu­art Islands. For more infor­ma­tion, please vis­it http://www.sjifire.org/
You can support the San Juan Update by doing business with our loyal advertisers, and by making a one-time contribution or a recurring donation.