Unexpected Success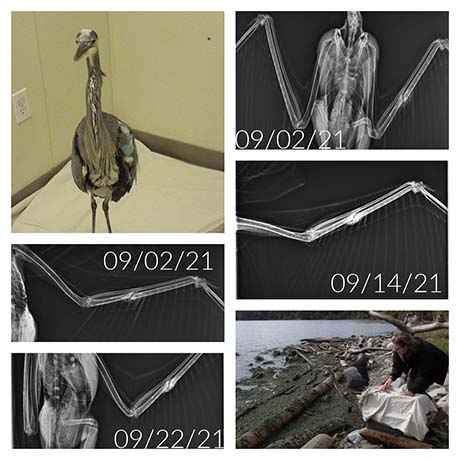 Wolf Hollow shares this story of a Great Blue Heron they took care of in September…
Our most notable patient in September was a Great Blue Heron. This adult heron arrived near the beginning of the month, thin and unable to fly. When we did an intake exam and took radiographs, we discovered that the ulna of the left wing was broken.
Luckily the break was in the middle of the bone, not near a joint, and the pieces were not touching the radius, the other long bone in the outer part of the wing. When we consulted our vet, Dr. Besel, she agreed that the injury was an excellent candidate for surgery, so the next day the heron went off to the vets. When Dr. Besel began the surgery, she found that the ulna was already repairing itself, had bridged the two pieces of bone, and was stabilizing. She stitched the heron back up, put on a wing wrap and sent the bird back to us for care.
We continued to keep the wing wrapped, did physical therapy every other day for a week then took more radiographs. We were concerned because it looked like the calcifying bone may be bridging over to the radius, which would mean that the bones would fuse, the bird would be unable to rotate that part of its wing and wouldn't be able to fly. However, a week later, the next radiograph showed that the two bones were remaining separate, and the break was healing well. We moved the heron outside for some stretching room and soon it was demonstrating great flying skills in our larger enclosures.