Artists' Registry Show Celebrates Its 10-Year Anniversary With a Peek Behind the Scenes
Posted December 28, 2021 at 3:45 pm by Tim Dustrude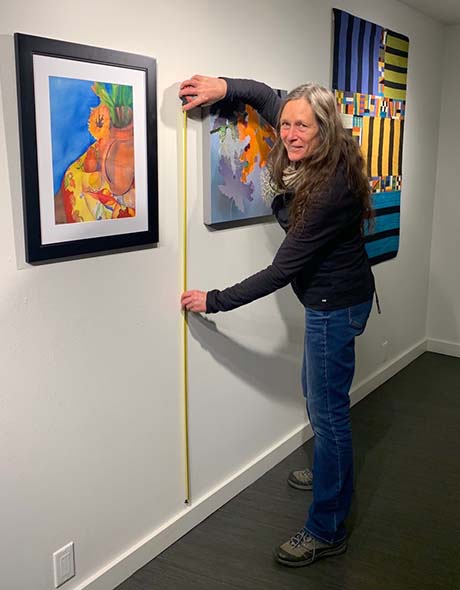 Vol­un­teers at the San Juan Islands Muse­um of Art (SJIMA) have been busy over the last few weeks, prepar­ing for the annu­al Artists' Reg­istry Show, which opened its doors Decem­ber 17. The show is the much-antic­i­pat­ed event high­light­ing the recent works of artists from each of the San Juan Islands.
A bit of his­to­ry fol­lows. The Artists' Reg­istry (AR) was found­ed in July 2011 and held its debut exhib­it in the Churchill Square build­ing in Fri­day Har­bor the fol­low­ing Decem­ber. The event fea­tured 38 artists: all new mem­bers of the AR. The fol­low­ing year, what had once been the Fri­day Har­bor EMT facil­i­ty was pur­chased by SJIMA. The AR staged its sec­ond show there, after con­vert­ing the garage into a charm­ing repli­ca of a New York City art loft. The facil­i­ty was then ren­o­vat­ed to its cur­rent state and the AR group was on hand to host the 2014 "soft open­ing" of the San Juan Islands Muse­um of Art.
This, it's third show, fea­tured 60 mem­ber artists. Over 700 vis­i­tors attend­ed the show on open­ing night, set­ting a record. Since then, the annu­al AR show attracts sev­er­al hun­dred vis­i­tors. Even last year's show, dur­ing the begin­ning of Covid restric­tions, was well-attend­ed and high­ly praised, even though avail­able to small groups or dig­i­tal­ly at sjima-online.org.
The 2021–2022 exhi­bi­tion fea­tures over 80 local artists, and includes many dif­fer­ent medi­ums includ­ing: paint­ing, fiber arts, mixed media, jew­el­ry, sculp­ture and more. Now in its 10th year, the annu­al Artists' Reg­istry Show attracts vis­i­tors and locals alike and is not to be missed. SJIMA board mem­ber, Lin­da Chowdry says, "The pieces in this AR Show are sim­ply stun­ning and must be seen. Once again our local artists have giv­en us a show of spec­tac­u­lar art."
Due to cur­rent Covid restric­tions there was not an open­ing recep­tion, but vis­i­tors are invit­ed to enjoy the show dur­ing open hours, Fri­day through Mon­day, 11–5. The exhib­it will remain up through Feb­ru­ary 21, 2022.
Spon­sored by The Hon­ey­well Char­i­ta­ble Fund, Nation­al Endow­ment for the Arts, Wash­ing­ton State Arts Com­mis­sion, San Juan Island Com­mu­ni­ty Foun­da­tion, Town of Fri­day Har­bor, Anony­mous, Print­onyx, Browne's Home Cen­ter and Har­bor Rentals.
Locat­ed in Fri­day Har­bor at 540 Spring Street, admis­sion to the muse­um is $10. SJIMA mem­bers and those 18 and under admit­ted free. Mon­days are Pay as You Can Days. For fur­ther infor­ma­tion vis­it www.sjima.org
You can support the San Juan Update by doing business with our loyal advertisers, and by making a one-time contribution or a recurring donation.