Response to Fire Chief Norvin Collins
In the Mailbag today we have this letter from Nathan Butler, Superintendent and EMS Administrator…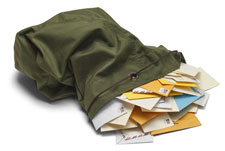 We have seen the recent letter from Fire Chief Norvin Collins regarding our agency and merger talks. He badly misrepresented our agency, and his letter is an object lesson in why we have opted not to try again at merging EMS with Fire following the unsuccessful November attempt. Our community cannot afford to have the high-quality EMS service built up over years be dismantled by someone who is fundamentally hostile towards San Juan Island EMS.
We would like to reassure the public that we will be there for you when you need us. Our average response time for the entire island is well under ten minutes, while response times in town are about six minutes. This includes the time it takes to do a safety check and leave the station. Our crews consistently score highly in anonymous surveys as compassionate, effective, and responsive. We work effectively with the Sheriff's office to serve the outer islands, as well as our medivac partners.
As we enter the new year, we believe the public has every reason to be proud of the Emergency Medical Services that they have sponsored over more than two decades under San Juan County Public Hospital District No. 1. We are proud to serve you and will continue to do so with excellence.
Members of the public who want information about the renewal of the EMS levy under the hospital district in February 2022 can go to www.sjcphd.org/ems, and are always welcome to contact our commissioners or leadership with any questions they may have (see https://sjcphd.org/contactus/board).
Sincerely,
Nathan Butler
Superintendent and EMS Administrator