Fire & Rescue, DNR suppress Mt. Dallas wildfire
Posted July 28, 2022 at 7:34 am by San Juan Update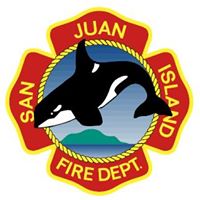 Fire & Res­cue shares news about their response to a wild­fire that broke out on Mt. Dal­las yes­ter­day afternoon.
San Juan Island Fire and Res­cue respond­ed to a call Wednes­day after­noon about a pos­si­ble wild­fire on Mt. Dal­las. Upon arrival, SJIF&R estab­lished com­mand and com­mu­ni­ca­tions, deploy­ing rapid­ly respond­ing crews to fight an active and creep­ing wild­fire. On-scene con­di­tions were chal­leng­ing due to exten­sive brush and grass growth, with the pre­vail­ing wind push­ing the fire into near­by woodland.
Crews worked in two areas to quick­ly con­tain the fire and pre­vent fur­ther spread. Two struc­tures were poten­tial­ly at risk and were saved. Wash­ing­ton State Depart­ment of Nat­ur­al Resources were noti­fied and sent a fire response heli­copter to assist at the scene. No injuries were reported.
Fire crews will con­tin­ue to work on scene to mon­i­tor and extin­guish hot spots. Res­i­dents should be aware that there will be lin­ger­ing smoke in the area around the west side.
Please remem­ber that fire safe­ty is all of our respon­si­bil­i­ty. As the cur­rent sum­mer heat dries our islands out, please ensure that you are aware that any work or activ­i­ty that can cre­ate a spark is dan­ger­ous for all of us.
You can support the San Juan Update by doing business with our loyal advertisers, and by making a one-time contribution or a recurring donation.