About Us
That's Ian in the photo above. He's the one that deserves all the credit for this site. He created this back in 1997 and made it what it is today.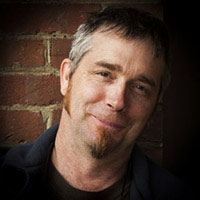 I've now been Owner and Editor for just over a year (I'm writing this in January of 2014) and I figure it's high time that I update this page so you'll know a little more about me. (Photo on the right). I spent a good part of my early years in Friday Harbor, moving here at 7 years old and staying until a couple years after high school. Then I moved away for roughly 20 years and learned how not to live my life, so I came back home in 2000.
I worked for Ian for a while and then did my own thing – graphic design, photography, web design and consulting and now this. It's been a good first year and I look forward to the next.
Thanks for your support!
Tim Dustrude
editor [@] sanjuanupdate [.] com
+++++++++++
Here is what Ian had on this page before I came along…
The information here is simply stuff that we think is important around Friday Harbor or on San Juan Island. It is intentionally filtered so that it shares the positives, not the negatives. It shines a light on the good, which I think is much needed these days.
Some of it is news, some of it is old news, and all are just things we wanted to mention, with most of it about the things that make living here great.
I've been writing this & adding to it since 1997, and it has morphed into what you see now during that time – a collaborative effort between our community and me to tell the story of what makes an island tick, and to celebrate the cool things that happen.
Thanks for dropping by!
Ian Byington
PS>> You can write me at ian [@] byd2 [.] com, by the way – it would be great to hear from you!