Firewise Program Takes Off
Press release:
The San Juan Island Fire Department's Firewise program has been rejuvenated under the guidance of Ron Garner and Brent Johnson, Firewise Specialists for District 3. Since assuming the role in November, Garner has been getting acquainted with the Who's Who of this national program and working with Johnson in overseeing the final approval of new San Juan Island Firewise communities.
The Firewise program is designed to assist neighborhoods in achieving both smart and safe, maintenance and landscaping practices, aimed at reducing an area's vulnerability in the event of a wildland fire. Unpredictable by nature, a wildland fire will travel according to weather conditions and available fuels. The goal of Firewise is to achieve and maintain a safe zone around each home, which in turn protects the neighborhood, and inhibits the spread of a wildland fire. Taking steps to remove overgrown brush, limb trees of overhanging branches and even routine cleaning out of gutters, all contribute to removal of the fuel a fire needs to advance.
But it takes more than just a one-time cleanup of your neighborhood to qualify as one of the nation's Firewise Communities. Every community has to develop and commit to a Five Year Plan, detailing what the community is going to do to remain in compliance with Firewise Community requirements.
On request, District 3's Firewise Specialists will visit your neighborhood and provide an onsite inspection offering suggestions for improvement. Since the beginning of the year, two more communities have taken the first steps toward becoming a Firewise community. This includes familiarization with the program through a presentation at the Mullis Street Station, and a neighborhood assessment by the District 3 Firewise Specialists.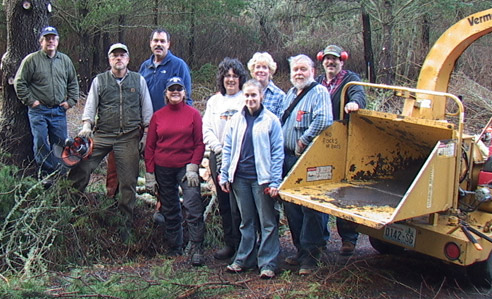 In addition to public education and recruitment of interested neighborhoods, Garner and Johnson are coordinating efforts to support neighborhoods already participating in the program. For example, in late November Garner learned of an additional $2,000, made available by The Department of Natural Resources, for San Juan Island's Firewise efforts. Plans for these funds immediately came together, funding five "Chipper Days" throughout December.
Alaska Place, Cattle Point, Mt. Dallas and Roche Harbor were among the island neighborhoods already recognized as Firewise communities, and benefited from the funding by participating in the "Chipper Days." Funding went toward rental of a chipper and machinery operation by qualified Fire Department volunteer personnel. The chipper was stationed in an area where Firewise Community residents gathered brush and debris removed with the Firewise standards in mind. Other Firewise communities include, Mitchell Hill, Three Meadows, the North Forty, and Brown Island.
The reality might be harsh, but still it remains, that in the event of a widespread wildland fire, resources we have on island will be expended where they will result in the greatest success. That includes the safety of our largely volunteer Fire Department. Some San Juan Island neighborhoods don't even offer safe access for fire fighting equipment, like engines and tenders, which would enable Fire Fighters to safely respond to a call. For example, a 12x12 clear drive is needed to assure safe access, and if necessary, a safe and hasty exit.
When asked about "The Big One", Acting Fire chief Brad Creesy offered "Additional firefighters would be called from Orcas, Lopez and the Department of Natural Resources in Sedro Woolley. Even with the eventual arrival of these additional resources, there aren't enough engines and firefighters to fully defend every single house. Every step a homeowner takes to reduce the ignition potential of their home increases the chance that it will survive a major fire. A Firewise home and a Firewise community make a safer working environment for first responders and reduces the potential property loss."
A demonstration of Firewise practices is currently scheduled to take place on Saturday, May 12th. Watch for more information about how to attend this event and learn more about how to protect your home and your neighborhood.
Working together to prepare your neighborhood for the possibility of a wildland fire, increases the likelihood of a safe recovery of property. "After the fire has started to spread, there may not be much we can do to help. But before the fire even starts, there is a lot you can do to save your home." says Garner, adding, "A Firewise community is a place to start."
For more information, please contact the San Juan Island Fire Department at 378-5334.