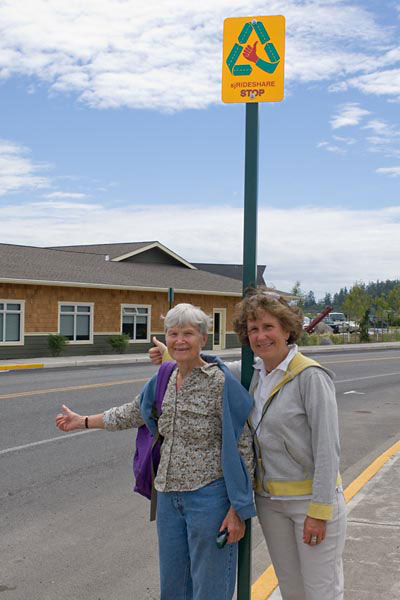 Island Style Ride Sharing
Liza Michaelson, San Juan Island resident, and her mother Prue Kaye visiting from Corvallis Oregon, recently hitched a ride from the sjRIDESHARE sign on Mullis to American Camp National Park.
What can residents of San Juan County do about climate change? sjRIDESHARE suggests that we revisit an old established tradition, hitch-hiking, for beneficial alternative transportation. In years past it was not an uncommon mode of transportation in the islands, but in more recent years the patterns have changed, and fewer people are seen thumbing rides. Members of sjRIDESHARE are working to bring hitch-hiking back in a safe and conscious way with a system of signs posted designating safe hitching sites.
The sjRIDESHARE committee would like to encourage all county residents to consider the possibility of planning a day or two each week when they could live without driving their car, and also consider stopping to pick up fellow islanders seeking rides. Sharing our rides will incrementally reduce fuel consumption and resulting greenhouse gases, ease traffic and parking in town, and help build community connections and goodwill.
Last December the Friday Harbor Town Council voted unanimously to fund and install sjRIDESHARE signs at every major arterial leaving town. Mayor Jones, said, "To my knowledge this is the first green initiative in the town of Friday Harbor". The signs are located at sites leaving town on Mullis, Tucker, Guard, Argyle and Spring Streets. There is also one on Roche Harbor Road at Town and Country trailer park, heading into town.
In early stages of developing the program it was suggested that riders and driver register with the county, but it has been decided by the County that since hitch hiking is already legal, registering is not necessary. Safety tips and guidelines will be posted on the signs to encourage riders to use their best judgment when choosing rides, with special guidelines for kids suggesting they hitch hike only with parental permission, during daylight hours and with a friend.
A trial program was also approved by the San Juan County Council. SJC Public Works has produced signs to be installed at various sites on San Juan, Lopez, and Orcas Islands. County engineers are still working out the details of the various suggested sites, making sure there is plenty of room for a car to pull over at each site with minimal other traffic hazards.
sjRIDESHARE is also working with Washington State Ferries to encourage ride sharing for inter-island and off-island travel from the ferries, and to look into funding for a van to share rides to the mainland for medical appointments.
For more information go to www.sjRIDESHARE.org
(For more information about all this, contact: Liza Michaelson 378-3875 or liza@rockisland.com, or Anne Sheridan 378-7286 or sheridanphoto@rockisland.com.)