In Memorium....
Bob Boyce
12/17/23 - 4/1/08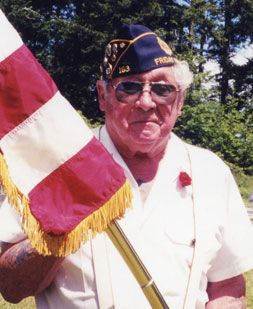 Bob was born in Bayview, WA on December 17, 1923. He graduated from Friday Harbor High School in 1942. After graduation he enlisted in the US Navy. He served in the South Pacific during WWII and was in the Aleutian Islands when his ship, The Abner Reed, was torpedoed and sank. He had been working in the engine room and as a result became covered in oil during the explosion. The oil kept him afloat and insulated against the frigid water.
After the war he began a career as a commercial fisherman. It was during this time that he met his wife, Julie. They met in Friday Harbor at a dance. They were married 6 weeks later on October 10, 1947 and were married 54 years. Bob may be the only person known who hitchhiked across Puget Sound via fishing boats to make it to his wedding on time!
In 1954, which was a very bleak year for fish, he decided to change careers. He joined the Union Oil Company (later becoming San Juan Fuel). He delivered oil and ran the fuel dock until retiring in 1982. He was an active American Legion member for over fifty years, having served in many offices including Commander.
Bob was a friend to everyone and was always there to help others. His door was always open. He loved cooking for "his girls" who worked at the Legion. He was instrumental in initiating the football program at Friday Harbor High School and a charter member of the booster club. He was an avid Seahawks and Huskies fan and until recent years never missed a game.
Bob is survived by his mother, May Boyce, sister Gloria Louden (Dick),
daughters Donna Burton (Larry) and Diane Buganski (Ted), grandchildren Chad Burton, Sheila Carrigg and Katie Buganski, and great granddaughter Kimberly Burton. He was preceded in death by his father, Ben Boyce and his wife, Julie.
Bob will always be remembered for his love of life, family and friends.
Memorial Service will be held at 11:30 on Saturday, April 5 at Valley Cemetery. A potluck will follow at the American Legion.