April 1, 2008
The reason we go to the grocery store....
Isn't the reason you go to the store is to see folks? That's why I go, and sometimes to get stuff to eat.
It was nice to see Alana Hysart & Ryan Gile in King's Sunday night - they're off to North Carolina this week for a visit...always good to talk with them.
A couple of great events this past weekend....
I heard the K-9 Carnival went great on Sunday, with over 160 dogs and over 400 of their people showing up - wow! And a good time was had by all....
Meanwhile, over at the Community Theatre, ace director Fred Yockers & the Middle School Drama Group were rockin' the place with their last show of Without Strings, a fine re-telling of the Pinocchio story. I heard they sold out Friday night, nearly so on Saturday, and had a nice crowd when I was there...it's pretty cool for a 200-kid school to have over 700 people come to see the show (which, by the way, had some 50+ kids in it.)
Washington's first Poet Laureate Samuel Green will visit the Library
Adrienne Bourne from the San Juan Island Library has just informed me that Sam Green (right), Waldron Island resident and Washington's first Poet Laureate, will be giving a reading on April 4th at 6:30 in the evening. This evening will prove to be one fine evening of poetry. Plus, we will have a chance to meet a Poet Laureate and what can get better than that?
The Loadout/Stay....
I think my favorite line in this song is "The only time that seems to short is the time that we get to play...." - when you see the whole thing, you'll see David Lindley (he was here in February) on the steel guitar & singing towards the end - love the way he does his part.
See whatcha think:
---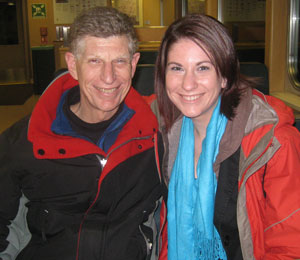 March 31, 2008
Back from America....
It was good to see Rusty Pollock & his daughter Megan on the ferry this weekend...it's been a bit more than a year and a half since Rusty took over at the Convalescent Center as boss, and he's making some nice changes with the place, including remodeling parts of it. (Here's the Update mention of when he took over, from the archives....)
Megan is the friendly voice you hear when you call Coldwell Banker most days.
Back from the rest of the world....
Heidi & Juan Lopez got back from a couple of weeks to Chile in time for Pablo's FHHS soccer game last Saturday, while Tina Fisher & Bruce Robinson are back on the island after six months in Australia (Tina's daughter Lillan Roquet came by to check in last week while she was on spring break from Linfield.)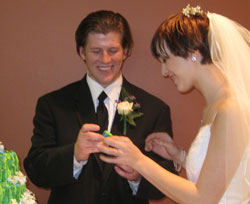 Just married....
I dropped by to visit Kelsey Tarte & Chris Schubert's wedding on Sunday at the Presbyterian Church, and to wish them well - that's them sharing the cake after cutting the cake.
All the best, you guys!
40!
Hey! Stacey Brown turns 40 tomorrow! Drop by the Hungry Clam & tell him happy birthday!
Parenting well....
The Prevention Coalition presents Gloria DeGaetano tonight 6pm at the FHHS Commons.....she's the author of Parenting Well in the Media Age, and childcare & light refreshments are provided.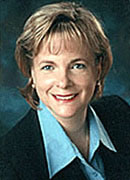 Parents throughout history have had their hands full, but these days it feels like folks REALLY have their hands full, with messages from the media & computers & peer pressure & all the other pressures both kids & parents have to process (and much of it, I hope, discard).
I've heard good things about her presentation & hope you get a chance to visit with her. We all can use something to fire us up for the task of good parenting....here's a full writeup about the show. See you there!
Neighbors helping each other....
Kate Schuman wrote to let you & me know they're pulling a deal together to help Rhonda - here's more:
Hi Ian,
Valmark employees are planning a spaghetti dinner and silent auction to help their friend and co-worker Rhonda Wilson Lyons deal with financial difficulties following the illness and sudden death of her husband Bill Lyons.
The event will take place Sunday, April 6th from 1-4PM in the American Legion basement. There is no charge for the spaghetti dinner, which includes salad and garlic bread. Donations will be gratefully accepted. Tom and Tami Doenges, wonderful local musicians, will provide music during dinner.
The auction will be happening at the same time upstairs in the game room. It will close at 3pm to allow for winning bidders to be determined and announced by 4pm. All proceeds from the dinner and auction will go to Rhonda.
Anyone wishing to donate an item for the auction may contact Snooky or Abe at Market Place, or call Kate Schuman at 378-4772.
Everyone is welcome! Please come help a neighber in need.

Thanks for your help, Ian!
Kate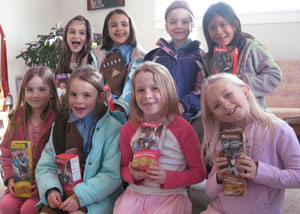 Cookie monsters - sure are cute!
The cookies sold well this year, partly because, well, who could say no to these girls? Here's more from Jill Urbach:
Hey, Ian! Attached is a picture of Brownie Troop 52259 delivering Girl Scout cookies to the Family Resource Center. Pictured are (top row left to right) Jaclyn Domenech, Andie Pillsbury, Joely Loucks, Vida Wight and (bottom row left to right) Katy Kulseth, Lucy Urbach, Jayna Ott, Allison Benz. Our troop, along with Girl Scout troop 183, also donated cookie boxes to the town and county fire stations and to EMS. Thanks to everyone for all their support! Thanks! Jill Urbach
Soccer falls in the snow....
In what was easily the worst playing conditions I've seen a Wolverine team play in, in 15 years....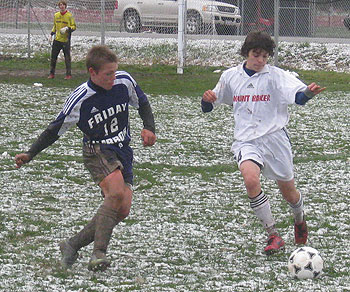 Friday Harbor's freshman forward Nick Roberts contains a Mt. Baker defender in a snowy, muddy match Saturday afternoon, but the Wolverines were unable to overcome two quick goals in the first six minutes as they fell 8-2 to the Mountaineers at Mt. Baker. Late goals by senior forwards Erik Nash and Shay Byington (assist by Louis Paul) provided the final margin. That's my photo at right, but here are more from the Bellingham Herald, as well as their story.
Home Trust awarded $600K grant....
Nancy at the Home Trust tells me they have received an incredible grant - here's more:
Home Trust Awarded $600,000 by Washington Housing Trust Fund

San Juan Community Home Trust received notice this week that it has been awarded $600,000 from the Washington Housing Trust Fund for its proposed project on the Buck Property in Friday Harbor. The grant comes from the Trust Fund's new Homeownership program and will help fund construction of 12 of the first 15 homes to be built on the site. These 12 homes will be reserved for sale to households with incomes at or less than 80% of the Area Median Income. The grant awarded to the Home Trust was the largest single award made in this round of state funding.

Home Trust Executive Director Nancy DeVaux says the award signals that additional funding will be forthcoming from the Community Development Block Grant (CDBG) program to help pay for extending urban infrastructure into the new neighborhood. The Home Trust is also in the middle of a capital campaign to raise matching funds from the community. To date, it has contributions and pledges totaling $912,342 toward its goal of $1,100,000

Work cannot begin until completion of a study of Friday Harbor's utility capacity and formal annexation of the Buck parcel. The Home Trust is, however, moving forward with plans to design its new neighborhood. Residential contractor Peter Kilpatrick, chair of the Home Trust's Building Committee, has brought together a team of professionals focused on Low Impact Development (LID). Sustainable features including water conservation, rainwater harvesting, on-site water reuse systems, and LID stormwater management techniques such as porous pavements and bio-infiltration facilities. An eco-charette, to be led by the Washington State Department of Ecology, is now being planned for the design team on May 6th.

Nancy DeVaux
Executive Director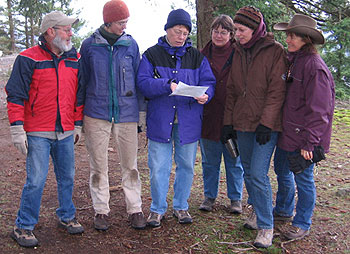 Land Bank Meets with Members of Island Trail Riding Club
Here's more from Tess:
On Friday March 28th a Land Bank staff member met with members of the Island Trail Riding Club on the Inter-Island ferry to hike the Turtleback Mountain Preserve on Orcas Island. The two groups are working together to communicate about concerns regarding multi-use of trails in the now public-owned Turtleback Mountain Preserve.
The Preserve was recently obtained by the Land Bank and San Juan Preservation Trust with the help of a huge public out-pouring of letters and donations. A one percent tax automatically added to all real estate sales in San Juan County goes to the Land Bank to purchase land to be held in Open Space for public benefit.
Checking the map of Turtleback Mountain Preserve are left to right; Rik Karon, Land Bank Staff Eliza Habegger, Land Bank Commisioner Mary Blackstone, Wanda Evans, Catherine Ascher, and Ruthie Thompson-Klein (photo by Tess Simendinger)
The Shipyard needs help....
Alisa over at Jensen Shipyard is looking for a mechanic - here's more, see if you fit the bill:
Hi Ian, We are finally ready to post an open position at the Shipyard. Thanks for helping us spread the word!

Marine Mechanic:
Family run boatyard seeks full time mechanic to work on primarily diesel inboard/outboard vessels. Past service and repair knowledge is a must. Experience with full service boatyard is a plus including but not limited to running heavy machinery, bottom painting and operating shop machinery. Salary and benefits DOE. Submit resume to Jensen Shipyard attn: Alisa Schoultz PO Box 666, Friday Harbor, WA 98250 or alisa@jensenshipyard.com. Thanks! Alisa
Quote
Computers are useless. They can only give you answers.
Pablo Picasso
---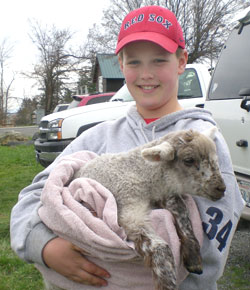 March 28, 2008
Andrew released from the hospital....
The newspaper in Billings, MT reported late Thursday that Andrew Scheffer was able to walk away from the hospital today, and that the plane that he was in that went down has been recovered.
Here's more from the Billings Gazette.
A kid & his lamb....
It was fun to see Gavin Guard (right) at the baseball game the other day - I expected that, he's a baseball nut) - but it was also fun to meet his lamb, too.
It's fun to watch a game with a friend....
The K-9 Carnival - it's this weekend!
Abby from Island Rec wrote to remind you that it's on Sunday - here's more: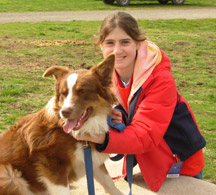 Island Rec's K-9 Carnival is here! This Sunday, March 30th from 1-4 pm at the Fairgrounds. Dogs of all shapes, sizes, and ages will have fun bobbing for balls or mastering the agility course. Let your pet stretch their legs in the off leash area and chat with the folks from Eddie and Friends Dog Park Committee who will be there to provide information about the new off leash area coming soon to the island.
Your pooch can also show off their singing abilities in the Doggie Idol contest or strut their stuff during the costume contest. There will also be contests for best trick, best kisser, happiest dog and lastly a peanut butter eating contest. So get those costumes together and start practicing those tricks so your pup can take home that first prize ribbon.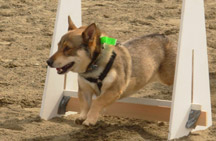 Coming back to the island after their very popular show at last years Wags to Riches event, the Washington Owners of Flying Disk Dogs a.k.a.WOOFD2 will be entertaining the crowd with two shows. You won't want to miss their high flying, high energy show!
Don't forget to check out all our great vendors and what services they provide for fido and you right here on the island. There will be everything from veterinary services, to pet portraits and so much more!
For more information or to volunteer at this year's Carnival contact Abby at 378-4953 or stop by our office at 580 Guard St.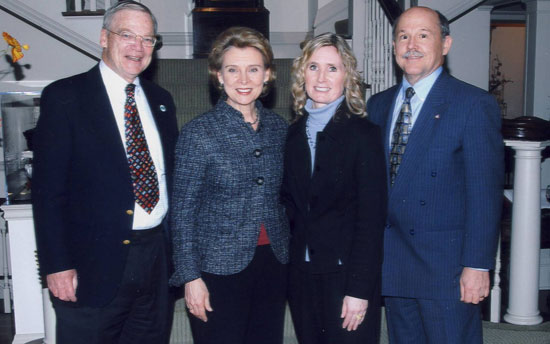 Deborah Hopkins (third from left) from the VB reports: "The San Juan Islands Visitors Bureau was recently honored to enjoy dinner with Governor Gregoire at the Second Annual Washington Association of Convention & Visitors Bureau's Dinner at the Governor's Mansion on March 6. Councilman Bob Myhr (left) was our guest. The Governor's husband Mike was also there, and dinner was prepared by Seattle Chef Tom Douglas. The Governor recognized the tourism industry as a major economic driver for Washington State."
Mark on KPLU....
Dave Meyer interviewed local philosopher, futurist, and computing industry expert Mark Anderson this week - Mark says "innovation" has become a meaningless buzzword. Listen to the interview here.
Yep, we're distinctive....
Remember I told you the Town of Friday Harbor was chosen as one of a Dozen Distinctive Destinations by the National Trust for Histirical Preservation? Here's what their website says about us, mostly true.
It's nice when people say nice things about you. Thanks, guys.
Mike's free show....
Make your plans now for next week to see Mike Vouri's show - here's the report from the Parks Service: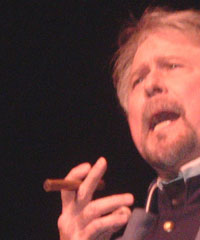 Join General George Pickett and friends for a donation-only dress rehearsal at 7:30 P.M., Friday April 4 on the Whittier stage of the San Juan Community Theater.
The dress is in preparation for the San Juan Island troupe's April 17 (6p.m.) appearance in the Microsoft Auditorium of the new Seattle Central Library. The Seattle performance is co-sponsored by the Seattle Public Library, the Museum of History and Industry (MOHAI), Klondike Gold Rush National Historical Park and San Juan Island National Historical Park.
The play, starring national park ranger and actor Mike Vouri in the title role and popular folksinger Michael Cohen, will this summer celebrate its 13th season on San Juan Island and its eighth year of touring the state under the auspices of the Washington State Humanities Commission's "Inquiring Mind" series. scheduled at 8 p.m. Tickets are $9.00 for adults, $5.00 for students.
"In view of the coming venue, we decided we needed a dress rehearsal to clear away the winter rust and fortunately our home theater is taking care of us," Vouri said. "We'll be in full costume with lights and the works and we won't be stopping. This is an ideal opportunity for those who haven't seen the show."
Over the years the play has retained a freshness that stems from continual research into the topic, according to Vouri, also a historian and author of The Pig War: Standoff at Griffin Bay and Outpost of Empire: The Royal Marines and the Joint Occupation of San Juan Island." The former title is considered the definitive history of the incident that took Great Britain and the U.S. to the brink of war in 1859.
"Some people not only see the show each year, they attend every performance," Vouri said. "While I never make wholesale changes, there are fresh bits. For example, one year I learned from Pickett biographer Rick Selcer that George Pickett's family sent him to live with his uncle in Illinois so he could get a West Point appointment. They perceived that the competition would not be as stiff and were banking on his uncle's political influence. They were correct on all counts. Another added bit explores why military bands played on the field immediately after a battle. You'll have to see the show to learn why."
The Pickett show is also scheduled for the Port Townsend Victorian Festival on May 3. The Summerfest San Juan productions are scheduled July 5 and 25 with both performances scheduled for 7:30 p.m
Will this be the last year of Pickett?
"Who knows?" Vouri said. "We'll do it for as long as we can and as if each performance was our last."
For information about the Pickett play or other interpretive programming, call San Juan Island National Historical Park at 378-2902 or 378-2240.
Quote
Do you know the difference between education and experience? Education is when you read the fine print; experience is what you get when you don't.
Pete Seeger
---
March 27, 2008
The island held its breath.....
We all were wondering what the rest of the story was, as we heard bits & pieces that Andrew Scheffer had been in a plane crash in Montana or Wyoming. The FHHS grad ('07) and all-around great guy is at Rocky Mountain Collge in MT learning to fly...and it looks like he's rescued. Check the details & updates on the San Juan Islander, as Sharon has been following the story closely.
A licensed pilot with over 150 hours of flight time, Andrew dropped by FHHS soccer practice a few weeks ago when he was home on break & told me how much he's loving school & loving flying - good to hear he's gonna be OK, but pretty bruised up.
Back on the water....
It's about time for the whale watching guys to start heading out - Bill Carli tells me he's ready:
Hi Ian,
I want to let you know that besides doing whale watch trips this season I will be taking people to Yellow Island to see the wildflowers. If you have never been there you really need to see them. They are fantastic. There's more information on my web page at www.carliwhalewatch.com

thanks
bill carli

Nuclear cat & more....
Joan Carter's essay called "Life in a Surveillance Society" explores what the border agents' thinking & motives are, including what deputy chief Joe Giuliano told us at a meeting here, which is pretty crazy stuff. Here's Joan's remarks, and here are Joe Giuliano's in a P-I editorial. See what you think. Chilling stuff.
---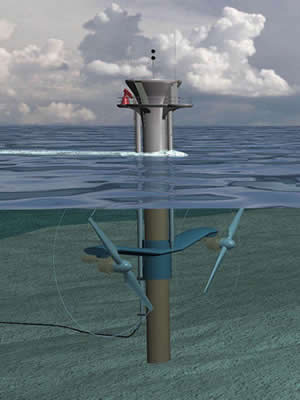 March 26, 2008
Sports update....
Monday night the soccer boys lost a close one at Meridian, 2-0 (they're back in action on Saturday at Mt. Baker), while both softball and baseball won last night. The lacrosse boys lost another one-pointer on Friday afer their one-point loss Wednesday, but play today at home against Snohomish.
What does a tidal generator work like, and look like?
I was wondering, and then my friend Charles sent this article about a British project...click here for more.
Pretty cool - I'd be interested in assurances it wouldn't hurt marine mammals, who probably are smart enough to stay out of the propellers anyway.
The middle school show is this week & a little name-dropping....
Jan from the Theatre has more, and I included the whole cast list so you could see which of your friends is in it:
Here's a warning - and no, my nose is not growing - if you're planning to see the Friday Harbor Middle School Players' hilarious twist on Pinocchio, get your tickets as soon as you can. These school productions are always hot (last year all three of their Cinderella performances sold out before opening night).

And if you weren't thinking of attending Friday, Saturday or Sunday's show - think again! Patrick Rainville Dorn's Without Strings, an adaptation of Carlo Collodi's The Adventures of Pinocchio, is too much fun to miss.

Co-directors Jenni Merritt and Fred Yockers set their cast of 6th, 7th and 8th graders (cast is listed below) in this vaudeville-like comedy that is complete with plenty of slapstick and silly character names (look for Tina Tuna, Mary Annette, Professor Pinecone and Dipstick). Amidst the clever wordplay and adventurous antics, Pinocchio sets out to find the meaning of life - without strings.

The shows are at 7:00 p.m. on Friday and Saturday and at 2:00 p.m. on Sunday. Tickets are $9 for all ages, with $5 student RUSH at the door if seating is available. The Box Office is open from 11 a.m. to 4 p.m. Tuesday through Friday and from 11 a.m. to 2 p.m. on Saturday, plus one hour before each show.

See you at the Theatre!

The Cast

Professor Pinecone - Oliver Strasser
Madame Azure - Gabby Rishel
Pinocchio - Hayden Place
Cricket - Helena Johnson
Geppetto - Stewart Bell
Blue Fairy - Rhiana Franklin
Mary Annette - Jenny MacDonald
Dipstick - Ryan Cole
Fox - Emma McMain
Cat - Maddy Marinkovich
Motel Owner - Sean Mclaughlin
Motel Owner's Wife - Erin McCauley
Paul - James Chaffee
Sparky - Alexa Jobe
Peg - Brynn Lean
Donna - Jordyn Williams
Fannie Oakleaf - Marga Eshelman
Trina - Lita Gislason
Driver - Emily Guard
Tina Tuna - Alyssa Hallock
Upholsterer - Shaughn Anderson
Rugrat - Sarah Clark
Candidate Hack - Audrey Olshefsky
Candidate Warhorse - Katherine Dietzman
Candidate Gladhander - Claire Crawbuck
Villagers - Petrea Islam, Emma Brand, Julianne Schreiber,
Nathaniel Leonard, Devyn Williams
Revelers - Daniel Porter, Isabel Place, Jacklyn Justiniano,
Kasey Rasmussen, Devan Rouser, Graham Crawbuck

Quote
Take it with a grin of salt.
Yogi Berra
---
March 25, 2008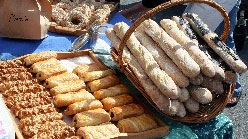 Did you see the pictures from the Easter Egg Hunt?

They're here (click)....
New bakery in town....
Bill Arney tells me he and Pam Stewart are gonna open their new bakery, Café Demeter, in the next ten days or so - I've had some of Pam's cooking at Farmers' Market & that makes me think they're going to have a fine bakery. To get an idea about what they're up to, here's their website.
Talley's Folly opens on Thursday.....
Helen from Island Stage Left tells me they're opening this weekend - here's the scoop: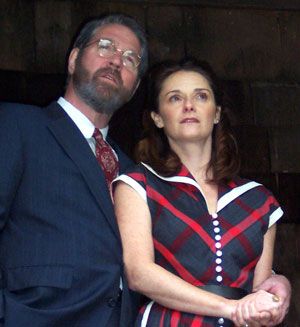 Island Stage Left presents "Talley's Folly" by Lanford Wilson.
Set in a dilapidated boathouse towards the end of the second world war, two social outcasts - a German Jewish accountant and the daughter of a wealthy and bigoted Missouri family find each other on a summer evening by the river and reveal their secret fears.
Krista Strutz and Daniel Mayes pair off in this enchanting romance playing Thursdays through Sundays March 27 - April 27 at 7:30 (except Sunday April 20th at 6:00 at the Fairgrounds on Argyle in the 4H building.
Griffin Bay open house - this Thursday.....
Schools' superintendent Michael Soltman says you have a chance to see what Griffin Bay is up to:
Please come and visit Griffin Bay Learning Center's Open House next Thursday afternoon. Griffin Bay is now located next to the district offices and offers three programs to our island community: Griffin Bay High School, Griffin Bay Virtual Academy, and Griffin Bay Parent Partner Program. Kim Norton, Barb Bevins, Maggie Law, and Betsy Ridwan are proud of their new school and would love to show you their "Magic of Learning". Please plan to attend!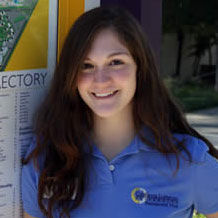 Meanwhile, over at Cal Lutheran.....
FHHS grad Talia Loucks is working as a presidential host at California Lutheran this term, and the freshman is majoring in communications & multimedia. Here's more.
Quote
When everything is working naturally,
the eye sees, the ear hears, the nose smells,
the mouth tastes, the mind perceives,
and the heart spontaneously responds
with the appropriate action.
Chuang Tzu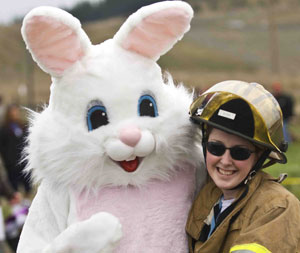 March 24, 2008
Happy Spring & Happy Easter!
Easter on the island - wahoo!
Although yesterday offered evey kind of weather you could ask for - early rain, clouds, dark clouds, clear skies, then more clouds - it was great to have a break at 1pm when the Easter Egg Hunt at Jackson's Beach got underway.
The Fire Department started hiding eggs in the morning & hoping the rain would stay away, which it did, after an early morning soaking. Here's a 62-photo portfolio I took of the Egg Hunt, so you have a chance to look for yourself & for your friends. It's always great to see so many smiles in one place, as you can see in the picture above and to the right, in these two pictures taken by firefighter John Marchwood.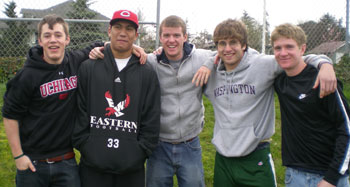 Coming home to roost....
Because it is spring break at a lot of universities & colleges, you see our college kids coming home to check things out at home - I saw Chelsea Pascoe (University of Washington) at the Easter Egg Hunt, and Devon Schwinge (Western Washington) at the soccer game.
Also at the soccer game were the guys at right: Michael Guard (University of Chicago), Tyler Hart (Eastern Washington), Brock McNairy, Mike Fyrqvist, and Keller McNairy (all UW), as well as former soccer captain Johannes Paul (UPS), who walked the sidelines watching this year's edition thump Lynden Christian.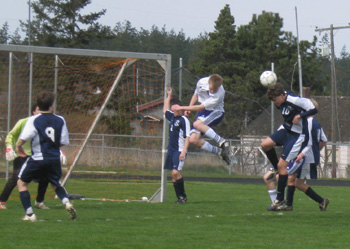 Soccer: FHHS 2, Lynden Christian 0
The boys got their first win of the season at home Saturday, beating the Lyncs 2-0 behind two goals by senior midfielder Louis Paul, blasted from the left side in the second half.
The Wolverines had only scored a couple of goals in their first four games, but the offense came alive in the first quarter as FHHS camped out in front of LC's goal for most of the first half. (That's junior midfielder Cameron Byington in white, about to head a cross toward goal.)
In the second half the Wolverines' defense put the clamps on the Lyncs, while starting the offense with controlled passes to the midfield, including senior midfielder Josh Combs, below. A more relaxed & more effective offense got about twice as many shots on goal, and FHHS had a win over a league foe.
The soccer team returns to action today, traveling to Meridian, who beat these same Lyncs 2-0 a week ago. The team was clearly bouyant at the end of Saturday's game, and it'll be fun to see if they can carry that enthusiasm up to Bellingham today.
Foxes on the loose....
When I saw a red fox in my driveway Saturday night about ten, I didn't think much about it, but the next day Stacey Brown from next door told me he and Lisa had put about five dozen Easter eggs out Saturday night to surprise the kids the next morning, only to find only about a dozen the next morning.
That fox I saw was pretty well-fed-looking to me, and a bit sassy, so that's my theory.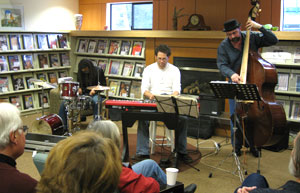 Jazz Trio plays at the Library.....
It was pretty cool to hear the Tangria Jazz Trio Saturday night at the Library, as they performed for nearly sixty jazz fans....the event featured Sheryl Mebane on drums, and reading parts of her new book, Lady Bird, with Simon Rochester on Rhodes piano.
A pleasant surprise was Cecil Demeerleer filling in for the trio's regular bass player...on late notice & no rehearsal, our local guy made you completely forget it was his first run through with the songs - he was very composed & the set went smoothly with his solid bass playing.
Here's more about the group, who continue their tour in Oregon tonight.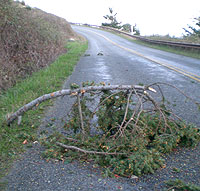 Windy last evening....
The wind was blowing pretty hard early yesterday evening, which was why West Side Road was strewn with branches...be careful, 'cause they can do a job on the underside of your car. I threw the one in the picture in the ditch, but the wind was still blowing.....
The flowers are in bloom....
Mary and Lou Aubert have some lovely pictures of crocuses in their blog - check here.
Small quake nearby....
There was a small earthquake in Anacortes yesterday (about 2 point something)...here's more.
Quote
"If you follow your bliss, you put yourself on a kind of track that has been there the whole while, waiting for you, and the life you ought to be living is the one you are living."
Joseph Campbell