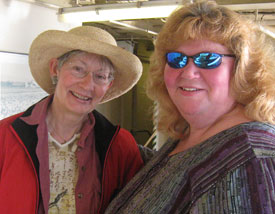 Click here for last week's news...

---
September 17, 2008
Singing all over the place....
It was nice to run into Kathleen Wilson (right) and Sonya Zarek on the ferry to Oracas yesterday - they were headed over to perform at te senior center over there, with Kathleen's singing backed up by Sonya's piano.
Cool to see islanders spreading the love....
It's a big deal....
The Transportation Summit is the biggest thing happening on the island today - see ya there.
It was a big trip....
Steve & Nan are back after 40 days away....here's more.
It was a big run...
Clark Gilbert had a whirlwind trip to Utah to run a marathon (Laura Tretter was there to walk it) as he continues his marathon of marathons...he's off to Lake Chelan for his third in a row this weekend. Here's his blog, with some amazing pictures.
The sewer project has begun, and you'll probably notice.....
Well, yeah, since we gotta tear up the town to get the job done...here's a report from the Chamber of Commerce's Debbie Pigman:
Friday Harbor Sewer Replacement Project: The purpose of this project is to replace our ancient sewer system so that raw sewage does not go into our bay. There will be disruption at times, but it is a necessary improvement. The good news is that the project should only last for a few months.
Brief update: Work on the sewer replacement has begun. The pump station wet well portion of the project begins this week (September 17). This is in the area behind Cannery Landing, and will involve blasting of rock, with the estimated completion date in about 30-40 working days.
The overland pipe-force main portion of the project, going up the first two ferry lanes, begins the first week of October. This wiil be contained in the parking lot and should not effect parking or traffic on East Street. Work has begun on Second Street and will continue down Court to First to East. Parking in these areas will be closed off one block at a time and estimated completion time per block is one day to one week-ish (the reality is that it will depend on what is found once they start digging).
I will attend weekly project update meetings during the next few months and will send out a status report as things progress.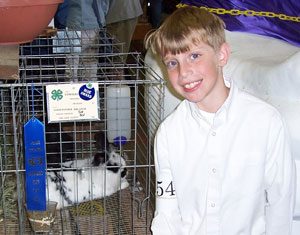 Big deal at the State Fair - way to go, Christopher!
Cathy Cole sent me this & asked that I share it with you:
Eight year old Christopher Hallock has been in 4-H for 2 years. He is a member of Country Critters, the San Juan Island Rabbit/Poultry and Cavy Club. This past year he became a Junior (3rd grade) and was able to finally compete in this year's San Juan County Fair. At the fair, Christopher and his Lionshead Rabbit, Shrek won blue ribbons for Showmanship and Best of Breed for Type. So, Christopher and Shrek decided to move on to the next level in competition and go to the Washington State Fair. Christopher competed with 40 other Juniors during Showmanship and his rabbit was judged with 5 other rabbits of his breed. Christopher got a Blue Ribbon for Showmanship and a Red Ribbon for Herdsmanship. Shrek got a Blue Ribbon for Type, Best of Breed Opposite and Best of Variety. Christopher really enjoyed himself and hopes that he can go again next year. He was also a little disappointed to see he was the only one from our county in the barn and hopes that other kids from our county will take the opportunity to go next year.
CONGRATULATIONS, Christopher and Shrek!

Submitted by Cathy Cole, 4-H Leader and Emily Hallock, Proud Mother

---
September 16, 2008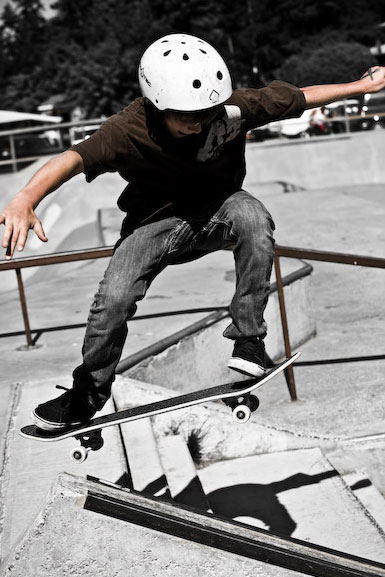 A bunch of pictures for you....
I know you like pictures as much as I do - here is a gallery online that a fellow in Bellingham took of our football boys last Saturday as they played Meridian (click here), and here are some artistic shots that John Sinclair took of the skateboarders & BMX kids on Sunday at the Skatepark (check 'em out.)
It's all part of why we like to live here - seeing our kids do cool things.
New kid on the block....
I could HEAR Sam Jacobson smiling on the phone yesterday when he told me his wife Allessandra delivered baby Emily lasy Monday - he says everybody's doing great!
Play auditions, for kids....
Jan fromt he Theatre says you'll like being in this one:
Auditions are today and Wednesday, September 16 and 17 at 3:15 p.m., for one of the most popular family plays ever written, The Best Christmas Pageant Ever, by Barbara Robinson. Directed by Merritt Olsen, the play will be presented at the San Juan Community Theatre November 21-23.
On Tuesday, elementary age children and their parents may audition at the Friday Harbor Elementary School Gym. On Wednesday, middle school age children and their parents may come to the Friday Harbor Middle School Commons.
The play centers on a mom struggling to put on a church Christmas pageant as she's faced with casting the Herdman kids—considered the "bad" kids of the community.
Merritt says that the adaptation of Barbara Robinson's The Best Christmas Pageant Ever is not actually about the meaning of Christmas. "It's about the meaning of the meaning of Christmas." With humor and poignancy, Robinson shows us a new way to look at the Christmas story through the eyes of the Herdmans.
Perusal scripts are available at the SJCT box office. For more information, contact Merritt at 378-3211, ext. 29.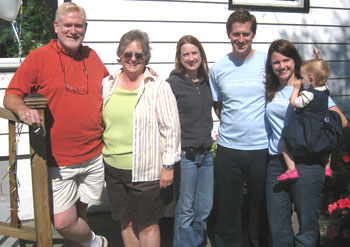 Five years and more....
Last Friday was the fifth anniversary of Michael Horn's coming to Friday Harbor Dentistry, so he and the staff (and family & friends) had a great outdoor barbecue on the lawn of the place, which was sure well attended (and well-fed) during the time I dropped by.
That's him with little Lila, his wife Jennifer, and the visiting & doting grandparents...it was agreat family event. And he's a good one to have around...glad he's here.
Quote
Peace hath higher tests of manhood, than battle ever knew.
John Greenleaf Whittier
---
September 15, 2008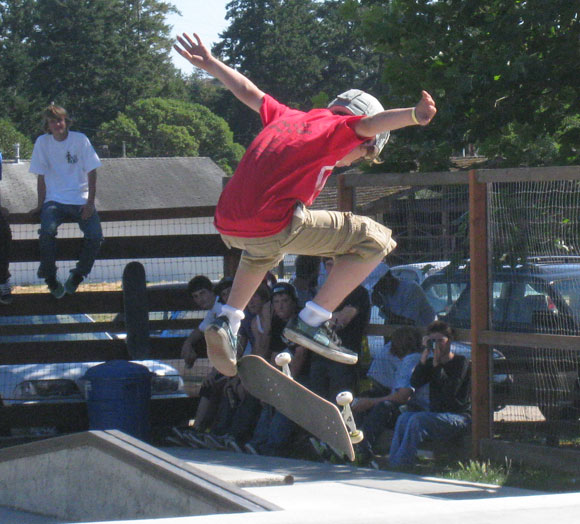 Yesterday was the annual skatepark jam at the Skatepark, sponsored by Island Rec, which this year was expanded to include BMX action....rained out in August,
the re-scheduling couldn't have gone better, with temps in the mid-80s and a
high-flying show in the air. Photo by Josie Cleland, for Skateboard World.
Click here for a simply awesome 92-photo gallery of the day by John Sinclair.
---
Times to remember, and keep an eye on.....
Wow...It was summer this weekend, wasn't it? Hope you got out in the sun....looks like more of the same, with the highs in the low 80s today, here on the island. That, and a full moon (which means you can read at night - it's that bright, isn't it?)...couldn't ask for more.
Hay, and have your animals been acting a little weird? Maybe the moon...seems like folks were talking about that this weekend, too....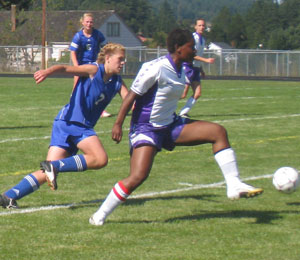 Sports updated....
In kid soccer this weekend, the U-12 Boys beat visiting Anactortes 3-1 on Saturday, followed by a tough 2-0 loss for our U-14 girls to Emerald City, after which our U-13 girls knocked off a persistant Sedro-Wooley squad 3-1. The fun in the sun continued on Sunday as Stanwood came for a couple of games, beating our U-14 boys twice in games in which the boys were still playing hard late in the fourth half of the day...pretty inspiring group.
FHHS football (1-1) lost their first of the season at Meridian on Saturday - the Wolverines played the 2006 state champs close, but were unable to score more than once, losing 20-7. The guys play La Conner at their place on Friday night, and play Meridian again on Oct. 25th. (Here's a complete writeup from the Bellingham Herald.)
Meanwhile, the FHHS soccer team (0-2) came up short with South Whidbey for their second loss of the young season on Saturday, 7-0. (That's Whitney Porter passing off in the second half, left, in a photo by Josie Cleland.) The girls travel to North Sound Christian to get back on track tomorrow before taking on league rival LaConner on Thursday on their field.
Road warriors: The FHHS volleyball girls play three away this week - Tuesday, Thursday, and on Lopez for their tournament on Saturday.
Quote
Usually the quotes I add to the Update are short, pithy, and somewhat topical. Today's is a call for hope, and for change, in a fairly long essay by Clarissa Estes.
Most of you know I grew up in Alabama during the time of Dr. King - I was surrounded by the most incredible hope, buttressed by the most incredible courage.
With that, a better day was born. Now, that day must be re-born.
So, in that spirit...here goes:
Do not lose heart. We were made for these times.
I have heard from so many recently who are deeply and properly bewildered. They are concerned about the state of affairs in our world right now. It is true, one has to have strong cojones and ovarios to withstand much of what passes for "good" in our culture today. Abject disregard of what the soul finds most precious and irreplaceable and the corruption of principled ideals have become, in some large societal arenas, "the new normal," the grotesquerie of the week. It is hard to say which one of the current egregious matters has rocked people's worlds and beliefs more. Ours is a time of almost daily jaw-dropping astonishment and often righteous rage over the latest degradations of what matters most to civilized, visionary people.
You are right in your assessments. The lustre and hubris some have aspired to while endorsing acts so heinous against children, elders, everyday people, the poor, the unguarded, the helpless, is breathtaking. Yet ... I urge you, ask you, gentle you, to please not spend your spirit dry by bewailing these difficult times. Especially do not lose hope. Most particularly because, the fact is — we were made for these times. Yes. For years, we have been learning, practicing, been in training for and just waiting to meet on this exact plain of engagement. I cannot tell you often enough that we are definitely the leaders we have been waiting for, and that we have been raised since childhood for this time precisely. Click here to read the rest. It'll fire you up.
---
September 12, 2008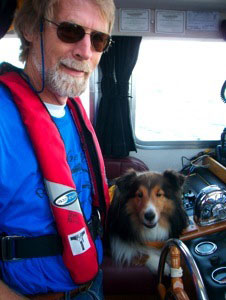 Up near Nanaimo....
Seems like you run into islanders everywhere - in her blog, Nan Simpson reports that she and Steve bumped into Don English up in Nanaimo on Vancouver Island, and then met up with Steve & Judy Kennedy for dinner.
Small world, that way.
Moving in together....
The story on the street is that Creme Bruleé and Daisy Bloom are moving together into the previous Re/Max location.
Beard growing contest starts today!
Here are the rules - ya gotta read them to get started.
Profile yourself....
This is fun - when you click on this link, a series of about 15 pictures will come up. Click on a photo in that category that appeals to you. Again 15 pictures will come up, click the one for you and move on. Just continue to keep picking. At the end it will give you a profile of yourself.... It's called a visual DNA ....


Artstock is coming!
Click here for a preview of the first weekend in October!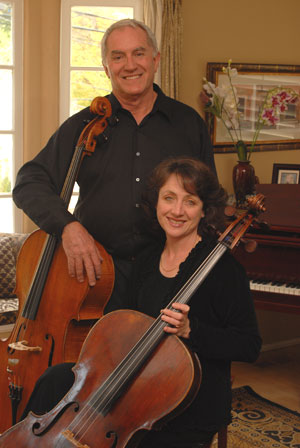 Chamber Music San Juans...this Saturday....
Jan from the Community Theatre tells me the featured players come from across the country to play for us:
Cleveland pianist Frances Renzi and Los Angeles-based cellist Rowena Hammill highlight the Chamber Music San Juans' fall concert at the San Juan Community Theatre on Saturday, September 13, at 7:30 p.m.
Renzi has played throughout the United States as a soloist and with the orchestras of Dallas, Houston and Toledo, as well as in recitals in Chicago, New York and Washington, D.C. Fanfare Magazine described her playing as "absolutely superb…crystal-like articulation, impeccable rhythmic precision…."
Originally from Sydney, Australia, Hammill is the Associate Principal Cellist of the Los Angeles Opera Orchestra and has performed at festivals throughout the U.S. In addition to her classical music concerts, Hammill has appeared on stage alongside such actors as Denzel Washington (Inside Man) and Michelle Pfeiffer and Harrison Ford (What Lies Beneath) where she portrayed a cello instructor.
In Friday Harbor, Hammill and Renzi will join CMSJ favorites Ron and Roxanna Patterson and clarinetist/artistic director Patricia Kostek. Together, the ensemble will perform Fauré's "Quartet for Piano and Strings," the deeply moving and passionate and Brahms-like "Trio for Strings" by Ernst von Dohnni and the charming and virtuosic Beethoven Trio, Op.11. Rounding out this extraordinary concert will be the greatest Romantic sonata ever composed: the Sonata for violin by César Franck, transcribed for viola and performed by Roxanna Patterson.
Chamber Music San Juans is sponsored by Kings Market. Tickets are $23 for adults, $12 for student reserved, with $5 student RUSH available at the door. A private donor has made provision for free tickets to anyone needing financial assistance to attend a Theatre event.
The SJCT box office is open Tuesdays through Fridays from 11 a.m. to 4 p.m., Saturdays from 11 a.m. to 2 p.m. and one hour before each performance. Call 378-3210 for more information.
Former Guantanamo detainee to speak in December; panels begin this weekend.....
Roger deRoos from the local chapter of Amnesty International says this weekend kicks off the fall panel series:
Human Rights in the Twenty-First Century: The Universal Declaration of Human Rights was adopted by the United Nations General Assembly on December 10, 1948. The Friday Harbor Group 607 of Amnesty International will celebrate the 60th anniversary of this historic document on December 10, 2008. United States Army Captain James Yee will be the honored speaker. Captain Yee, a Muslim Chaplin at Guantánamo Bay, Cuba. and the recipient of awards for his service was arrested and charged with treason and espionage in September 2003. Chaplain Yee subsequently was exonerated, all charges were dropped and, without apology, Chaplain Yee was honorably discharged from the United States Army in January 2005.
In rededication and in preparation for the December 10th celebration, the local Amnesty International Group, in conjunction with the Friends of the San Juan Island Library, invites your participation in the three monthly panel discussions of the Universal Declaration of Human Rights to be presented at the San Juan Island Library. All of the events are free. Copies of the Universal Declaration of Human Rights (UDHR) are available without cost at the San Juan Island Library.
The first panel discussion on Sunday, September 14, 2008, from 5:30 to 7:00 PM is entitled, "Life, Liberty, and Personal Security", and will discuss Articles 1 to 11 of the UDHR. The panel members will be Mr. William Cumming, San Juan County Sheriff; Mr. James McNairy, Friday Harbor High School teacher of American Political System, World Government, and Current Events;; Ms. Louisa Keys. member of the Amnesty International Group Steering Committee; Mr. Charles Silverman, Assistant County Prosecutor; and Mr. Richard Walker, Editor of the Journal of the San Juan Islands.
The subsequent two panel discussions will be as follows: Sunday October 12th, "Rights in Civil Society and Polity", devoted to Articles 12 to 21, and Sunday November 9th, "Economic, Social, and Cultural Rights", devoted to Articles 22 to 30.
The UDHR is the primary international articulation of the fundamental and inalienable rights of all members of the human family. It represents the first comprehensive agreement among nations as to the specific rights and freedoms of all human beings. The UDRH has become a cornerstone of customary international law, binding all governments to its principles.
Ms. Eleanor Roosevelt, the Chairperson of the United Nations Commission on Human Rights spoke as follows to the United Nations General Assembly in her presentation of the document for approval: "We stand today at the threshold of a great event both in the life of the United Nations and in the life of mankind. This declaration may well become the international Magna Carta for all men everywhere. We hope its proclamation by the General Assembly will be an event comparable to the proclamation in 1789 [of the French Declaration of the Rights of Man], the adoption of the Bill of Rights by the people of the U.S., and the adoption of comparable declarations at different times in other countries."
Marine Naturalist Training Program starts on the Saturday the 20th.....
Here's more.
Shining Stars! Here they are! Don't look far! They're the Stars!
Sally at Island Rec wants to say "thank you' to these stars, and more:
Island Rec' Board Shining Star Award Celebration : On Saturday September 13 from 3-4pm at the Family Park, Island Rec is hosting its first ever Board Shining Star Award Celebration. This first ever event in Island Rec's nearly 25 year history will coincide with Island Rec's Volunteer Appreciation (IRV) Ice Cream Social.
"Island Rec has been extremely busy offering diverse and quality recreation program and parks to San Juan Islanders we have not taken the time to recognize those who have been extremely supportive along the way. Recognition of these folks is long overdue," stated Sally Thomsen, Recreation Director.
The first ever Island Rec Shining Star Awards will be presented to:
Community Spirit Award
Selfless giving of goods, services and or financial support
• Island Petroleum Products for continual sponsorship of Music on the Lawn since 2001
• Marty Percich, Use of Property and Pond for Sailing Class, since 1993 (possibly earlier)
• San Juan Historical Museum, Use of property for Music on the Lawn since 2001
• Mike Carlson Enterprises, Use of equipment at Lafarge in 2007
• Lafarge, Donation of Land for Park Development July 2007
Partner Award
Commitment to providing recreational opportunities through cooperative efforts
• Peter and Susan Risser, San Juan Sailing Foundation, since 1993 (possibly earlier)
For sailing classes
Outstanding Volunteer Service
• Hockey Coaches, Greg Earl, Jeff MacDonald and Bruce Rehban volunteering since 1994 (possibly earlier)
• Doug Higginson, Lafarge Property Improvements 2007
• Todd Kromer and Dennis Garl, Skatepark Addition 2007
The over 100 people who have volunteered with Island Rec over the last year who contributed well over 2,000 volunteer hours will also be honored on this day.
The PAS is ready to perfom...
Sally Browne says it'll be a good show at the end of the month: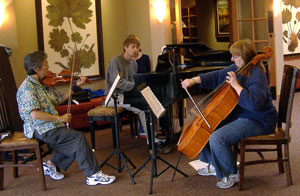 I would like to announce that the Performing Arts Society resumes its concert series later this month. On September 28, 2008 Grisha Krivchenia and Sally Browne will be joined by Ayako English, a violinist from SF/Bay Area, performing Franz Schubert's Piano Trio Op. 99 in B flat major. Also on the program, Grisha shall perform a Schubert Impromptu in A flat major and his own Impromptu. The trio will rejoin to debut an original piano trio, Postlude from the Poison Arrow, written by Grisha.
The concert will be at the Friday Harbor Presbyterian Church, beginning at 3pm, Sunday, September 28.
The Performing Arts Society brings quality classical music to the community as often as possible. If you would like to participate, please leave a message for Sally at 378-4106.
Quote
When in doubt, mumble; when in trouble, delegate; when in charge, ponder.
James H. Boren

---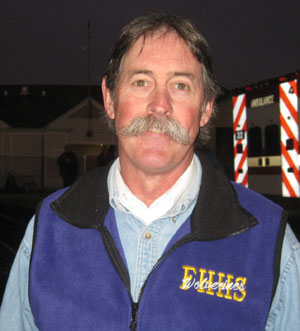 September 11, 2008
You've probably met Gary Pflueger by now...he's the new principal at the elementary school this year, and I hear he's off to a great start from the teachers and the kids. And FHHS principal Fred Woods tells me Gary's all right, 'cause he's from Idaho, too.
Good to have you here!
And a Thankful Thursday to you, too...
I walk by the gatehouse at Browne's each morning, and it's cool to be greeted by David Hoopes each day with his best wishes...each day it's different: Marvelous Monday, Terrific Tuesday, Wonderful Wednesday, Thankful Thursday, and I forget what Friday is. But it's cool to hear his booming good cheer first thing each day.
And a Thankful Thursday to you, too!
Mystery of Toby's Tavern solved!
Someone who I believe is in the federal witness protection program told me that she found a Toby's Tavern at 8 Front Street, according to this website. I did a little checking, and sure enough, the site was wrong - Toby's is in Coupeville. That's why you should only believe locally produced websites, like the San Juan Update, your source for all that is True, and America's San Juan Island Website.
Thanks for checking. And thank you for your support, or whatever it is when you write & tell me I spelled something wrong.
More on the Dog Park...
The folks at San Juans TV have done two interesting things: They got married (congrats, Lisa & Darren!) and made a little video about the new dog park from last week when it opened. When it opened, they didn't "cut the ribbon" like folks usually do - they cut the leash. Nice metaphor... Check it out here.
Also, Lori Stokes, who helped pull the project together, has a bit more about it for you:
Everyone who has a dog - or just loves watching dogs play – is invited to visit the new Eddie & Friends Dog Park, which is conveniently located right outside of town on Mullis Street, between Browne's Home Center and the fire station. The two-acre off-leash park, which is totally fenced in using 6-foot field fencing, contains a smaller section that has been fenced separately for use by small and/or older dogs. Park features include off-street parking, benches, dispensers of biodegradable bags for dog waste, and a small gazebo for shelter on rainy days. The park is open daily from 7 a.m. until dusk.
EDC gets $30,000 grant....
Bill Watson tells me this is gonna help:
San Juan County Economic Development Council awarded Rural Opportunity Fund Grant - The San Juan County Economic Development Council (SJC-EDC) was awarded a $30,000 Rural Opportunity Fund (ROF) Grant from the Washington State Department of Community, Trade and Economic Development (CTED).

This grant was awarded to fund feasibility studies of possible sites for the San Juan Islands Agricultural Guild's (Ag Guild) Permanent Farmers Market project that will be located on San Juan Island. This grant is supported by a matching contribution from the Northwest Agriculture Business Center who will be providing technical consulting for the project.

In support of local county agriculture, the SJC-EDC has had a permanent location for the San Juan Island Farmers Market on their work plan for well over a year. With the creation of the non-profit Ag Guild, the project has made sufficient progress and is ready to perform specific Site Feasibility Studies of possible locations. The award of this ROF grant will enable these studies to be conducted, including preliminary architectural plans and structural engineering analysis. The Ag Guild's board members represent the San Juan Farmers Market Association, the Orcas Farmers' Market, the San Juan County Agricultural Resources Committee, the SJC-EDC, the Island Grown Farmers Cooperative, the San Juan County Fair, Skagit Valley College, Port of Friday Harbor, the Washington State University Extension – San Juan County, and the Northwest Agriculture Business Center.

The ROF grant assists rural communities and tribes with strategic planning and pre-construction activities that support local economic development. The grants are acquired by working with CTED's regional services offices.

For more information, email info@islandway.org, or call Bill Watson, San Juan County Economic Development Council, at 360-378-2906. For more information about the Ag Guild's Permanent Farmers Market project, contact Project Director Lovel Pratt at lovel@rockisland.com or 360-378-7172, or check out www.sjiagguild.com.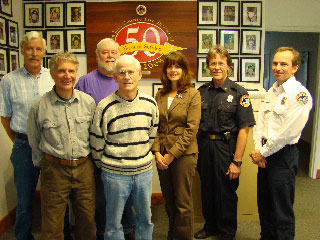 (Left to right): Don McLasky, Allan Smith, Ron Garner, Jim Traub, Carolyn Hudson, Francis Smith, Brad Creesy

Hall of Fame established.....
Chief Steve Marler has announced the creation of the San Juan Island Fire Department's Hall of Fame in order to honor the men and women who have given their time and efforts to develop a very successful fire department. Celebrating its 50th anniversary, the department honors twenty-one who served as commissioners, officers, firefighters and supporters. Here's more:
The list includes Art Fuehr, commissioner and chief, who is credited with acquiring the first fire engines owned by the department, performing the maintenance on them and even responding to a fire with a fire truck that was itself on fire.
Also included is the legendary Frank Wilson who headed the Emergency Medical Services while it was part of Fire District 3.
There are five past chiefs: Along with Art Fuehr, there is Jud Callendar, Mike Peters, Glen Potter, and Bill McLaughlin, each making the Hall of Fame for their efforts to develop the department into what it is today. Additional charter inductees are Dan Berg, Brad Creesy, Ron Garner, Shirley Homgreen, Carolyn Hudson, Peter Kilpatrick, Don McLaskey, Mac McPheeter, Dick Morrison, Ross Miner, Meredith Palmer, Pete Plunket, Allan Smith, Francis Smith, and Jim Traub.
The community is invited to attend a formal presentation during the Safety Fair, which is on Saturday, October 11, 2008, from 11 a.m. to 2 p.m. at the Mullis Street Fire Station.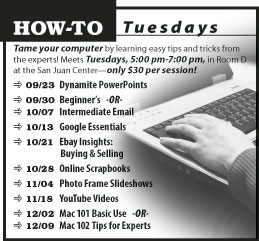 Skagit's "How-To Tuesdays"...here's the deal....
The Skagit Valley College quarter gets underway in a couple of weeks, and a new thing is the How-To Tuesdays (right), for folks who want a little two-hour brushup (or introduction!) for the topics you see to the right. Give 'em a call & get signed up!
Presidential polls....
If you really are interested in how the presidential race is going, don't look at the polls...look at the way the electoral college polling is going. Check out this site - it has it all.
Quote
I never did very well in math - I could never seem to persuade the teacher that I hadn't meant my answers literally.
Calvin Trillin

What's happening on the island!
Click for more info:
sanjuancalendar.com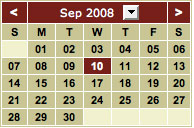 ---
September 10, 2008
Remembering....
Tomorrow, there will be a ceremony remembering the events of seven years ago....here's more from Minnie Knych:

Notice to Businesses in Friday Harbor:

On Sept. 11, 2001, we watched in horror as two hijacked airliners were flown by terrorists into the twin towers of the World Trade Center. We ask that you join us in one minute of silence on Thursday, Sept. 11, 2008, in remembrance of those who were lost to us on September 11, 2001 and the years since in the fight against terrorism.


Thursday, September 11, 2008
8:55am - Those who wish to join the procession down Spring Street will meet at Wells Fargo

9:11am - the Cannon will be fired in Memorial Park (to symbolize the airplanes hitting the buildings.
9:11am to 9:12am - one minute of silence. (We request that all shop keepers, office workers and pedestrians stand in silence on the spot for these 60 seconds. If the work environment allows, on the sidewalk is preferred) Church bells ring during this time.

After the minute of silence: Fire/EMS and Sheriff vehicles will assemble at Memorial Park sounding sirens. (To symbolize the rescue workers who arrived on the scene.)

Mayor David Jones will read a proclamation
Prayer by Pastor Joe Gamez
Also remembering....
Also, at the bowling alley & Jimmy's, Debbie says they're offering a way for you to connect:
This Thursday, 9/11, Jimmy's Paradise Cafe and Paradise Lanes will be donating to our local Fire Department, EMT's and Emergency Response personnel $1.oo for every breakfast and lunch customer - and 10% of the bowling revenue. We our open for supporters to also donate any given amount or to purchase t-shirts from the fire department for $20.00. Our phone is 378.3131 or the Paradise Lanes at 370-5667. Come help support a debt that can never be re-paid and to remember the heroes of 9/11.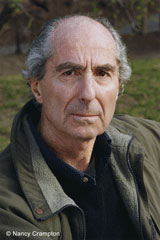 Roth makes an appearance on the island - on the web....
You've probably been reading Phillip Roth as long as I have, so it'll be cool to see him present his new book - here's how Laura and the gang at Griffin Bay Bookstore are gonna do it:
Griffin Bay Bookstore is one of 60 selected bookstores across the nation to participate in a live interview on Tuesday, September 16 with noted author, Philip Roth on "Indignation Day," when his latest novel—Indignation—is released.
The webcast event sponsored by the publisher, Houghton Mifflin Harcourt, will feature an hour-long interview conducted by upcoming author Benjamin Taylor. Although the webcast is not interactive, participating bookstores have submitted questions for the discussion with Roth, who has written some of America's great novels: Goodbye Columbus, Portnoy's Complaint, American Pastoral and Everyman. Roth's Indignation is his 25th novel, and it is Roth at his best, describing the life and journey of a young American man during the Korean War era.
Participating bookstores in Washington in addition to Griffin Bay Bookstore, are University Bookstore in Seattle and Third Place Books in Lake Forest Park. The September 16 "Indignation Day" event is free of charge and begins at 5:00 pm. Griffin Bay Bookstore will have signed first editions of the novel available for purchase.
American readers can expect to participate in more webcast events, a new and exciting way of bringing contemporary authors to bookstores and book clubs for interactive discussions.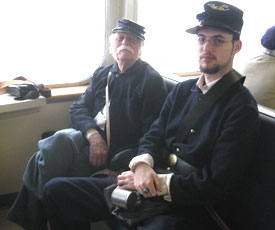 Marching to Bellingham....
If you saw some guys from the 1850s on the ferry Saturday, you kinda entered a time warp. Some of our re-enactors were on their way to help celebrate the courthouse in Bellingham's 100th anniversary.
Quote
In most communities it is illegal to cry "fire" in a crowded assembly. Should it not be considered serious international misconduct to manufacture a general war scare in an effort to achieve local political aims?
Dwight D. Eisenhower
Sign up for fall classes at Skagit Valley College!
Stella at the San Juan Center has the scoop:
After a busy, on-the-go summer it is time to reward yourself with some relaxing, mind-stimulating fun by taking Skagit Valley College's Community Education classes at the San Juan Center.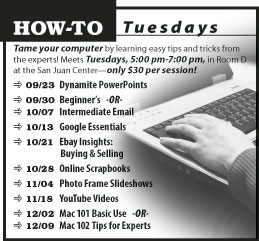 This Fall Quarter we present our Where Art Meets Prose class (September 11-15) led by local professional artist, Annie Howell-Adams and local published author/teacher, Susan Wingate blending drawing or painting with creative writing. This is bound to be an exciting process!
Next on the list there is our Beowulf and Chaucer class (October 1-November 19), led by Dr. Don Baker exploring the literary background of J.R.R. Tolkien's The Hobbitt and The Lord of the Rings exposing you to a hero, monsters, quests and the battle of armies of good and evil…what a stimulating way to start your morning!
If your interest lies more on this planet then you will want to take our Antarctica class (September 29-November 24) presented by Barbara Fry experiencing this highest, driest, coldest, windswept continent with the first explorers and discovering this last earthly frontier.
Or you may want to take another type of trip, your own anthropological one, in the Travelogue and the Anthropological Adventure (September 29, October 6 and October 13) revisiting and discussing your own cross-cultural travel adventures guided along the way by field researcher, Deborah Neff.
From there, you will want to save time for From Genesis to Genetic Engineering (October 1-November 19) led by Barbara Brownstein delving into genetics before and after the mid-19th to 20th centuries while exploring many unresolved issues pertaining to genetics. Also on our rolls we can help smooth over your business knowledge rough spots through Introduction to QuickBooks (September 20) and Advanced Quickbooks (October 18) workshops with instructor, Karla Gulke PLUS our NEW How-To Tuesdays (September-December) with Ian Byington taming your computer with easy tips and expert tricks.
Just take the step to register now and then relax! Let us brighten some of those upcoming rainy days for you by calling us at 360.378.3220, Skagit Valley College - San Juan Center, or coming by our office at 221 Weber Way, Friday Harbor. See you soon!