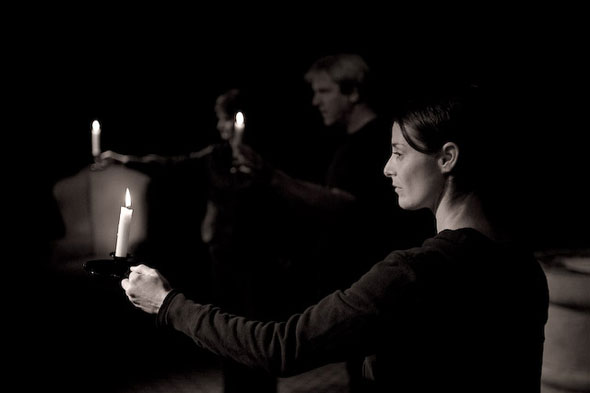 John Sinclair just sent over the photo above, as well as a full gallery of photos (check them out here) for Jacob Marley's Christmas Carol, now under rehearsal & set to open next week. There is performance information here; photo by John Sinclair Photography.
November 14, 2008
Supreme Court overrules whale safety....
After months of working its way through the courts, the idea of making whale safety second to national security practice won out....the Navy won the right to sound off its sonar (which damages the navigational biology, including hearing, of marine mammals) in practice runs. Here's more.
Passing
Just got a note from Marie DiCristina:
Carl Stoddard died at home with his loving family around him on Wednesday, November 12, 2008. A service will be held at the Presbyterian Church in Friday Harbor on Saturday, November 22 at 2pm.
Kayaking, year round....
Jason just updated his blog about the pleasures of sea kayaing this time of year....check it out!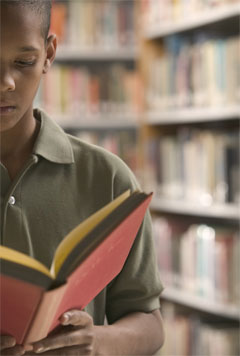 Wanna be a Reading Buddy?
Beth from the San Juan Island Library tells me here's a way you can help:
The San Juan Island Library is seeking volunteers to help in its Reading Buddies program. An orientation session for new and returning volunteers is scheduled for Saturday December 6 from 4:30 to 5:30 p.m. in the meeting room of the San Juan Island Library to give prospective volunteers information about the program.
The Reading Buddies program matches adult reading mentors with elementary-aged children who are learning to read and who need extra encouragement. Reading Buddies Reading Buddy pairs meet at either the elementary school or at the public Library for about half an hour each week. Having an adult buddy helps a child improve his or her reading skills and encourages the love of reading. Kids who struggle with reading are apt to experience difficulty with all aspects of school as well as have fewer opportunities in later life.
Reading Buddies have helped dozens of children read over the years, but in previous years, several children who signed up for an adult Reading Buddy had to go without. This year, about 13 children at Friday Harbor Elementary School have signed up to have a reading buddy, so more adult volunteers are needed now. All volunteers receive support and assistance throughout the year.
Prospective volunteers should contact Adrienne Bourne at the San Juan Island Library or Gary Pflueger at the Friday Harbor Elementary School. Library cards are free to island residents with proof of residency. Library hours are Monday, Wednesday, and Friday from 10 AM to 6 PM, Tuesday and Thursday from 10 AM to 8 PM, Saturday from 10 AM to 5 PM and Sunday from 1 PM to 5 PM.
Quote
It is wonderful how much time good people spend fighting the devil. If they would only expend the same amount of energy loving their fellow men, the devil would die in his own tracks of ennui.
Helen Keller
---
November 13, 2008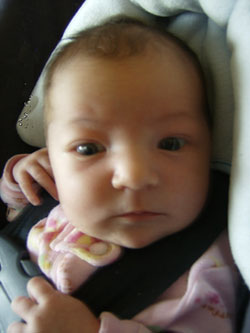 Island baby!
Lily Marie LaRen Martin (right) was born October 20, 2008 at 4:40pm to Richard Martin and Carina Sullivan. She weighed 7lbs. 8.8oz. and was 20 inches long. She joins her older siblings: Juan Pablo 7 years, Alexandra 5 years and Rikki Tobon 16 months.
Lily is welcomed by many family members here in Washington, South Dakota and Michigan. And also a very happy and proud daddy and mommy.
OK, these are the last Halloween pictures....really!
Sally at Island Rec said over 200 kids came to the Teen Halloween Party this year, and she has a nice little gallery of 'em if you'd like to see 'em: here ya go!
So you think you can draw, huh....
Check this out. Wow. (If you're offended by naked women, check something else out.)
A good cause & good food, too...
DVSAS (Domestic Violence & Sexual Assault Services) has their annual fundraiser tonight at Vinny's at 6pm...here are the details. If you're looking for one of the finer outfits in the County to donate to, these guys are an integral & necessary part of this communty. Hope you can go.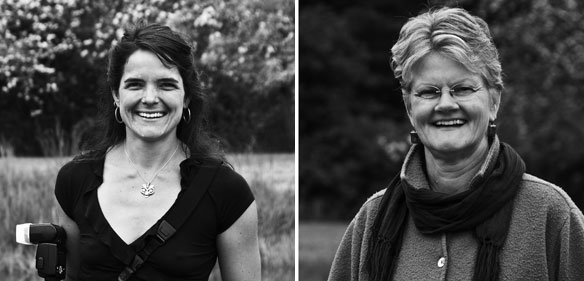 Book release next week at Griffin Bay Bookstore....
It's a beautiful book called Hands at Work—Portraits and Profiles of People Who Work with Their Hands by a couple of women from Lopez Island - photographer Summer Moon Scriver and author Iris Graville will read excerpts and show slides at the book release party on the 22nd at 2pm at the bookstore - here's more...it looks like a winner:
The 144-page hardcover coffee-table book includes black-and-white photographs by Summer Moon Scriver and profiles written by Iris Graville about people passionate about working with their hands. It has been called "deep, meaningful and profound" by Matthew Fox, author of The Reinvention of Work, and the topic of hands at work has been described as "refreshing in this world of internet
everything" by Rosanne Olson, author and photographer of This is Who I Am—Our Beauty in All Shapes and Sizes.
The coffee-table book offers 23 full-length profiles and three themed collages of people passionate about working with their hands. In vivid interviews, a boat builder, potter, painter, reef net fisherman, quilter, physical therapist, blacksmith and others explore the mystical rightness of deeply fulfilling work. Most of those interviewed live and work in Puget Sound; many are from Lopez Island. "These people use the vocabulary of the spirit," says Graville. "They are not only willing to labor with their hands, they are nourished by that act."
Scriver's photographs and book designer Bob Lanphear's layouts are a powerful combination: many of the 126 black-and-white art images are printed larger than life. Viewed in such deft detail, hands take on sensual elegance; an oboe player's thumb and forefinger steady his instrument; a midwife's hand clasps the palm of a laboring mother. Graville also moves in close, allowing individuals to speak with unselfconscious candor. Written in the tradition of Studs Turkel's classic book, Working, Graville and Scriver have created a collection of stories that connect and inspire.
Hands at Work retails for $34 and will be available locally at book stores and galleries in the San Juans and at www.handsworking.com
What's happening at the Pub....
Oren & Peggy wanted to get you up-to-date:
Could you help us get the word out? Trivia starts Thursday evening; we have been away on vacation and want to make sure everyone knows about it! The 13th season of league trivia resumes Thursday, Nov. 13th, 7pm, at the Ale House. If returning teams would kindly drop us an e-mail confirming team size, we can work on fitting everyone in. We have had interest from new teams & players, so we would appreciate being able to fit them in, if there is room.
The pub is also gearing up for the Battlefield Band concerts Friday & Saturday night at the SJCT. The pub has sponsored the last nine shows Battlefield Band has played in Friday Harbor. San Juan Brewing also sets up Pub Gubelman, offering our brews before the show and during intermission, along with snacks, with 100% of the proceeds going to the Theatre. Drop by the pub before or after the show either night, and we will extend a 10% discount; just flash us your Battlefield Band tickets.

How about winning dinner for two at the Pub? E-mail us the correct answer to this trivia question; we will draw a winner next week!

What influential US 19th century leader, and a visitor to our islands, had a grandfather who fought at Culloden?

Cheers,
Oren & Peggy
sanjuanbrewing@rockisland.com
Quote
A film is never really good unless the camera is an eye in the head of a poet.
Orson Welles
---
November 11, 2008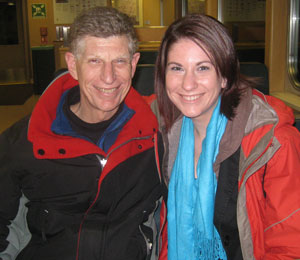 Passing.....
Shocked, surprised, and sad...that describes the range of feelings after hearing that the Convalescent Center's Rusty Pollock has passed away this past weekend, of cancer. That's him with his daughter Megan on the ferry last winter (right).
There will be a service for him Saturday at 11:30am at the Presbyterian Church. For more info, check the San Juan Islander. He'll be much missed....
Marriage thanks....
It's gonna take a while to answer each of you, but I will - in the meantime, thanks for all your kind notes to Josie & me. What a great start to our time together!
Marriage workshop...
That workshop - "Laugh Your Way to a Better Marriage" is this weekend - here are the details and here's a video clip that will make you think it's a good idea to go.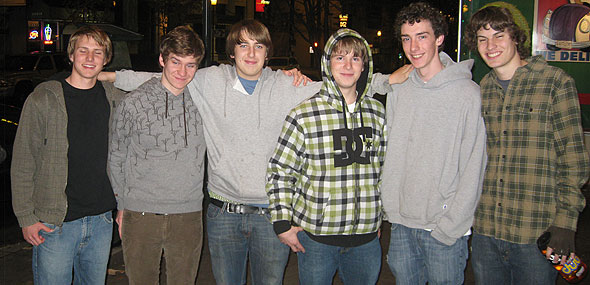 Island boys: Saw a brace of grads & grads-to-be in Seattle's U-District last night - Cameron '09 (left) and Evan '09 (third from left) were down doing college visits, and ran into (left to right) Russell & Flynn (North Seattle CC), Jens (UW), and Josh, who was down for the Remembrance Day holiday from UBC in Vancouver. Cam and I also saw Lindsay Youngquist, Loch Stimpson, and Kristina Linova at Seattle U earlier in the day, as well as visiting ingrid Carlson. There are a lot of Friday Harbor kids down that way!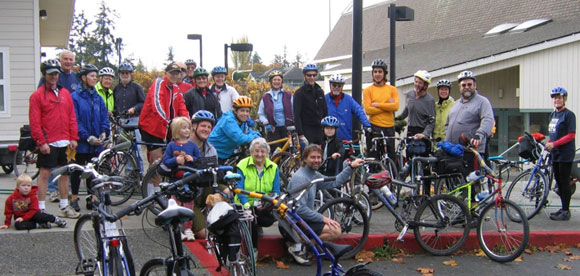 The bile ride was fun!
Tracy Roberson reports:
The San Juan Island Trails, Bike Trails Sub-committee held a fun group bike ride event on Saturday November 1st. Turnout for this event was impressive with almost 30 enthusiastic riders ranging in age from 4 years old to over 70 years old. Saturday's riders were a well rounded group whose goals include improving local non-motorized transportation and commuting options, bike safety improvements such as education, signage and multi-use trails, increasing awareness (of sharing roadways with cyclists) among local motorists, creating mountain bike trails, and just having a good time.
Group rides are an opportunity for locals interested in bicycling to unite and create visibility, raise awareness and attention as well as network and recruit new members to join our cause.
We are excited about increasing ridership and building momentum through future activities which will occur approximately once a month.
The next Bike Trails sub-committee meeting will be on November 17th at 5 pm at Whidbey Island Bank community meeting room. At this meeting we expect to refine our goals and priorities, create a more formalized organizational structure and discuss potential trail options, and set dates for future group rides. This meeting is open to the public and everyone is encouraged to write down and share the highest priority specific bicycle improvement they would like to see happen. If you are interested but, can't make the meeting please email: sjitrails@rockisland.com.
Trees & thank you.....
Denice writes in that this is your chance to get your tree:
It's that time of year again (already) . . . .
Paideia Classical School is now taking orders for Christmas trees as part of its annual Christmas tree sale fundraiser. New this year is the addition of Grand Firs as an option, and also the option for a larger tree at 9'-12'. The trees are priced as follows:

Douglas Fir Noble Fir Grand Fir
5'-6' $40 $55 $60
6'-7' $45 $65 $70
7'-8' $52 $75 $80
8'-9' $60 $85
9'-12' $70 $Ask for pricing

The trees come to us from Oregon and are cut within 48 hours of arrival here on island. They will be ready for pick up on Saturday, December 6 from 10:00 am - 2:00 pm at the school, which is located at 265 Price Street. Other times for pick up can be arranged. And there is the option of delivery for a small donation. So, if anyone is interested, just let me know (rhforge@rockisland.com) or call the school directly at 378-8322.

Lastly, if you don't need a tree, there is an option to donate a tree to a needy family on the island. I think we had approximately ten trees purchased for donation last year, and all of them went to families who were very appreciative. Just an idea.

The deadline for ordering is Wednesday, November 19. Remember, real Christmas trees are a renewable resource, unlike that artificial, petroleum-based product you may be considering, which will eventually end up in a landfill. Go Green, and buy a real tree!

Thanks!
Denice
Quote
On the other hand, you have different fingers.
Steven Wright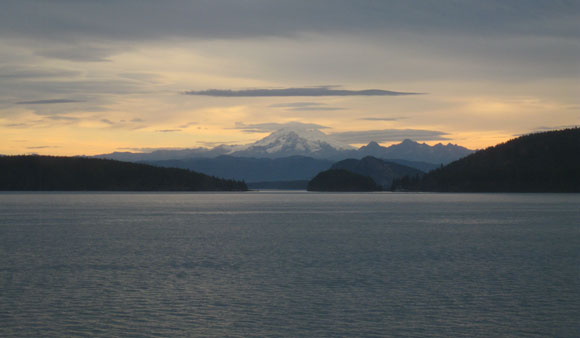 From the ferry - Coral Black took this awesome photo of Mount Baker a
couple of weekends ago. Click on it to see a larger version!