December 27, 2008
Breaking out....cabin fever...
It's warm & slushy & mostly melted around the island this morning, so I know you're looking for stuff to do with the kids - the Fitness Club has their Kids' Night Out tonight for elementary & middle school kids (click on the Calendar for details), and there's Open Skat at the Fairgrounds & Open Gym at the the, well, gym.
Get 'em moving!
Cookie monsters & music dudes....
Ada over at Mi Piace says there's a cookie exchange tomorrow (Sunday) at her place, at the top of the ferry lanes at 1pm (bring a couple of dozen to share & swap), followed by Open Mic at 2pm. She says everything in the store is on sale at 25-50% off as she heads towards closing for the winter on January 4th. See ya there!
Quote
The desire to reach for the stars is ambitious. The desire to reach for the heart is wise.
Maya Angelou
---
December 26, 2008
Server upgrades today & tonight....
I scheduled them for what I hope is a slow news day (although I think most days include slow news....)
Anyway, the Update will be offline this evening, then back in action tomorrow! See ya then!
December 25, 2008
Merry Christmas to you!!
It was forty years ago today....
Back in 1968, it would be more than fair to say we had had a pretty difficult year in the US...but one of the cool things that happened that year: the space program's Apollo 8 for the first time went to the moon. Although we didn't land that time, much of the world was touched on Christmas that year as astronauts Frank Borman (Mission Commander), Jim Lovell (of later Apollo 13 fame), and Bill Anders (who lives on Orcas Island) lined up a broadcast from space of our planet as seen from the other side of the moon, and read the first ten verses of Genesis.
Here's a rundown of that broadcast & space trip, which for a moment that year, brought the world together:
---
December 24, 2008
Slosh through the slush....
Well, it's warming & sloshy, with more snow predicted by the weather folks later today & tomorrow, and barely freezing temps to go with it all...keep yourself warm & take a little holiday, willya?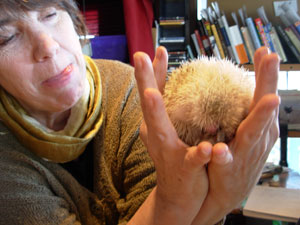 Thinking of Beth....
I dropped by to say hey to Keith at Harbor Books yesterday, and catch up on how Beth Hudson's doing at the hospital after her horrific accident Sunday night. Looks like a pretty tough go for her & her family for a while here...I asked Keith if there was anything to do, and he said a Medical Fund for her has been opened at the Friday Harbor Islanders Bank branch. Any donations can be made at any Teller's window and Drive-up...or, you can drop it off at Harbor Books & Keith'll take care of getting it there.
That's Beth showing me her pygmy hedgehog (named Pyg!) at the store last year...we're thinking of you, friend.
We're not the only ones who want the ferry....
On this next year's budgetary chopping block: the Anacortes/Friday Harbor/Sidney ferry run. The Governor's budget already has it whacked, but Washington legislative folks are already girding to save the 51-year-old run. Here's more from the newspaper in Victoria, as they see it.
Quote
I love Christmas. I really do love Christmas. I love being with my family and I love snow. I love the music and the lights and all of it.
Christina Applegate
---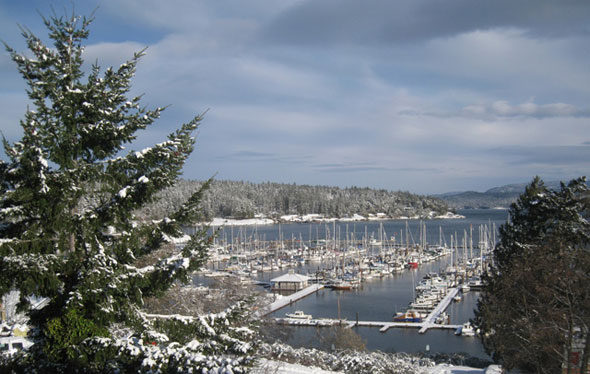 That's the Friday Harbor Marine Labs just past the marina, yesterday, from the steps next to the Grange.
In case you missed the snow - or were off-island for the past couple of weeks, or were reading a really good book & just didn't notice - I took a bunch of pictures in Friday Harbor so you could see what it looks like around here for the past couple of days. The pictures are either a bit grey (that would be Sunday morning) or kinda sunny (which was Monday, midday). Here they are, with lots of island businesses featured - see what you think!
December 23, 2008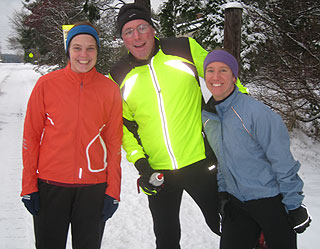 Runners in the snow....
A couple of years ago when it snowed, I decided to take a hike around Pear Point to see what the white trees looks like. I was surprised at that time to see someone runnin
g toward me from a quarter mile away - it was Jane Hutchison, getting much better traction in the ice with her crampons on her shoes than I was with my boots.
So, it wasn't terribly surprising to see Jane (right) out running Sunday afternoon with Clark Gilbert and Laura Tretter on Argyle Street. Same crampons, I believe.
Clark's blog has tips about running in this kinda weather, by the way. Check it out!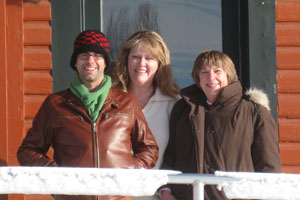 Also out in the snow...
Down near Julie Corey's new office (center), just half a block from Nancy Hanson's Toy Box, I ran into them with Nancy's ace son Joel, who is visiting for the holidays.
Last shows cancelled.....
I just got a note that the last two Island Stage Left shows (both on Christmas Eve) of Jacob Marley's Christmas Carol have been cancelled because of a health thing...I'll let you know more when I find out more.
Pictures of the island....
Like most islanders, I like seeing different photos that people take of how the island looks, in different lights....Jeanne Hyde has some great shots of quail & Rudolph in her blog; meanwhile, Chris Teren's blog has a bunch of great snow shots.
Quote
I used to be Snow White, but I drifted.
Mae West
---
December 22, 2008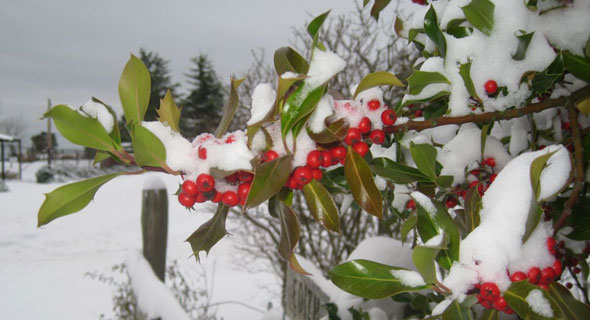 Walking down Argyle Street on Sunday morning after the snowfall from the night before...it's nice to catch a little color in all the white, grey, and more white.
HAPPY SOLSTICE!!!
December 21, 2008
I'm dreaming of a white Solstice....
Looks like we got it...look outside.
Stage Left's show is cancelled for Sunday....
Just got word from Laura that the show for 4pm today is a no go.
Wondering why? Look outside.
Quote
Until you value yourself, you won't value your time. Until you value your time, you will not do anything with it.
M. Scott Peck
---
December 20, 2008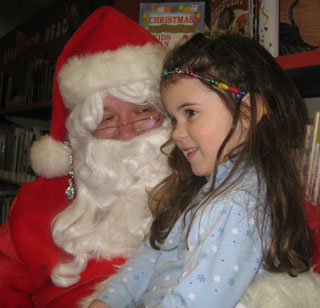 Santa dropped in on storytime yesterday at the Library, along with a bunch of pre-school kids who felt a little like they had cabin fever from staying in from the weather.
As the weather grows worse......
If you're looking for reasons to stay in this weekend, here's the word from the local Department of Emergency Management's Brendan Cowan, last night:
There's at least one more dose of winter weather on the way this weekend. It is looking like the islands will dodge the worst of what is shaping up to be a major winter storm for Western Washington. Current forecast is calling for 2-4 inches of snow between Saturday afternoon and Sunday morning. Winds are forecast to be out of the N, in the 30-40mph range.

Temperatures are forecast to warm somewhat as we head into next week, though the possibility of snow is still lingering in the long term outlook.

Conditions on the mainland are forecast to be much more severe. Winds upwards of 75mph in the Cascade foothills, snowfall up to 18 inches in some lowland areas, and the potential of freezing rain in the South Sound could cause significant problems. Islanders traveling on Saturday and Sunday should plan in advance for delays and poor conditions throughout the Pacific NW.

For the latest forecast, go to www.weather.gov/seattle