January 9, 2009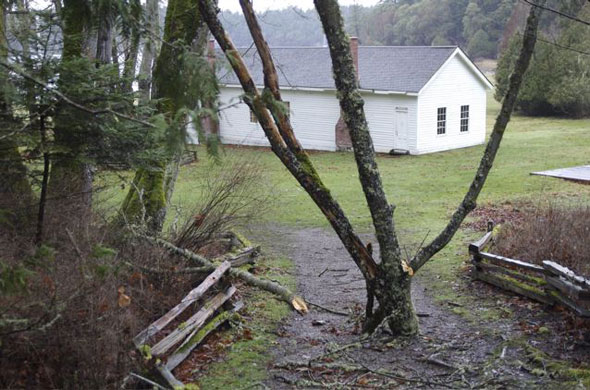 When the tree falls....
Ace photographer Tim Dustrude happened to be at English Camp for the picture above...wow. Here's more from Tim:
Hey, Ian! Here's a picture I shot last Thursday. We were hiking at English Camp on New Year's Day, and found this treetop from the windstorm a day or so earlier impaled into the trail. Peter Dederich of the National Park Service said: "Thanks for the great photo. It was the broken top off one of the maples next to the trail. David, our maintenance guy who removed it, said it was buried 21 inches into the trail. Glad nobody was standing there when it fell!"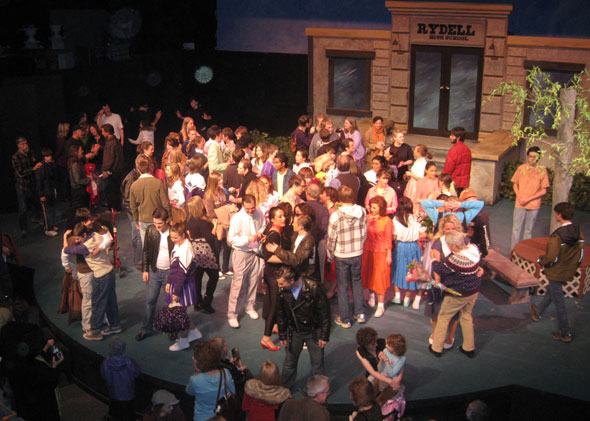 Last night's performance of FHHS' Grease included over a quarter
of the school in the cast & crew, and - ask anyone - was wonderful.
That's the mob after the show, with actors, crew, and loved ones crowding the stage.
The sold out show continues this weekend...super job by the kids!
Boardwalk Bookstore - 60% off....
Bettye tell me she's got everything in the store for sale at 60% off.... she says they've shortened the store's hours, opening at 1:00 pm to 6:00 pm Monday through Friday and from 9:00 to 6:00 on Saturday and Sunday. She was planning to close out over the month of January and into next month, but her daughter Karen had a stroke on New Year's Eve, and is now doing her recuperation at the Convalescent center, so that sped up the decision, the sale, and the closeout.
Good luck, Karen - we ALL want to see your smiling face back at the store soon!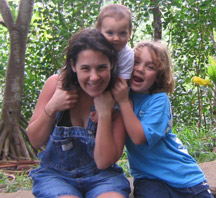 The Market Chef is back in action!
Laurie & Tim check in (that's Laurie with the kids a couple of years ago):
Hi Ian,
Hope you had a wonderful holiday and are having a great beginning to 2009! Tim and I are wondering if you could let your readers know that we have returned from our holidays back east with our family and will be reopening The Market Chef on Monday Jan. 12th.
We will be resuming our winter hours, which are Monday-Friday from 10 a.m. until 4 p.m.. We are looking forward to getting back to work and seeing our beloved customers' friendly faces again!
Thanks!
Laurie Paul and Tim Barrette
Grease tickets...sold out, but here's a chance....
Jan from the Community Theatre reorts you might be able to get in:
We will have a waiting list an hour before each show. People can show up at 6:30 (or 1:00 on Sunday) and get their name on the list and see if anything opens up by curtain. We are not taking names via the box office before that.
Swearing in....
Monday, January 12, 2009 at 10:00 a.m - re-elected Council member Rosenfeld and newly-elected Council members Fralick and Pratt will be sworn in by the Honorable Judge Stewart Andrew at the Courthouse. You're welcome to drop by!
Quote
Harmony with land is like harmony with a friend; you cannot cherish his right hand and chop off his left.
Aldo Leopold
---
January 8, 2009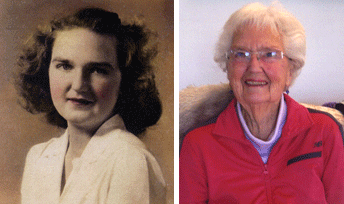 Peggy Sue's mom returns to San Juan....
You know Peggy Sue McRae who writes the On San Juan Island blog...her mum graduated from FHHS & is an islander with a good homing sense, so she's back. Here's more from Peggy Sue:
Hey, Ian!
Flossie Mullis (McRae Lang), moved back to the Island at the New Year. Flossie who was born in Friday Harbor in 1925 has moved into the Village at the Harbour, Friday Harbor's elegant new assisted living place on Spring Street where the other bridge players were eagerly awaiting her arrival.
Sold out....
Today is opening night for the FHHS Drama Group's production of Grease, and the show is already sold out. Do the math, rookie - that's some 300 seats times 4...whoa. 1200 folks on a 6000 people island (I counted) get to see the show.
Pretty awesome affirmation of the good work these kids do - you'll love it. See ya there.
The specials...on Internet TV...
The folks at San Juan TV have more:
Happy New Year! Lisa and I just finished a little video (above) designed to let people know about all the great deals happening around here in January. There are quite a few stores with sales all month long, some storewide and some up to 75% off! (It's a good thing we were working when we went in to all these stores, so Lisa didn't have time to shop...) Plus, there are a lot of winter lodging deals, including – drum roll please – the "Ferry for Free" promotion! Basically, if someone books a room at a participating lodging establishment (a full list and details are available at the SJIVB website), they pay for the ferry and upon check in, show their receipt and the lodging partner will credit them the cost of the ferry ticket. Is that cool or what?
Anyway, we hope the video helps get people to visit and spend their hard earned travel dollars here, instead of somewhere else... Plus, locals will know about all the great deals in town. And, as usual, anyone can embed or link to the video from their site to ours. As you know more than most, the more we all link to each other – and work with each other – the stronger we are!
G'day!
- Darren and Lisa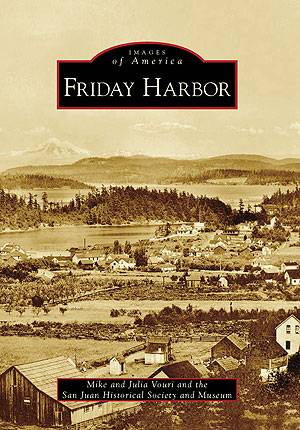 Best new book in a while....
Mike and Julia Vouri have done it! They've written & assembled "Images of America - Friday Harbor" which will be available February 2. You can pre-order 'em -I know I'm going to. (Click on the cover on the right to see the beautiful cover in more than full size...way cool.) Here's more from Kevin Loftus:

This new book captures 100 years in the life of our community. Authored by Mike and Julia Vouri and The San Juan Historical Museum, the book consists of more than 200 photos - many never before seen or published - depicting Friday Harbor pioneers, the building of the town, historic buildings, schools, industries and the people who shaped the community.
The foreword of the book is written by Dr. David Kennedy, Pulitzer Prize-winning historian and Stanford University history professor.
As a companion piece, a series of 15 postcards are being published, featuring photos from the book. The book will sell for $24, and the postcards for $9 through The San Juan Historical Museum. Proceeds from the book will go towards restoration and maintenance of the museum's historic structures.
Pre-orders are being taken by the museum at 378-3949 or museum_admin@sjmuseum.org.
---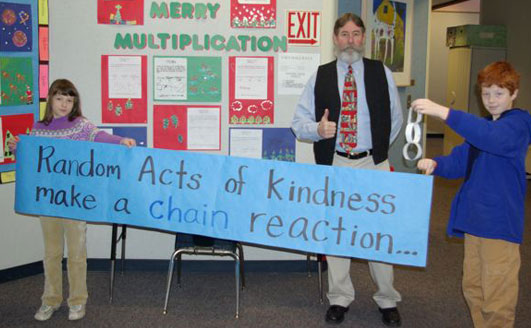 From Debbi Fincher at FHES: Starting the New Year off with some special purpose is how FHES is getting back to school today. Principal, Gary Pflueger, had an all school assembly to introduce their "Random Acts of Kindness" theme in which paper chains will be made for each Random Act of Kindness a student shows someone else, the name and deed are written on each chain. The hope is to create "a chain reaction" where others will continue to be kind to someone they encounter. As the school year progresses, these "acts of kindness" will be hung throughout the halls as a reminder of the good deeds exchanged in the school. The paper chains are from recycled paper from the County. What a great way to start 2009!

Chili!
Barry Jacobson has more:
Chili cooks needed!
Hi, Ian….

I thought your loyal readers might be interested in the Chili Cook-off that all the island service clubs have put together for the entire community at the end of January. It ought to be a delicious and fun event, one in which chili aficionados vie for the right to call their concoctions, "The Best Chili on the Island". While the cook-off is scheduled for 2-6 p.m. on Saturday, January 24th, the most immediate need is for chili cooks to get their entries submitted in order to compete for prizes ranging from a first place award of $200 for the best chili to smaller awards for runners-up. Entry forms and further information can be obtained by contacting Julie Corey at 378-7895 or by email, juliecthinkofme@yahoo.com. There is a $25 entry fee for contestants.
Location: San Juan County Fairgrounds, Main Building
Date/Time: Saturday, January 24, 2-4 p.m.
Event details: Chili samples for free, bowls of chili (with all the accompaniments), dessert and other food all available for purchase. Musical entertainment.

The lights at Christmas....
Marie DiCristina assembled a photo collage for her neighborhood last month - check it out! Here's the story that goes with it:
Hi Ian,

A fun thing happened this year. The Foxhall neighborhood created the First Annual Foxhall Winter Luminary Display. Foxhall is just past the Friday Harbor Library off Beaverton Valley Road. Helen Jepsen had seen this done in a neighborhood back East and said it was beautiful. At a recent Foxhall Owners meeting it was voted on and approved to have the First Annual Winter Luminary Display. The Jepsen and Buganski families took the lead and with financial support of many of the Foxhall property owners, and purchased what was needed.

Originally planned for Christmas Eve, they had to wait for the weather. The snow stopped and Jepsens, Buganskis, Menjivars along with family and friends set out the bags on Christmas night. There were over 500 luminaries lining the sidewalks on both sides of Kelsando Circle. The Buganski family had "Merry Christmas" in lights on their fence. The greeting could be seen, along with the luminaries, from Beaverton Valley Road. Photos attached. Hopefully the weather next holiday season will allow Friday Harbor residents to drive over and see the beautiful luminary display.

Marie DiCristina
Foxhall Secretary
Quote
Always leave enough time in your life to do something that makes you happy, satisfied, even joyous. That has more of an effect on economic well-being than any other single factor.
Paul Hawken
---
January 7, 2009
More people than jobs....

Lately, I've had more friends ask if I knew where any jobs were, but both with the downturn of the economy & the season (look outside - it's the dead of winter), there just aren't a lot that are open.
I did hear, though, that Ken & Heather are hiring at Xtreme Fitness as they look to open this month, so you might give them a quick call (click on the ad to the left.)
He's back!
Most of the island has been wondering how Dan Mayes is holding up after his surgery last week - well, he's back on-island & getting better - here's the scoop from Helen:
Sorry, we "bypassed" Xmas cards this year!! As most of you know, Dan had emergency open heart surgery over the holidays.
We are home finally. It was a rough couple of weeks, but now he should get progressively better, although it will be six more weeks before he's up to his old tricks! The bypass operation was a success and the complications seem to be over. We are both exhausted (no one ever gets rest around a hospital) so it's great to be home.
With the help of our stupendous neighbours, Deb and Wayne Eshelman, our kitties are happy and healthy and a blazing fire warmed our homecoming. Wayne also fixed a burst pipe while we were gone! Thanks to Lorraine Littlewood, who has helped us in so many ways, a lovely and healthy meal awaited us on our return and provisions were replenished today on our behalf. Malcolm Suttles drove us home and as mentioned online, huge thanks also to EMT's, set breakdown crew at Roche Harbor, Ruth Fleming, Krista Strutz, Dave and Mary Zaretsky, Peg Knight, our wonderful son, Alex, and our old friends, Frances and Gregg.
A strange and serendipitous event greeted our arrival home: Two years ago on Thanksgiving, a small, furry, abandoned but hopeful kitten arrived on our back porch. She was the littlest of our trio (we have three black cats) and a real sweetheart. This year, in May, while we were in England, she went missing, although we had arranged for both food and love while we were gone. We searched and searched for her to no avail and for months tried not imagine awful scenarios but to think of her being adopted by some kind neighbour.
Well, yesterday, nine months later, on our return from the hospital, who should run across the porch to greet us but Tink, wrapping herself dangerously around our feet, turning up her little face and purring to beat the band. She is well and healthy, so someone kind is probably missing their adopted kitty, but we are awfully glad to have her back. We're getting her a collar tomorrow! We figure she returned when she was needed most!
Dan is happily tucked in as I write, with his cats and a hot water bottle, having done two fifteen minute walks and climbed the stairs several times today.
From our hearts to yours, thank you for all your concern and messages. We are surrounded by love and good wishes and will be back in the swing before you know it!
Much love, Helen
A song for you for the morning....
It may be be one of Jackson Browne's bigger songs, but "Running on Empty" is still easy to dance too (especially if you listen to this at work. Here's the film from 1979:
Worth using in the classroom....
John Foley of Vancouver is an English teacher at Ridgefield High School in southern Washington, and he comments that it's tough teaching with old favorites in the high school classroom these days - but he has Snow Falling on Cedars on his list for newer work to use. Set in the San Juans (fictionally, so he's not bound by the day-to-day realities we are), it's a good choice, I think. Here's more.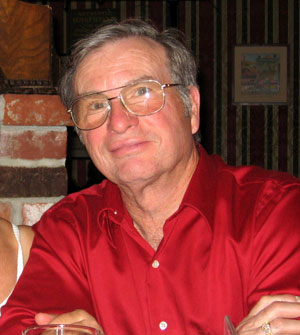 Passing....
Friends and family are planning a memorial for Warren Stanton (right), who passed away last Friday after a heart attack....the memorial will be at the Jehovah Witnesses' Kingdom Hall on Saturday at 1:30pm.
Quote
"In a nation that was proud of hard work, strong families, close-knit communities, and our faith in God, too many of us now tend to worship self-indulgence and consumption.... But we've discovered that owning things and consuming things does not satisfy our longing for meaning....
"Little by little we can and we must rebuild our confidence. We can spend until we empty our treasuries, and we may summon all the wonders of science. But we can succeed only if we tap our greatest resources – America's people, America's values, and America's confidence."
Jimmy Carter, 1980
---
January 6, 2009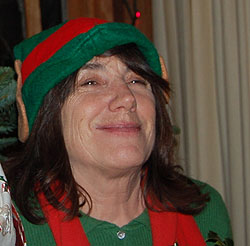 Healing for Beth....
Kathy Eisenhauer is putting together this chance to be a part of Beth Hudson's healing (that photo is from a Christmas party this year just before her accident, sent to me by Keith Busha):
Dear Community, Friends and Neighbors:
Many of you have been touched by the life-changing accident involving Beth Hudson. In order to give her a gift of Visual Healing, we invite you to send digital photos to the following email address: kathye371@gmail.com
We plan to display the photos in a digital frame, giving Beth the ability to see the beauty of our island and your cherished faces to encourage her with Visual Healing of the people and places she loves.
The project deadline for photo entries is January 7th, 2009 in order to be delivered to Beth on January 9th. If you have questions or comments, please feel free call or to send them to the following email address: kathye731@gmail.com
Thank you for your care and concern for Beth and coming together as a community to support one of our own.
Kathy Eisenhauer
(360.378.1197)
More snow, more birds....

The annual Christmas Bird Count that the Audubon Society puts on was postponed from its earlier scheduled date becasue of snow, so when the re-scheduled count happened last Saturday, it began...in the snow. Luckily, this time it was mostly gone by noon, and those birdds got counted. Here's more, with pictures, from Nan Simpson's blog.
Movies with a theme....
The Library's family movie night gets going again this Friday night, with a theme that reminds me of Tom Hanks talking to the volleyball & Gilligan - here's more from Adrienne:
Family Film Night!
Gather up the family and enjoy these free movies on the big screen together! Popcorn & beverages provided courtesy of the Friends of the Library!
January 9th at 6:30pm
In Search of the Castaways with Hayley Mills & Maurice Chevalier
January 23rd at 6:30pm
Swiss Family Robinson with John Mills, Janet Munro & James MacArthur
More films to come in February & March, so stay tuned!
Catholics on the move, for the month....
Jan from St. Francis Catholic Church wanted to let you know:
We're hoping you can help us get the word out that for the next three week-ends (January 10 & 11, 17 & 18 and 24 & 25), while the interior of our church is being painted, Mass will be celebrated at Our Lady of Good Voyage chapel at Roche Harbor. Mass times remain 5:30 pm Saturday and 9:30 am Sunday.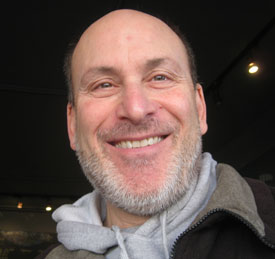 Who IS that bearded man?
With so many guys growing beards for the Centennial, it's hard to keep everybody straight - that's deputy Jeff Asher (right) last week...his is short enough that I think he just started, compared to some of the ZZ Top guys we have roaming the street, thinking about the way things were 1909.
San Juan Island EMS Announces Awards at its Annual Banquet
Alan from the island's emergency medical services reports:
San Juan Island EMS members were acknowledged with special awards at the annual EMS Banquet on January 3. The EMT of the Year Award went to Herb Mason. Rebecca Smith was the Officer of the Year. The Chief's Award was presented to Weyshawn Koons. The physicians of the Inter Island Medical Center gave the Frank Wilson Service Beyond Self Award to Jim Ricks.
"We're especially proud to recognize these awardees for their service in 2008. They each made special contributions, beyond their regular responsibilities, to provide exemplary personalized care and emergency medical services to their fellow Islanders," said EMS Chief Jim Cole. "We also want to acknowledge all the volunteer and career personnel and their families for their service and support. In 2008, we responded to 1098 calls, a ten percent increase over the previous year. Each and every member of San Juan Island EMS responded diligently, at all hours and in all conditions, to serve our residents and visitors."
Quote
Children and lunatics cut the Gordian knot which the poet spends his life patiently trying to untie.
Jean Cocteau

---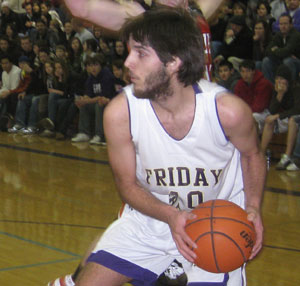 January 5, 2009
Back to school....
Skagit Valley College students head back to the books today up at the San Juan Center (there is still time to register for classes if you haven't yet - click on their button to the left to see what is offered), and the other schools are back in action this morning as well.
Basketball, and plenty of it....
We had enough of a break - with all the games that had been cancelled in the two weeks around Christmas, it was great to get back on the floor with home games Tuesday, Friday, and Saturday last week, and a home game tomorrow night with Darrington.
The boys continue to rise - in Friday's 43-41 win over Coupeville, the kids hustled till the final buzzer. We're not tremendously tall this year, but we have a good passing team that can penetrate defenses and a group of ballhawks that can hassle the other team's guards....that will take us places. That's senior post Pablo Lopez (above) working the ball inside to big Parker Lawson in the first quarter. Come see the team Tuesday at 4:30 in Turnbull Gym.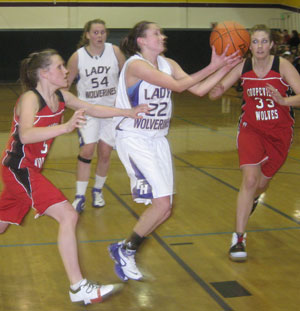 Meanwhile, our scrappy girls are fun to watch - they turned a 30-16 runaway by the Wolves into a scare as they creeped back into the game in the fourth quarter, holding Coupeville scoreless for nearly five minutes while pulling to 30-21 before losing. The Wolverines have a steady defense (including soph Kayla Short (22), pulling in the long rebound, right), and need to continue to pound the ball inside to balance that with more scoring. They get better every game - come see at 6pm Tuesday night.
Purple & Gold needs you!
The FHHS booster club raises scads of dough to support the school's programs, and they're looking for new board members to help keep the good things they do going.
Interested? Come to tonight's meeting - here's more.
Swapping homes....
Thought about swapping homes with someone else in the world, to see how they live? That's what the people in this article in the LA Times did, including here on the island. Check it out!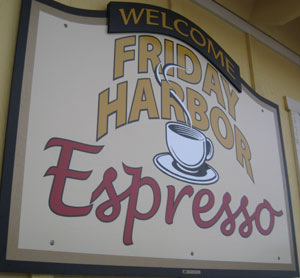 Same place, new name....
It was called Uptown Espresso till last fall, but because there was a place in Seattle with the same name, Mark decided to re-name the little yellow place on the corner of Spring Street & Mullis Street as Friday Harbor Espresso.
Grease...it's coming this week....
The FHHS plays are always brilliant, and always only play for a week. This week's production of Grease opens Thursday to run through Sunday, and it's gonna be packed.
Hurry & grab your tickets...you don't want to spend this long, dark winter wishing you hadn't missed the show.
Quote
Kindness is loving people more than they deserve
Joseph Joubert