I am having an open house at my new reflexology studio this Saturday 1-24-09 from 11am to 4pm! The 'Oasis' is located at the Surina Business park off Malcolm St. I am 2 doors down from the co-op, #704.
This will be my typical in-store hours so if this Saturday doesn't work come by any Saturday between those hours to see the place...My business phone is 298-4070.
Mahalo and I look forward to seeing you!
Laura
Take off for the weekend....
My friends at Kenmore has a special going on - check it out:
Kenmore Air Express: Enjoy $79 one-way fares on selected flights between Friday Harbor Airport and Seattle Boeing Field Jan. 6-Feb. 11 and Feb. 17-28. Special fare requires 14-day advance booking, and seats at special fare are limited. Call 866-435-9524 or visit www.KenmoreAir.com.
Gotta sing! Gotta dance!
It's this weekend - the Winter Song & Dance Festival is Saturday (at 7:30pm) and Sunday (2:00 p.m.) at the Community Theatre.
It's a good show, for the entire family! See ya there....I'm watchin' for ya!
Memorial planned....
A memorial for Genoa (see yesterday) is set for 1-3pm Saturday at the 4-H Building at the Fairgrounds.
New guy on the block...
...has actually been around the block before. Steve Judson used to own San Juan Inn till 2004 (he sold it to Friday Harbor Realty, which subsequently became Southeby's in that 1873 building on Spring Street).
He's back on island now as the tech director at the Community Theatre...welcome back!
Helping out the kids, for the Whale Museum....
Nan Simpson has a plea - c'mon, it's time for you to step up on this one:
Dear Friends...
Many of you know I am on the Board of The Whale Museum, here on San Juan Island. We have a terrific educator on staff and she provides wonderful school group tours. This year we (TWM) has been funded as described below by NOAA to provide this educational opportunity for 9 schools. Please read what Cindy wrote to me this week:
"Some of you may know about the program funded by NOAA to bring Title 1 low-income schools here for a Killer Whale program. This year we received that funding for 9 schools. Last year we just barely filled the program and I suspected that it was because I sent letters directly to school principals, and teachers weren't receiving them. So I have been spending the last month or so compiling email addresses for 4th and 5th grade teachers from all of the Title 1 schools in the region. I sent out an email today just before noon describing the program and inviting teachers to take part in it. By 1:30 I had filled all 9 spots and had 2 schools on a waiting list. I would really love to be able to accommodate these other classes and possibly a few more who may respond in the next day or so. One of the classes I had to put on a waiting list has a very high poverty rate and none of the kids have even been on a ferry before. If you can think of anyone who might be interested in sponsoring a school I would be happy to write a letter or flyer explaining the program. I would be asking for a $300 sponsorship per school – this is what NOAA gives us. It includes a Power Point program about Southern Resident killer whales for 2 classrooms up to 60 people, a tour through our exhibit hall, and $100 stipend for transportation to the island. If you have any other ideas for ways to fund this program I would also appreciate your suggestions!"
SO! I proposed that I try to find funding for the two additional schools by seeing if I can spread the word and get folks who are interested in helping children and promote education about our endangered Southern Resident Killer Whales....
I figured people might be able to fund a "share" of the $600 it would take for the additional two schools. At $25.00 a share, if we had (do the math) 24 people who could donate one share, we could do it! You will get a tax donation receipt for any amount you can fund, even if it's not the full $25.00. Mark your check "Education School Fund"
Just let me know, you can mail a check do me (made out to The Whale Museum) or directly to
The Whale Museum
P.O. Box 954
Friday Harbor, WA 98250
attn: Cindy Hansen Education Curator
I'll start, so now we need 23 more shares to fund both of the schools!
Thanks for considering this effort!
~Nan
Quote
Saturate yourself with your subject and the camera will all but take you by the hand.
Margaret Bourke-White, photographer
---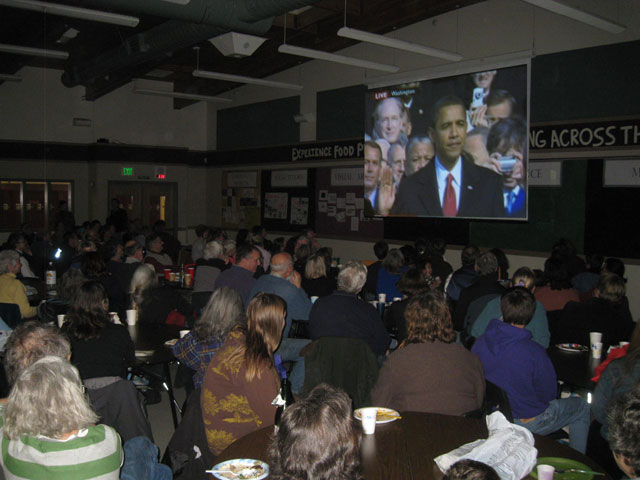 Last night, over 125 people collected at the FHHS Dining Hall for the Progressive Potluck, a dinner that was open to all islanders to see the replay of the Inaguration on the big screen.
January 21, 2009
Yep, it froze last night....
So watch it. The sidewalks & roads are slick.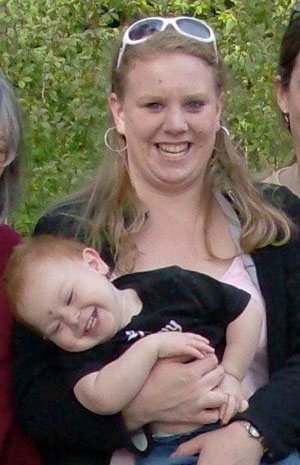 Passing....
When Genoa London (right, at age 23) was attending FHHS a few years ago, she lived with grandmother Janna Gingras, who was devoted to her. It was around that time, about eight years ago, that FHHS switched to fastpitch softball from slowpitch, and the hard-throwing Genoa did a good job for the Wolverines. She's been living in Kentucky....Janna sent me this sad news:
Genoa Kayte London, born March 29, 1985, mother of 2-year-old Cristian, died on a day when there was joy throughout the world, January 20, 2009. Genoa London, poet, writer, horsewoman extraordinaire, lover of all helpless beings, rebel spirit, is gone from this world. She will be remembered in Friday Harbor as the high school softball pitcher who threw a no-hitter and nearly perfect game on her 17th birthday.
She was the granddaughter of Janna Gingras and Liz Illg. Remembrances can be made to the San Juan Island Prevention Coalition, PO Box 562, Friday Harbor, Washington.
On the other side of the world....
Back in the 1910s, when the Journal's offices were downtown right next to the Coldwell Banker building (which was a bank, then), the editor used to stick his head out the window & holler, "Where ya been?" to folks getting off the boats, then write it up in that week's news.
We got the same thing going - only these folks are reporting from the other side of the world, from islander Liza Michaelson on Easter Island & FHHS French teacher Nancy Jones & her kids from France. Here's more: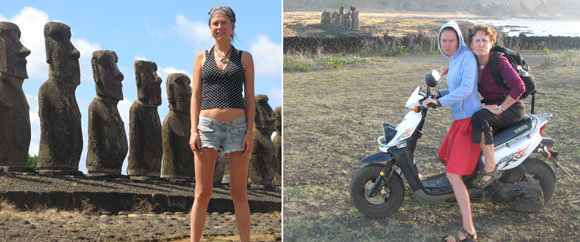 Hi Ian! My daughter Maria and I (above - click for a larger picture) are on Easter Island. Some really sad history, and super hot here, but otherwise an unforgettable very precious experience..
One internet cafe one ATM machine and horses wandering freely all over the place...
I check your update and it makes me feel at home... thanks!

Love from the Easter Island Girl Scooter Club,
Liza and Maria

Bonjour,
We have been having a great week and recently just left our stay in Paris; below are two accounts from 2 students about what they did and saw in Paris. Hope you enjoy!
We now will be moving on to Aix-en-Provence and meeting our host families!
Nancy Jones, French Teacher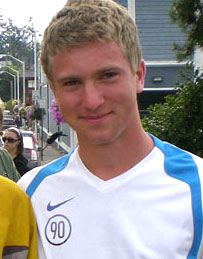 Well Paris, wow! Right from day one we are on the go and it was relentless. The first day was really just aclimating ourselves to the time change, many of us tried not to nap and stay up, but walking around and 30 hours without sleep was too much. If we thought that we had done a lot of walking the day before we were in for a surprise.
Day 2 saw us hit Paris's greatest monuments or at least most of them. We started the day our with the Louvre, which really just blew us away. And we saw the Mona Lisa, but most of us were dissapointed with how small it was. Then after a nice walk up the Champs Elysees we made it to the Arc de Triomphe, which we of course had to climb to the top of. Some of us were feeling a little bored untill we found our way to the Eiffel Tower. Of course we had to run up it as well. We can proudly say that we conquered the Eiffel Tower! All of Paris can be seen from the top and seeing how far we had walked that day... Well, it made our feet hurt, but not enough to stop us from running back down again! We counted how many stairs we climbed that day alone and it was over 2200! That's only stairs not including how many steps we took in between!
For me personally the true jewel of the trip was to come on day 3. The Cathedral of Notre-Dame de Paris has long been a favorite of mine, it is truly majestic! Day 4 was to bring even another surprise, THE SOLDES! (sales) For those of you who don't know, the French have only 2 sales a year each lasting for 6 weeks. Not knowing this we decided to go on a Saturday, not smart you say? Trust us we know! The Galeries Lafayette was bad, until we made it to H&M! The crowds were so thick that at one point I was litterally carried out of the store by the mob. To sum it all up we ate some great food, saw some of the most famous art and architecture in the world, survived the soldes, saw a "big" Parisian apartment (trust us they are tiny), climbed to the top of the Eiffel Tower, and truly experienced Paris!

Sent from my iPhone - Conor Lanphere


and from Kia Johns: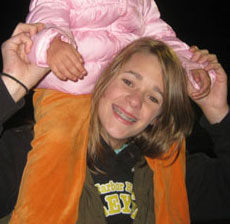 When Mrs. Jones told us to bring good walking shoes, she wasn't joking! Right as we stepped off the plane we were walking.... We have gone to the Louvre, Eiffel Tower, Notre Dame, Champs Elysees, Arc de Triomphe, Opera House and many other amazing sights. Even though we have only been in Paris a few days, we have been able to see everything that would take most people weeks to see. My personal favorites have been the Musee d'Orsay and the Orangerie because they both have Claude Monet's paintings. Monet is my favorite artist, and it was a great experieance to see his work first hand. Another place that took my breath away was the Eiffel Tower. The views from it are gorgeous.You can see anything and everything. When we were in Paris we always rode the metro and everyone became very good at it. We even made up a metro song called "Just Ride". Overall, Paris has been an amazing, fun, great experience that has opened everyone's mind to the cultural and language differences that we don't see in our everyday life. J'ADORE PARIS!
Is that who San Juan Island is named for?
I caught Heidi & Juan Lopez at the basketball game the other night under the "OO" of where it says "Friday Harbor High School" on the gym wall - kinda like halos, don't you think? Does that make him San Juan?
The bakers check in....
I got this nice note from Richard Foote at States Inn a couple of days ago:
Ian,
if you would let everyone know our new hours and that we're making some really fine cinnamon rolls our here! Thanks! Monday January 19th: The coffee is on at 7 AM Monday Through Friday at States Inn on West Valley Road. Fresh home-made cinnamon rolls, muffins, breakfast sandwiches and other treats for those early risers on the West Side. Of course our usual breads, jams, savoury pies and the rest are available too! Weekend hours are 11 to 6 pm. Call 378-6240 or www.statesinn.com for more info.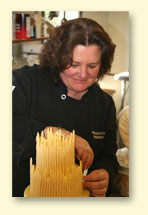 Meanwhile, Felicity Milne (right, and you can call at 317-5961) is back on-island with Felicitations - welcome back! She calls the biz "Cakes by Felicitations" and will provide wedding and all special occasion cakes and cupcakes. It will be a special order business only, working from a licensed kitchen. Check out her website for more info!
Time to network....
There's a free workshop to learn to use social networking for your business on Thursday morning, sponsored by the Chamber of Commerce - here's more.
Naturalist wannabes...sign up!
Cindy from the Whale Museum has more:
Registration for the Spring Marine Naturalist Training
Program, presented by The Whale Museum, is available now. The program's dates are April 25, May 2, 9, 16, 23, and 24. The object of this program is to provide a learning experience that assists adult graduates in becoming qualified regionally as professional or volunteer naturalists.
The main focus of the training is the ecology, current status and conservation of Southern Resident killer whales and other local marine species as well as discussions about the environments in which they live. The course includes presentations on cetaceans, pinnipeds, otters, intertidal invertebrates, seabirds, and a variety of other topics such as geology and marine conservation. Faculty includes Whale Museum staff, professional naturalists, marine scientists, and environmental educators active in the region. Students will also participate in a variety of field trips relating to the topics of study. They will have the opportunity to assemble a Gray Whale skeleton at The Whale Museum and to practice their naturalist skills on board a tour boat.
Tuition is $375 (includes an orca adoption and a Whale Museum membership). There are no prerequisites other than high school diploma and a sincere interest to learn. To take part in this opportunity, please contact Cindy Hansen, Education Curator, by email at cindy@whalemuseum.org or by phone at 360-378-4710 ext.23. Registration material can be downloaded from the Whale Museum
website at www.whalemuseum.org.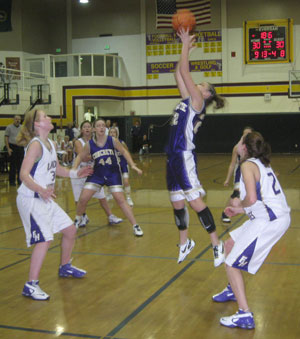 So close....
The Wolverine Women nearly beat Concrete Friday night, falling 32-30 in the final seconds (that's Maggie Anderson, left, and Kayla Short closing in on the Concrete girl with the rebound.) They played last night but I haven't heard the score yet.
Meanwhile, the FHHS guys crunched Concrete 62-45 to move into first place in league, pending tonight's result.
What do YOU know about Posey Island?
Nice little spot, over on the other side from Roche Harbor...here's what Simon (The Camping Addict) says about it in his blog.
Looking for a few good kids....
Tandi from Lighthouse Preschool reports: "Hi, Ian! I was wondering if it would be possible to post a notice on your site? Lighthouse Preschool has an opening in the 2 yr old class and an opening in the 3 yr old class. Interested parents can contact the school at 378-4885.
Volleyball - back in action!
Sally at Island Rec reports:
Come out and Play Volleyball! Island Rec is delighted to announce that beginning on Wednesday February 4, Co-ed Adult Volleyball is back on the slate of evening drop-in sports. Two courts will be set up, one for advance players the other for beginners. Continuing on the weekly schedule at is Badminton and Ping Pong, on Mondays and Friday's; Men's Basketball on Tuesday and Thursdays and Indoor Soccer on Thursdays. These programs are open to adults and teens 15 and older.
Drop in fee is $2 with discounted season passes available.Families and people are all ages can select from Open Gym on Sundays and Family Open Skate on Sunday evenings.Registration information and up to date schedules can be found on www.islandrec.org or by calling Island Rec at 378-4953 or stopping by 580 Guard Street or checking out the information in Island Rec's Winter/Spring Program Guide.
Does your heart stop when you sneeze?
Isn't that why you say "Bless you"?
Always thought so....here's more.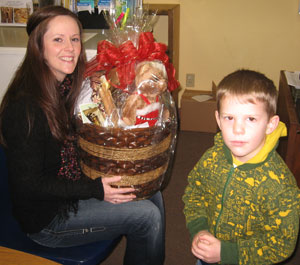 Punch card winner....
Here's more from the Chamber of Commerce's Debbie Pigman:
Allison Posenjak (shown with her son, Nathan) was the winner of the San Juan Island Chamber of Commerce "Holiday Late Night Shopping Punch Card Activity." Her completed "punch"card was drawn from all of those who entered the contest by visiting all the businesses listed on the card during special late night shopping hours. The prize was a basket full of items, from gift certificates to a singing bear, donated by the participating businesses. A special thanks goes to San Juan Florist for arranging the beautiful basket.
Quote
The liberties of a people never were, nor ever will be, secure, when the transactions of their rulers may be concealed from them.
Patrick Henry
---
---