Time for a bottle ban, here, too....
The amount of space that leftover containers from bottled water takes up is crazy - and not just for landfills - that's bad enough - but for the generations ahead that will have to deal with it. What a gift to leave our children's children...
Canadian cities are moving in the right direction with htis - here's more.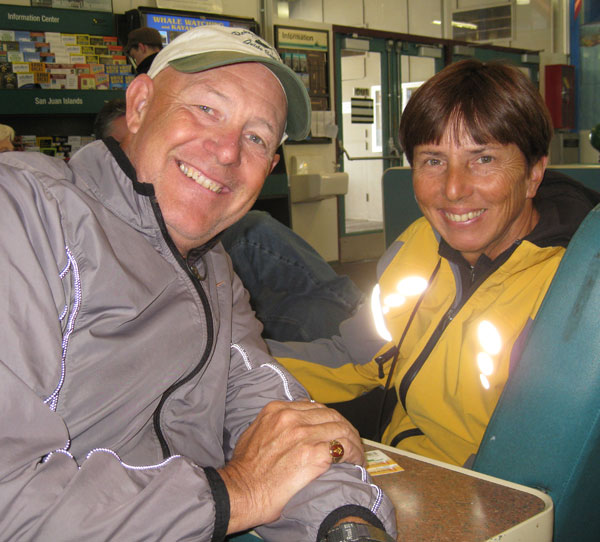 The Gulliksons are back....
It was a nice surprise to see Glen and Bobbie (right) on the ferry yesterday - they're back from their tour of the States (and a chunk of time in sunny Florida) to move back aboard on their boat & return to work on the island.
Another meeting....
Saw Doug McCutcheon on the ferry over the weekend - said he had gone a couple of weeks ago to a Garry Oak Colloquium.
Say that five times, real fast.
Reminds me of when Lee Campbell's American Conifer Society got to gether for a Conifer Conference.
Say THAT fast.
Fill out the survey....
Tim & Shannon & the bike club want to hear from you - this is getting off to a great start:

What's happening on the island!

The San Juan Island bike club is looking for input from local bicyclists and would love to have anyone who is interested go to our website and click on the Survey link on the home page. We are a newly forming club here and would like to have more members and we would like to know what potential members are interested in. So far we haven't had an official club meeting, but we're thinking that when the weather gets nicer, and more people participate in our group rides, one of these times we'll have a meeting after the ride and start making this club more of a tangible thing.
Could you put a link to our website www.bikesanjuan.com on your update, and let your readers know about our survey invitation? The survey closes at the end of March so we're hoping people will get on there before that.
Thanks so much!
Tim Dustrude and Shannon Dean
Apparently, the Navy wants to practice here....
It was a drag to hear that the court-mandated restrictions on harmful (to the marine mammals around here) Navy exercises were lifted by the Supreme Court - now it looks like plans are being made to get active in the Strait...here's more.
Dead, beached, and deaf whales on the east coast after sonar drills are the leftover proof this isn't a great idea - and with the killer whales here already on the endangered species list, seems like a no-brainer.
Somebody wrote, so I looked it up for you:
This is a good link to bookmark so you can stay on top of this important issue:
Has the Large Hadron Collider destroyed the world yet?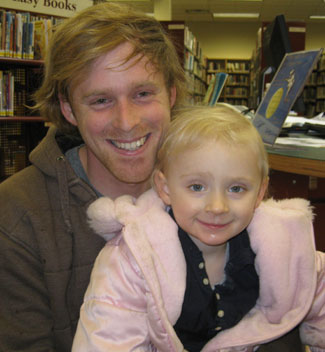 Click here. Now.
That's Jesse with his girl Bella at the Library this weekend - all smiles as they pick out their books.
Daylight Savings Time....
It used to be in late March. Now it's now. Set your clock ahead.
Or set it three hours ahead. Then you can watch the Today Show with the rest of New York.
They need help....
Miles tells me Stepping Stones is looking for folks:
Stepping Stones Childcare and Learning Center is accepting applications for enrollment in its infant, toddler, preschool and after school programs. Please call Virginia or Bridgette at 378-4455 Monday through Friday 7:30 a.m. to 5:30 p.m. for more information.
Juniper Lane Guesthouse gets reviewed....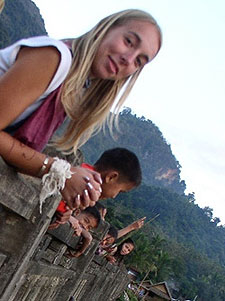 Angela Dollar (right) has some nice things to say about Juniper's place - here, check it out!
You gotta go hear Dr. Geyman....
Today John Geyman speaks at the Library with the League of Women Voters - here's more: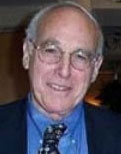 Dr. John Geyman has been working within and trying to improve our nation's health care system for decades. His view of the problems plaguing our deteriorating health care environment is realistic and disturbing, but he also has a sweeping understanding of how things could change for the better.
Join Dr. Geyman at the next meeting of the League of Women Voters of the San Juans for an assessment of the latest challenges and opportunities now facing doctors, patients and lawmakers.
What's your cut?
Pamela Gross sent this over:
Hi Ian,
Hoping you are well. Many people from many different walks of life read and enjoy sanjuanupdate.com.
Some may be interested in the link to the State's website describing available stimulus package funding http://recovery.wa.gov/programcontacts.asp
Thanks!
Pamela
Quote
We can speak without voice to the trees and the clouds and the waves of the sea. Without words they respond through the rustling of leaves and the moving of clouds and the murmuring of the sea.
Paul Tillich
---
March 6, 2009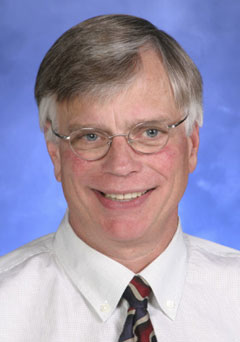 Michael moves on....
I took a peek at the Vashon online paper (here's the scoop) this morning to see how the Board there was doing with their decision about hiring our superintendent, Michael Soltman...and the deal is done. Michael was one of the two finalists, and the other guy got another job, so Michael's in. I just confirmed it at the school district, and our board will start to pull together a search for a new supe.
When Michael got here in 2002, the district's finances were a mess, and the schools needed a jolt of the common-sense, easy-hand-on-the-tiller leadership he has provided. He has actively bridged things with Spring Street International School, help facilitate the birth & growth of the Griffin Bay programs, and has been in on hiring our present crop of administrators (Gary, Fred, and Ann, who are each top-rate).
He's lucky to get to move back to the district where his sons are - that's the coolest part of this whole deal - and we've been lucky to have him championing our cause for the past seven years.
He'll be much missed.
Orchids - on Saturday!
My good friend Toni says this is gonna be fun:
Hi Ian-
We are doing a free event, "All About Orchids" at the library Saturday March 7th from 9a -11a. Is there any chance it could get listed in San Juan Update?
If so, here's some more info-

If you have orchids, or are just curious about them, stop by the San Juan Public Library Saturday March 7th from 9-11am. There will be orchids to view, info on watering, repotting, light exposure, pests and more. Bring your questions and photos of orchids you may have at home or the orchids themselves and we'll help you become more familiar with some of the most beautiful plants in the world.
Free to the public.

Thanks for your time!
Toni Franklin & Sandra Wilson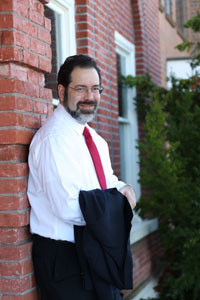 New lawyer in town....
BJ Brandli tells me she's working with her husband Steve (left) in his new office downtown, which opened last week. Here's his website, which tells all about it. Steve moved to the island a couple of years ago to serve with the San Juan County Prosecuting Attorney as a criminal Deputy Prosecutor.
More about Jim....
Remember I told you a couple of days ago (click here) that Jim Thomas was hired at the Library? Here's more from library publicist Beth Helstien:
The San Juan Island Library announced that Jim Thomas is the Youth Services Librarian. He will be providing story times for toddlers on Thursdays and for preschool children on Fridays as well as planning activities and readers' advisory for children of all ages and for teens. Look for him to visit the schools in the to promote the Creative Writing Contest and the Bookmark Contest kickoff for the Summer Reading Program 2009. He is developing plans for one of the most exciting and active summers on record for our young people of all ages.
Jim brings to years of experience to this position. He was a university professor in Texas for 17 years and most recently a children's librarian for ten years with the King County Library System. He is active in the professional library associations and will be representing the library at the Washington State Library Association conference this April with a workshop, "Captivating and Community with One-Year-Olds: Tried, True, and Teachable Ideas."
You will see him not only in the library, the schools, and on the streets, but also very soon as one of the performers in the Teddy Bear Picnic celebration. He wants to encourage all fathers or male care givers with infants (newborn to 12 months) to attend his "Man in the Moon" special Sunday afternoon story time circle on April 5th at 3:30 p.m.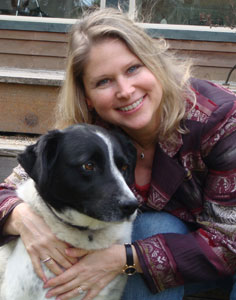 Please stop by the library and say "hi" to welcome Jim to the community.
Transformative Leadership Coaching for business professionals....
Figuring out how to run a business & get the most from your workers...wow. It's not easy. Most people can use a little help.
A great place to start is with Linda O'Neill (right) - she's offering leadership coaching, assessments, performance audits, and team coaching. She's bright, funny, and she gets results - you'll enjoy working with her. Check out her website & call her today.
Irish food....plan now to EAT!
First, this weekend the Experience Food Project has their Community Dinner at FHHS on Saturday. Here's the details, and I'm gonna tell ya - it's great. Went to the last one & it was awesome. Really awesome. Great. It rocked. Over the top. Go.
That'll warm ya up for the Soroptimists' dinner in a week, which you need to buy your tickets for, now...here's more, from Marie DiCristina:
ST. PATRICK'S EXTRAVAGANZA – The 13th Annual Soroptimist St. Patrick's Dinner and Auction will be held at the San Juan Yacht Club, Saturday, March 14, 2009. Dinner Event begins at 6pm with a Silent Auction and Raffles. The Live Auction begins at 7:30pm with beautiful items and wonderful services that are truly worth bidding on this year.
The Event tickets are $20 Adults, $15 Seniors (62 plus) and $10 Children (10 & under) for the traditional Irish dinner, silent auction, live auction, music, raffles and merriment. Tickets are available at the Toy Box, Spa d Bune and from Soroptimist President Debbi Staehlin. Event and Dinner Tickets will be available at Marketplace March 6, 7 and Kings Market March 6, 7, 8 at the Soroptimist tables.
Back again this year by popular demand is the Dinners to Go. Pick up your prepaid Vinny's Ristorante Corned Beef and Cabbage meal between 4:00 and 5:30pm from the Yacht Club. Better yet, attend the event for a memorable St. Patrick's Party. Wear your green and bring your green! For more information contact Becki Day 378-9519 or Debbi Staehlin 378-7232 at or visit www.sifri.org
Soroptimist International of Friday Harbor uses proceeds from our St. Patrick's Day Party to provide local scholarships and fund a wide variety of programs to help Islanders in need.
From the Whale Museum....
They have a sale - wahoo! Here's more:
Spring is just around the corner; it's a great time to stock up on Whale Museum apparel! All t-shirts, sweatshirts and fleece jackets now available at terrific sale prices!

Be sure to check out some of our great educational products; 2009 Family Group Guide, new Orca ID pages, and many other Whale Museum exclusive items.

When you purchase our merchandise, you help support our mission to promote stewardship of whales and the Salish Sea ecosystem through education and research. We appreciate your support and could not do what we do without you!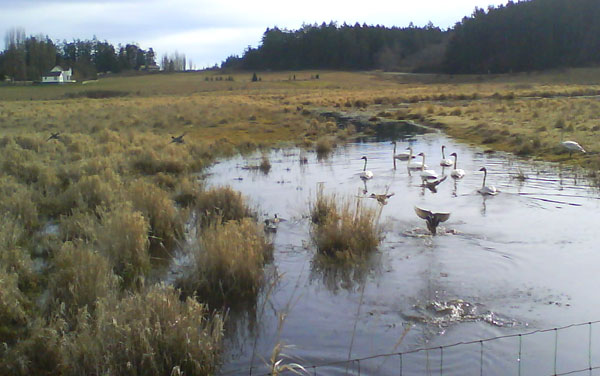 That's the trumpeter swans yesterday morning, out front of the Trumpeter Inn....
photo by Shaun Andres. (Check out the inn's cool new website!)
Click for a bigger version!
Quote
When I was crossing the border into Canada, they asked if I had any firearms with me. I said, "Well, what do you need?"
Steven Wright
---
March 5, 2009
Moving the crumb rubber....
Anna Lisa Lindstrum tells me there's a work party this weekend & next at the elementary school to remove the crumb rubber underlayment under the playground structure & replace it...here's more:
My husband and I have been busy helping the elementary school with organizing work parties for replacing the underlayment at the playground the next two weekends, March 7-8 and March 14-15. We have had an amazing show of support from the community. I wanted to let you know that if anyone wishes to drop by the school and help all of us shovel, we would be most grateful. We have food being provided by Market Chef and Backdoor Kitchen for all the hard workers! A special thanks goes to Joe Cooper and Cere Demuth for all their efforts.
We have generous offers of volunteer labor and equipment. We have almost met all our fundraising needs. We still need funds for fuel and equipment costs. Anyone interested in volunteering or donating can contact Arvid at alindstrum@centurytel.net
Cheers, Anna Lisa
Every day, a new picture....
Remember I mentioned that Tim Dustrude was going to post a new picture every day of this year? He's stuck by the challenge - if you haven't seen how cool his pictures are turning out, do yourself a favor & look now - click here!
The beard growing guys....
I know it was last month, but I just noticed that Island Rec has posted the guys who grew beards in last month's Centennial beard growing contest. Check out your friends here. See if you recognize 'em.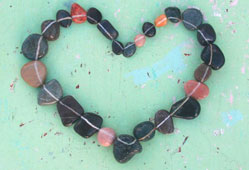 Come see Jane's work....
Jane Buck tells me her photos & work are on display at the Rocky Bay Cafe this month - drop by & see it this month (including the photo at right).
Quote
"It's unwise to pay too much, but it's also unwise to pay too little. When you pay too much you lose a little money, that is all. When you pay too little you sometimes lose everything, because the thing you bought is incapable of doing the thing it was bought to do. The common law of business balance prohibits paying a little and getting a lot--it can't be done. If you deal with the lowest bidder, it is well to add something for the risk you run. And if you do that, you will have enough to pay for something better." John Ruskin