July 20, 2006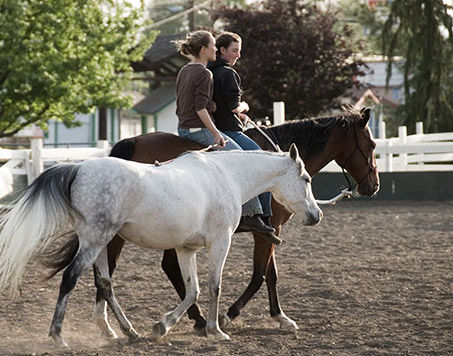 More than a horse show: That's my friends Lillan (left) and Lizee preparing for the this upcoming set of presentations - if you haven't had a chance to see them, make the time - you'll love it:
On July 29th, August 5th and 12th at 10am, the students of the Charly Lally and her Plumb Pond Barn Cooperative will hold a Natural Horsemanship Demonstration at States Inn and Ranch, 2687 West Valley Road, Friday Harbor.
Liziee Sinclair will give a brief introductory talk of what Natural Horsemanship is, and then eight horses and riders will demonstrate the partnership that is possible between humans and equines. The exhibition will last for approximately one hour and end with a question & answer session with the riders. Other students will be on hand to answer questions during the performance.
The demonstration is outdoors, so be prepared for any weather: rain or shine, the performance will go ahead. Actual seating is limited, so bring your own chairs or travel rugs. Admission is completely free, but donations are welcome.
For more information please call Charly Lally at 378 3512, or email Liziee Sinclair at liziee.sinclair@mac.com
Relay for Life, with a cause: As Deanna Osborn wraps up her third campaign for Relay for Life at the high school field on next Saturday & Sunday (29th & 30th), you can definitely feel how she just loves doing this work. When she speaks about the need for finding a cure for cancer, she's a real motivator, which you can tell when you see all those teams come together, raising money & working to make things better. She's a professional caregiver, and you can tell she's well fitted to the job.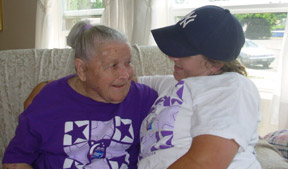 She tells me that one of her key inspirations is her 86-year-old housemate Louise, who is herself a 32-year cancer survivor...and yep, Louise is coming to the Relay this year for the Survivors' Lap & to attend the weekend - she'll sleep across the street at the Kirk House Bed & Breakfast.
Hot? Not here....
Summer is here and everything's looking up: temperatures, fuel prices, and electrical bills are all climbing. What can you do about it? Try these tips to save money and help the planet keep its cool.
Quote: "Sensory experience, we might say, is the way our body binds its life to the other lives that surround it, the way the earth couples itself to our thoughts and our dreams. Sensory perception is the glue that binds our separate nervous systems into the larger, encompassing ecosystem. For the senses are our most immediate access to the more-than-human natural world." - David Abram, author, Spell of the Sensuous


July 20, 2006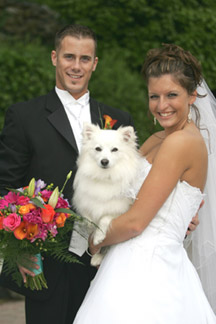 Eddi's granddaughter gets married: That's Anna Marie Lyle and Keith Eero Hughes who got married on the fourth of June at Roche Harbor - her grandmother is Eddi Link from the island.
Photographer Marie DiCristina sent me the picture at right, and she adds, "The sweet grandmother is a local – and she won the Senior Olympics Women's Downhill when she was 65 yrs young! The little dog Jasmine is a Eskimo Dog and very sweet and well mannered during the ceremony. There were about 40 family and friends in attendance."
Movie's still here: "An Inconvenient Truth" is here today & tomorrow. See it. It matters.
And thanks to all of you who wrote & saw it and said it's the most important film you've ever seen. I love the mail, but I'd love even more that we get to work making the changes that will leave our kids a planet they can live in, and on.
See it, my friend.
Opinion piece cries for more testing before whales are hurt: Seismic testing to do oceanic geological research just doesn't SOUND like something that would be good for whales, marine mammals, and other critters, does it?
Chris Genovali doesn't think so, and weighs in against 2007 plans to possibly deafen & harm our marine friends. Read more, from the P-I.
(Side note: the data recovered in the project would help oil companies know where oil & gas reserves may be - why else would the National Science Foundation drop $4.5 million on the project? Follow the money...)
Michael cuts his hair: It was cool to hear about this from Jane - I wasn't able to shoot the cutting last Friday, but here's the story:
Hello Ian,
Just got word that Michael Henderson will be cutting his long flowing red hair tonight at Bob the Barber's at 5:30. The Journal (online) has a nice little article about him. You may not know him by name but you most likely have seen him around town. Don't know if you can be there to take a few pictures but thought it was worth letting you in on some "nice" news.

He has been growing his hair for 3+ years with the intent to donate to the Locks for Love program which provides real hair wigs for children (among others) with diseases which cause permanent hair loss. Michael just graduated in June from FHHS and has been a volunteer fire fighter for several years.

See you around, Ian.

Jane Hutchison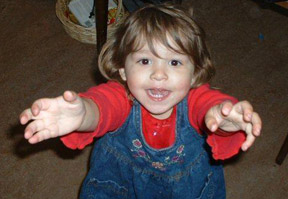 Serena & Violet report in from the big town: Serena sent this note last week, with a nice pic of Violet (right):
Serena Spaulding here, remember me? The ridiculously high number on the geek test? Only girl playing on the football team in '01 (Go Wolverines!)? Heh. Well, I wanted to share a picture of Violet, who was well loved and adored around the island by everyone she came in contact with.
Our new lives here in Seattle are wonderful and I hope the best for the celebration of the 4th. Did you have fun? The fireworks around here are a hundred times better in person than on TV!
This weekend: The Wags to Riches fundraiser for the Animal Shelter on Sunday July 23rd is close to being sold out! Call the shelter for ticket information. 378-2158 - Thanks - Leslie Byron
That part's from Leslie - I have a cat here for you to play with.
Angie writes & says hi: Angie Gogerty wrote & I asked if it was OK for me tell you about her - she says sure:
Ian, yes, that would be fine to put my note in the newsletter. And if anyone I know reads it they are welcome to contact me at this email address. I have lost touch with most of my friends that I grew up with on the island and would love to reconnect with folks! I live in Longview, WA right now working for the County PA's office. Maybe someday I can move back up to the beautiful San Juans!
My twin sister Carrie and I are hoping to come and visit maybe later in the summer or fall, if things work out. If so we will let you know!

Take good care,

~Angie Gogerty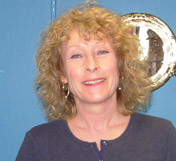 The Trading Company rocks: Have you been down to the Friday Harbor Trading Company lately? Located just across the street from the Blue Dolphin, and right under where my first office for By Design was in 1994 (where Bo the dentist is, now), Phebe to the right tells me she & Victor are having a great summer - and they sure have a lot of cool & interesting stuff.
Check out their new website (nicely done by Chris & Mel at Tif & Gif) to get a taste of what she offers there - then drop by & say hey.
Protect the whales: You can sign this petition to help stop whaling - they're looking for a million signatures. I'm signed up back on the 18th, so join me, will you?
Don't be thrown off by the dates - the thing is hosted in Australia, where it's already tomorrow.
More gravel pit ideas: Now that the County has the gravel pit, the ideas for what to do with it keep coming. Brian Carlson suggests:
More ideas for the gravel pit: Make it the World's only sunken drive-in movie theatre...no light pollution or noise from the streets. Or...a 36-hole disc golf course

Ellen's moving: Ellen Johnson from Harbor Insurance tells me she & Tanya are moving the office:
We are moving our offices to 849 Spring Street (former location of FH Pet Supplies) and will open there on August 1, 2006. We will have an Open House on Friday September 1, 2006 from 5pm to 8pm and invite you to come by and say hello. I especially wish to thank you for your support and encouragement this past year as I've been taking care of my parents. So many of you have been going through the same thing and your input has been invaluable.

We have expanded our markets and are writing many new Homeowners, Personal Auto, Yachts, Commercial Autos, Commercial Buildings, Apartment complexes , Condominiums, Contractors coverages and Bonds. I have been a licensed agent in Alaska and Washington since 1979 and look forward to our continued business relationships. Additionally we can add Earthquake coverage to our Homeowners policies if you desire this coverage.

We are developing a new market for Vacation Rentals and Bed & Breakfasts and will let you know when we have that up and running.

Enjoy the summer. Tanya and I will look forward to seeing you in our new "home".

Sincere Regards, Ellen

Quote: "Over the years, I've spent a lot of time fighting. Fighting against logging, pollution, nuclear power...as long as we fight all the time there's going to be a winner and a loser...(we must) build bridges across to the people who are fighting. - David Suzuki, Canadian environamental scientist


July 17, 2006
Music everywhere: What a great weekend for getting outside & hearing music! Margie Smith's marimba group played before the Japanese drumming at the Community Theatre Friday evening, while down at the Port (here's the schedule!) that night the Fabulous Rhythmatics were playing (that's James Barkshire on guitar & vocals below, with Teddy Deane backing him up.).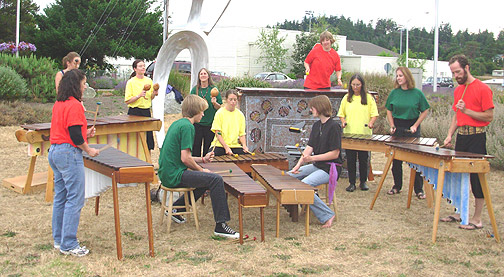 Saturday, it just kept coming, with music all day at the Lavendar Festival out at Pelindaba & The Chamber's Artists' Fair downtown.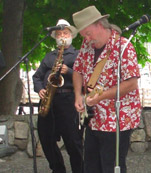 Both events had tons of folks checking out the booths, eating food, and settling in to hear the music on the grass & picnic tables - great way to pass the weekend.
Quote: "The environmental crisis is an outward manifestation of a crisis of mind and spirit. There could be no greater misconception of its meaning than to believe it is concerned only with endangered wildlife, human-made ugliness and pollution. These are part of it, but more importantly, the crisis is concerned with the kind of creators we are and what we must become in order to survive." - Lynton K Caldwell

July 14, 2006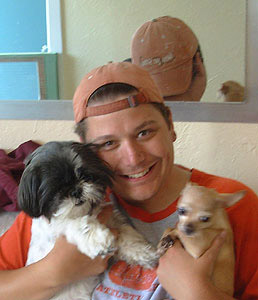 Travis loves dogs: That's Travis Davis with his new place for grooming your dog at Simply Paw-Fect Dog Spa over in the Surina Business Park.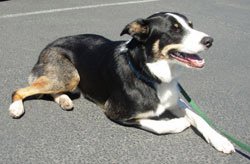 My friend Tucker (left) really likes the way he feels after getting a bath from Travis - you can tell by the look in his eyes.
You can call him today at 378-9528. Don't call Tucker - his cell phone's off the hook.
Make time for it: It was easy to work out that the "Pirates" movie was a good date movie & that you had to take the kids (and the kid in you) to see "Superman," but will you make time to see a much more important movie?
Most of you know I've been talking about climate change for years now, and it was the coolest thing in the world to see both Time & US News & World Report give time to explaining it as the incredible train-coming-in-the-tunnel-at-us problem that it is.
Now, Aaron's brought "An Inconvenient Truth" to the Palace Theater, and you owe it to yourself & your kids & their kids & their kids to see it & begin the process of change that will make it possible for us, and them, to have a world to live in. Here's the trailer from the movie, and here's a bit about it. See you there - we got us a world to change.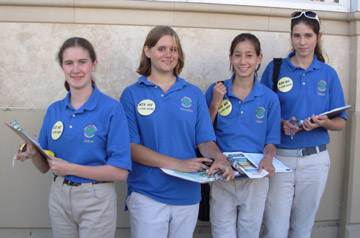 Back on the streets: The Ambassadors are back this year, funded again by our Town Council. These are kids who wear blue shirts & big yella buttons that say, "Ask me - I live here!" They look for lost visitors & confused tourists on the ferry & streets of Town & help 'em out.
I ran into Joyce & Christine & Alex & Hanna this morning, and tried to stump 'em, but like most kids, they know everything.
Great to have them putting a friendly face on the Town when folks visit - way to go!
Back in town: Debbie Treise tells me some friends are back this weekend:
Michele and Tim Franklin are back for a visit this weekend after being gone for almost a year while they battled cancer treatment down in Seattle, Michele is on the bright side of life once again and is performing at the China Pearl; 9:30 Friday and Saturday nite and again at 7 PM at the Court House for Cancer Awareness. Come by and see how well they're doing! Debbie


Wednesday night's rainbow, over Griffin Bay from Pear Point Road..
Marathon note: I meant to tell you - I heard from Lainey Volk & her daughter who walked the Marathon a month ago in about 6 hours (that's bookin' - you try it!) & this year finished right after the course closed on the 26.2 mle race, with husband John waiting for them - here's her note:
Hey, Ian - I just wanted to let you know that Cristine and I did finish the marathon, again dead last. We were 6 hours and 24 minutes so we missed the timer people. Matt took our picture near the end as we were so late. John, alone, was awaiting us at the finish line. We got no acknowledgement in print this year, but Paul and Clark greeted us in the fair building with applause, t-shirts, medals and refreshment. I just wanted you to know that though we were slower, we still finished this training walk in preparation for the 60 miles for breast cancer we will be walking in August.

By the way along our walk we had a pair of eagles cheer us along as well as a fox and even a kit that let us quite close! What a glorious island we live on!

Fair Winds,
Lainey Volk
More marathon: By the way, I posted more photos of the race on the Marathon page - check 'em out!
Leisure Kayaks' new look: Have you seen Sue's new website? Looks good!
Pictures of sunny days: On the Port's website there's a webcam looking over the Port on the left menu that says "Marina Cam"- check it out & see what it's like here, now.
Movie marathon: This is a cool idea for a fundraiser - put on by the Lions & spotlighting island favorite son Andrew McLaglen (here's the note from the Lions):
The film career of Andrew V. McLaglen spanned over four decades, with over 50 Feature Films as a director and dozens of others as an assistant director.
The Andrew V. McLaglen Movie-Marathon will be presented Tuesday July 18, 2006, at the San Juan Community Theatre, beginning with a personal narration by Andrew McLaglen at 6:00 PM. The featured presentations will continue "until it's over," according to its sponsors, the San Juan Lion's Club. Andrew McLaglen has been a member of Lions for years, and this is a tribute to his wife Sheila, who passed away in April 2005 from cancer, and to all cancer victims and survivors.
Lions are requesting $10 donations; children under 16 must be accompanied by adult to view any or all three movies and a Gunsmoke TV episode Andrew personally selected from the scores of productions he directed. 100% of the Proceeds collected will benefit the American Cancer Society, San Juan Island 2006 Relay for Life.
The Movie-Marathon will present three movie selections from McLaglen's film
repertoire and one TV series episode all ages will enjoy.
• The Devil's Brigade (1968), starring William Holden, Cliff Robertson and Vince Edwards;
• The Rare Breed (1966), starring James Stewart and Maureen O'Hara;
• The Wild Geese (1978), starring Richard Burton, Roger Moore, Richard Harris, and Hardy Kruger.
• Gunsmoke Episode - US Haggens
Please join us in an evening of fun and for a great cause, Relay for Life, as well as enjoy and honor Andrew V. McLaglen who has done so much for San Juan Island.

Don't hesitate to call us if you have any questions. Mark your calendar and plan to attend July 18,2006. Beginning @ 6:00 PM through midnight, watch one movie or watch them all at the San Juan Community Theatre.
Quote: "It's difficult to get a man to understand a crisis when his salary depends on his not understanding it." - Upton Sinclair
July 13, 2006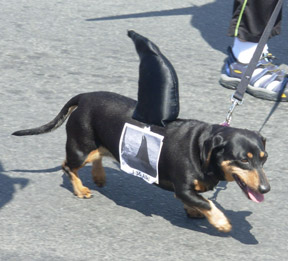 Yep, new whales: There was a new species of killer whale sighted during the parade earlier this month, marching in the Whale Museum's part of the day.
I think this one is named Trudy.
Written Word Deadline Monday, July 17, 2006: Amy from the Fair has the storyon the Written Word contest:
Farmers, artists and bakers aren't the only ones who can get in on the competitive fun of the San Juan County Fair. Did you know that local writers could submit their essays, stories, memoirs and poetry for judging? That's right, folks, you can win ribbons and money with your writing. Because the judging process is so time-consuming, please have your Written Word entries postmarked or delivered to the fair office by Monday, July 17, 2006.
Entry guidelines are available in the 2006 county fair premium book that was sent out to households last month or by e-mailing a request to wynn@rockisland.com. The premium book should also be available at your local library and on-line at sanjuancountyfair.org. If you have any questions, please contact Written Word superintendent Amy Wynn 378-2912 or wynn@rockisland.com.

Songs for you: Eric Tingstad & Nancy Rumbel (left) had a beautiful, sweet concert at the Community Theatre on Saturday. You can listen to samples from their new album here, and maybe buy a copy - you'll love it.

Quote: And Man created the plastic bag and the tin and aluminum can and the cellophane wrapper and the paper plate, and this was good because Man could then take his automobile and buy all his food in one place and He could save that which was good to eat in the refrigerator and throw away that which had no further use.
And soon the earth was covered with plastic bags and aluminum cans and paper plates and disposable bottles and there was nowhere to sit down or walk, and Man shook his head and cried: "Look at this Godawful mess." ~ Art Buchwald, 1970
July 12, 2006

Conservation District changes: Wow - what changes a month or two can bring!
Over at the San Juan Conservation District, they've got a new director (Ron Zee (right) taking Bill Hamilton's spot at the top, as Bill stays on to help as the financial officer), and new natural resources planners Steve Hussey & Bryan Cornelius stepping in for new mom Heather Hankins (she moved with her husband & kid to Montana) and Lori Larkin, who moved to Seattle for the conservation work, but who will probably get picked up by a big label, 'cause she's such a good singer.
Rain plan: This is the sixth year that Island Rec has offered its popular Music on the Lawn series each Wednesday on the Historical Museum's lawn - Sally tells me it's never been rained out, and there's no reason to stop now. Since it's a bit drizzly this morning, she says if it's really raining tonight at 6:30pm, they'll move inside at the Mullis Center - a decision which will be made later today.
So if you can't find the music outside, go check there. See ya there!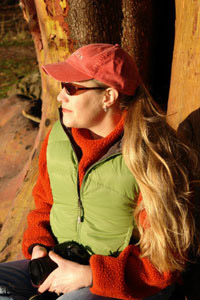 The new Bertrand page: This is cool - you know Michael Bertrand's nice photography - you've probably seen his pictures down by the ferry landing at his shop next to the Doctor's Office coffee shop.
Well, he and his wife Kim have added a section to his website showing off her photography as well, called Offshoots. She has an entirely different style from Mike, but a wonderful eye - check it out here. Cool stuff.
What to do on Saturday: You know the boys & I are playing on Saturday at 11 at the Artist's Fair, next to the Courthouse, and at 11:30am on Sunday at the Lavendar Festival, but that's not all! I just got this note from Debbie at Island Communications & Electric, 'cause they're helping with raising money for Relay for Life:
There will be a Relay for Life fundraiser Saturday the 15th at 815a Spring Street. Island Communications and Electric parking lot. We will have a garage sale, bake sale, raffle tickets, hand massages, hamburgers & hot dogs. 9:00am. Also we will gladly accept any donations of garage sale items all this week at the shop.

Work on your English: Here's a note from Adrienne at the Library:
The San Juan Island Library is now offering weekly Talk Time Sessions throughout the summer. Every Tuesday from 6:30 pm to 7:45 pm, the library will host an informal meeting around the fireplace for people who are not native speakers of English, and would like to develop their conversational English skills. Denise Acsay, a Skagit Valley College English as a Second Language (ESL) mentor, and Adrienne Bourne, Outreach Library Assistant, will act as facilitators for the Talk Time sessions. No registration is required for the Talk Time program, and each session is free and open to the public. Families are welcome to attend, and snacks and refreshments will be provided.

Quote: "The only man who makes no mistakes is the man who never does anything." -- Theodore Roosevelt
July 11, 2006
Rich to move on: Yesterday Rowann from the Beachwatcher program mentioned to me that Rich Osbourne's going to complete his annual contract as director at the Whale Museum (it ends the end of 2006), and then they're going to move off-island to Port Angeles.
Dr. Osbourne has been an integral part of the Museum as both a resident scientist and, for the past three years, Director. He's played a key role in the growth & development of the Museum, and his work with both research & protection of the killer whales here led to his being named an "Orca Hero" last year by the Seattle Aquarium. He & Rowann have given a lot to the community & will be much missed.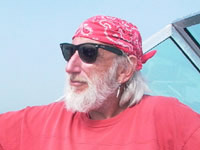 Minke talk scheduled: More whale excitement - Jon Stern's doing a show next week at the Museum - here's more, from the Whale Museum (the website for the Northeast Pacific Minke Project is pretty cool, too - check it out):
Jonathan Stern, Ph.D., the Northeast Pacific Minke Whale Project, will speak at The Whale Museum at 7 p.m. Thursday, July 20. Jonathan's talk will focus on the recent developments at the International Whaling Commission, the ecology and life history of minke whales, with particular emphasis on the local population in the Salish Sea.

The lecture is free.
July 10, 2006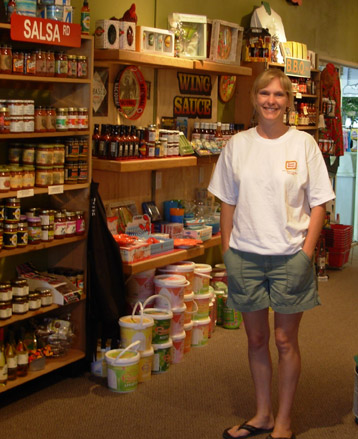 The Hot Shop is hot: I dropped by the Hot Shop in its new location and visited with Michele Mayer on Saturday - and let me tell you, she and Phil have a good deal going there. It was busy the whole time I was there, and folks were not just lookiing but buying.
They bought the store earlier this spring, then opened it up in the old Just Desserts (or was it Not Just Desserts?) location, just up from the drug store. Good location with lots of visibilty, foot traffic, and easy to find. There's more room, too, so they've filled the place with shirts & sauces & bbq stuff - you'll love it.
Michele's main job is still at Coldwell Banker, where she's an ace realtor, while Phil's the owner & is there most of the time, except for Saturday, when he was out doing stuff with the kids (they're ace parents, too.) Drop on by.
Football fever: The World Cup isn't the only football happening - the high school kids have been getting together a couple times a week (Tuesdays & Thursdays) to run & get in shape & to play together this summer, and whenever you watch 'em, you know we're headed for great things again this fall.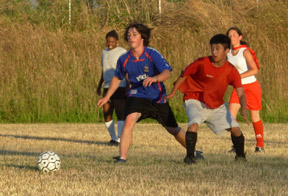 This coming year marks the first time the boys' team has played in the spring - FHHS's girls will still play their season in the fall, while the boys will get underway after basketball ends. It's a little weird not to be playing in the fall, the guys tell me, but after playing deep into the playoffs the last two seasons in November's rain & mud & & dark & cold, it'll be nice to be heading towards the nicer weather & sunshine, wit the playoffs in late May.
That's Kevin O'Conner bustin' a move on Daniel English (red) last Thursday (left).
Baby stories: First, here's some pix from the Orca Network of the new calf that was born this spring. Goo goo goo - - YOU bounce 'em on your knee.
And...Dave from the Sweet Retreat tells me three month old Natalie is doing great, and has her first tooth coming in already.
New at the Planning Department: I ran into Sheelin (left) Saturday at Island Studios, where she was checking on her inventory of found-glass earrings & jewelry, which I took at look at & can tell you - she makes good stuff. Go check it out, especially if you've lost an earring lately. These are better, anyway.
She had her sister Shannon with her - Shannon just moved to the island from her last gig in San Francisco, and starts today at the Planning Department, helping with permits & stuff. Welcome to the island!
Quote: I found this bit in the write-ups of the tennis tourney in England last week - it's why we play the game:
WIMBLEDON, England (AP) -- When a match ends, genial Kim Clijsters greets her opponent at the net with a smile and a kiss on each cheek, win or lose. She puts friendships ahead of championships.

"To me, results don't matter at all," she said. "I like to make friends on the tour, knowing that if I stop, I can still call girls and still hang out with girls and meet up and catch up. That to me is more important, and that's something that I prefer to take away.

"Trophies don't talk to you when you retire. When you are at home and sitting on a couch, you can look at your trophy room, but that's not going to talk to you."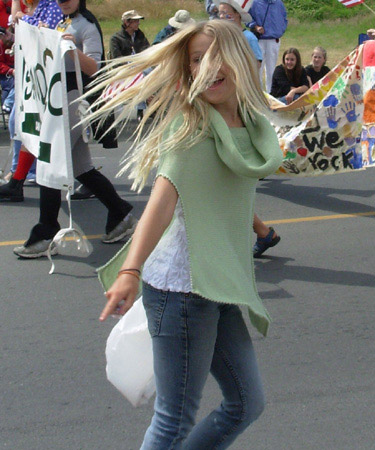 July 5, 2006
Fourth was great: You know, there's nothing like the gathering of the clan to make you feel you belong, and that's what we had yesterday for the Fourth, starting with the parade (here's a 120-photo portfolio of what it was like, and who was in it) and ending with fireworks over the harbor last night.
After the parade, people walked up the street to the Pig War Picnic for music & food & games for the kids (and a chance to catch up with the gossip for the adults), and then spread all over the island for barbecues, activities at Roche Harbor, potlucks, fireworks (you know our Pig War wasn't a real war, which is way cooler than the way it's usually done, and the Jackson's Beach fireworks SOUNDS like a war zone, but it isn't really), and finally the fireworks in town as the evening grew dark.
Great sunny day to be alive. Happy Fourth to ya...
Quotes: Today's quotes are all from James Madison, in remarks from the early 1800s which I believe resonate today:
The executive has no right, in any case, to decide the question, whether there is or is not cause for declaring war.

The loss of liberty at home is to be charged to the provisions against danger, real or imagined, from abroad.

I believe there are more instances of the abridgement of freedom of the people by gradual and silent encroachments by those in power than by violent and sudden usurpations.

The means of defense against foreign danger historically have become the instruments of tyranny at home. - James Madison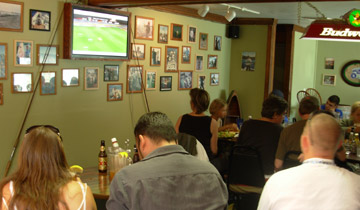 Football fever: It was nice to get together with the rest of the world to watch soccer down at Hailey's (right), where a few dozen soccer nuts gathered to watch Italy sneak up on Germany, winning 2-0 on goals in the last two minutes of overtime.
Whale watch: Speaking of the gathering of the clan - the three pods of resident killer whales got together on the west side of the island for the traditional greeting ceremony called a superpod, with vocalizations and a lot of jumping around - pretty cool.
Music: There's music this Sunday at the Port with Dan Paulsen doing Irish tunes with his group - here's the whole summer schedule.
Teddy Deane tells me he's playing next Wednesday night (the 12th) at Bella Luna with Steve Keys - hope to see ya there. I'm telling you now so you can get it on the calendar, dude.
Click here for more news from earlier this week!
---
The information here is simply stuff we here at By Design think is important around Friday Harbor or on the Island. Some of it's news, some of it's old news, and all are just things we wanted to mention, with most of it about the things that make living here great.

There will be more next week, if anything happens.

Ian Byington





More info about the island:

This site prepared by our friends at By Design in Friday Harbor.
The information contained here is
©Copyright 1997, 1998, 1999, 2000, 2001, 2002,
2003, 2004, 2005, 2006 and next year, too
by By Design, Friday Harbor.
Unauthorized reuse of the content of these pages is prohibited;
links to other sites is intended to be to the benefit of those sites,
and for the edification of our readers,
and does not constitute endorsement or
agreement with views expressed there.
All rights reserved, except in Britain, who have their own reserve.