San Juan Bistro
San Juan Island Chamber of Commerce Featured Member of the Month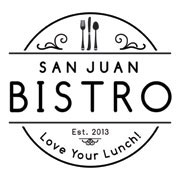 Richard and Sherri Daly have some exciting news! New name, new logo. Same smiling faces! In 2013, we opened a retail cheese shop with a light menu. We have since evolved into a favorite restaurant.
To better serve our guests and to more accurately reflect our business model, we have changed our name from "San Juan Island Cheese" to "San Juan Bistro".
We offer table service with "San Juan Bistro", and our take-out menu with "San Juan Express". Either way, you can "Love Your Lunch!" We are reopening Friday, February 8, at 11 am.
We are your locally owned, family-run lunch bistro in beautiful Friday Harbor. San Juan Bistro is ideally located across from the Brickworks Farmer's Market and within walking distance to the ferry. Enjoy a delectable lunch menu of Panini Sandwiches on Housemade Bread, Hand-rolled Pasta, Daily Soups, Fresh Salads, and House-made Desserts. We offer Northwest wines, beers and ciders, and locally roasted coffee to complement your meal.
Enjoy our patio and relax in this unique corner of the Pacific Northwest.
San Juan Bistro
155 Nichols St
360-370-5115