Island Lights Festival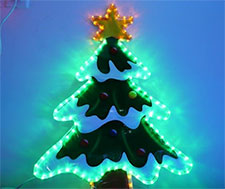 The San Juan Island Chamber of Commerce is proud to announce the Island Lights Festival on November 30th. This kickoff event for the Friday Harbor Winterfest is on a Saturday this year so more families are able to attend. Once again the Chamber is partnering with Island Rec and the San Juan Islands Agricultural Guild.
It will be a fun filled evening when all start gathering at 5:00pm on Spring Street between First and Front Streets to await the arrival of Santa. We will have caroling while sipping some hot chocolate and coffee while waiting for Santa to arrive to light the tree.
Once the tree is lit we will have some more caroling before heading up to Brickworks for more fun. Upon arriving at Brickworks one will find pictures with Santa, crafts with Island Rec and local harvest soups and spiced local apple cider for sale.
For more details please contact the Chamber of Commerce at 360-378-5240 or becki@sanjuanisland.org.