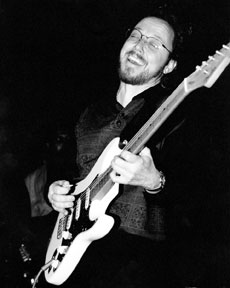 Click here for last week's news...

---
September 27, 2008
Lloyd's in town tonight...storytelling with a Memphis groove...
You've heard him in town before, at taverns and at the Rock the Dock deal at the Port a few Fourth of Julys ago, but tonight will be the first time Lloyd Jones and the Lloyd Jones Struggle plays at the Community Theatre.
I've heard these guys since I lived in Portland over twenty years ago (including at at blues club in Seattle a couple of years ago), and they just keep getting better. Get your tickets now - here's more about the show.
New book on the block....
This one deserves a big "wow" - tonight with a presentation and signing at Boardwalk Bookstore at 7pm, Kaye & Terry Hennig have brought out a 300+ page coffee-table sized book called "King Arthur: Lord of the Grail" full of pictures that shows the results of their work: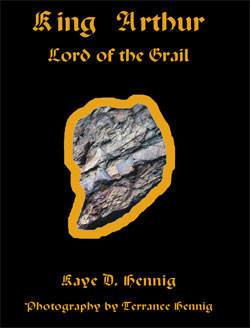 A writer's quest led a couple to the discovery of a marvelously sculpted cave containing monuments that they believe were created by the Merlin. DesignMagic Publishing has just released a coffee-table size book that contains images of monuments the author believes were created as sculpted portraits of the legendary Arthurians.
After over a decade of study and site research, clues contained in art, architecture, music and drama led the couple to the discovery of evidence of King Arthur. Their book contains 280 documentary photographs revealing ancient art that provide evidence of the lost kingdom called Camelot. The author of this fascinating tale presents compelling interpretations of the symbols and images found on the ancient sites that the couple believes are connected to a lost dark-age people, the Arthurians. The story of her quest and of their discoveries is combined with the photographer's stunning site photographs. The result is a beautifully designed and artfully presented work, one that could provide the world with a real history for King Arthur and his followers. Here's more.
Quote
Death most resembles a prophet who is without honor in his own land or a poet who is a stranger among his people.
Kahlil Gibran
---
September 26, 2008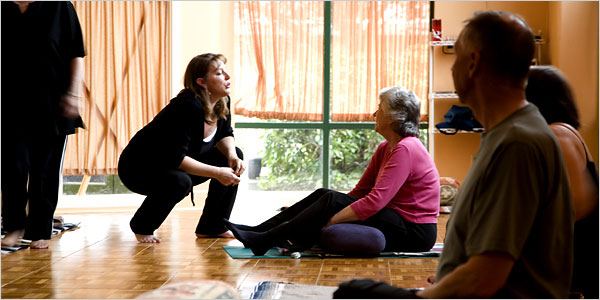 Lynn Hughes will be presenting a workshop at the YogaPath next weekend - here's more.
Farmers' Market receives $10K....
You already know I'm a big fan of our Saturday Market, but it looks like the USDA is, as well - they ponied up money for 85 similar markets around the USA, including ours, which received $10,000. Here's more, from Capital Press.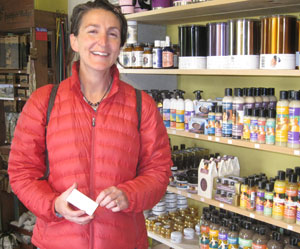 Now open!
Maureen Marinkovich (right) moved her shop two weeks ago to the building on the corner next to Roy's where Farmers Insurance used to be....I dropped in yesterday to see how it's going. Called Compost It: Products for a Healthier Planet, she offers all kinds of gifts & products that will make it so you step a little lighter on the Earth. Drop by & say hey & check it out!
Best picture is of Lime Kiln.....
Nancy Fletcher's photo of the lighthouse and the water was chosen by the Seattle Times as this week's selection for "Pix of My Weekend," and released yesterday - take a peek here.
Volleyball rocks the house....
Last night the FHHS volleyball girls made it two in a row, downing Mount Vernon Christian in three. Meanwhile, the mighty JVs won their second in a row as well. They play at home on Saturday. Way to go, girls!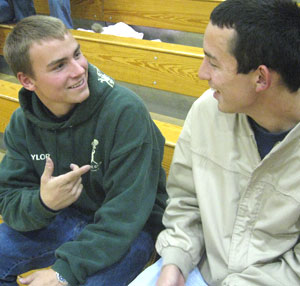 Checking in.....
That's Isaac (FHHS '09) checking in with Gus (FHHS '08) at the game last night - Gus takes off for welding school soon, while Isaac finishes up his last year.
Hey, thanks....
Just got this nice note from Joyce at the Family Resource Center to let you know about some help she's getting:
Hi Ian!
The Family Resource Center (on Market Street) has just had a face lift! The Lutheran's Men's Club has finished painting the trim on the building...AND they are refinishing the sign out front.
Since the sign has been removed, many people have stopped in or called to see if there have been changes or if we have moved. We just wanted everyone to know that we are still here and doing well! The sign should be bright and shiny new within the next week!
It is important that people know that the sign is out for refinishing and that we have not moved nor ceased to do the work that we do!
Many thanks to the Lutheran's Men's Club for their volunteer efforts on behalf of the Family Resource Center and the families we serve.
Joyce Sobel, FRC
The Banry project is coming along....
Cady Davies tells me the house-raising is coming along well. You'll remember last December we had a huge fundraiser for the Banrys - here's the fruit of all that, growing into reality. Check it out here on the Banry Family website.
Going to breakfast - for $700K....
This year's Breakfasy of Champions starts in a few minutes, so I'm heading over there to see who are the recipients this year - here's the story from Pamela Gross witht he Community Foundation:
This Friday morning, September 26th will start off with a Bang! when the San Juan Island Community Foundation awards grants at its annual "Breakfast of Champions" ceremony. Attendees will be pampered with a sumptuous breakfast prepared and served by the Foundation's all volunteer Board of Directors.
"This year's total will come to over $700,000 for our local non-profits, public institutions and, for the first time, scholarships," said Charles Anderson, chair. "We are extremely grateful to the growing number donors who have made this possible and allowed us to more than quadruple our grant awards over the last two years!"
"The morning's program will celebrate and recognize all Foundation grant recipients over the past year and include some words from the perspective of our Island non-profits. Chef Tom French, of the Experience Food Project - who is bringing such excitement to our school's cafeterias - will be the keynote speaker," said Susan Matthews, Foundation program coordinator.
Phil Anthropy (The Pink Pig) is planning to attend to greet and cheer for all the recipients of this year's award competition.
What's happening at Skagit Valley College.....
Have you signed up yet? There are some pretty neat classes this fall, according to Stella:
Let the wind blow and the rain come down, just come indoors and enjoy the warmth of our super knowledge-infused Skagit Valley College's Community Education classes at the San Juan Center.
This Fall Quarter we present, on San Juan Island, our Beowulf and Chaucer class (October 1-November 19) led by Dr. Don Baker exploring the literary background of J.R.R. Tolkien's The Hobbitt and The Lord of the Rings exposing you to a hero, monsters, quests and the battle of armies of good and evil…what a stimulating way to start your morning! From there, you will want to save time for From Genesis to Genetic Engineering (October 1-November 19) led by Barbara Brownstein delving into genetics before and after the mid-19th to 20th centuries while exploring many unresolved issues pertaining to genetics. Also on our rolls we have our Conversational Spanish class (October 2-December 11) led by Joe Tein helping you move forward with your learning a new language goal.
So brighten you day, register now and then relax! Call us at 360.378.3220, Skagit Valley College – San Juan Center, or come by our office at 221 Weber Way, Friday Harbor. See you soon!
Quote
I read in the newspapers they are going to have 30 minutes of intellectual stuff on television every Monday from 7:30 to 8. to educate America. They couldn't educate America if they started at 6:30.
Groucho Marx
---
September 25, 2008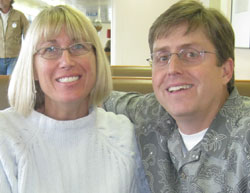 That's John & Lisa Sandifer coming back on the ferry yesterday from a conference they went to for their church (Calvary Chapel).
Those orcas.....
They had a superpod yesterday at Race Rocks. It's cool when all three pods get together.
Ferry schedule changes this weekend....
You know the schedule kicks into the fall schedule this weekend, right? I didn't - I thought it was last weekend, so that's why I was late yesterday coming home.....click at the top of this page to check it out.
First win on the season....
Johannes from the FHHS jv volleyball team says they won their first game at Orcas on Tuesday, in three games. Way to go, girls!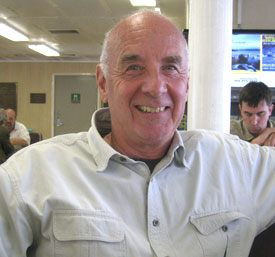 Rod's in the neighborhood....
It was great to run into Rod Mager (left) on the ferry last Friday - he was returning to the mainland after a trip to San Juan. I first met Rod in 1994 when I put my office in that building on the corner next to the ferry, right above the Trading Company.
Rod was down the hall with both his office and his apartment - he lived up there, on the back side, overlooking the water. He later moved his home design business to Paulsbo, and presently is set up in Port Townsend and occasionally doing work up here.
Find Joe Friday!
This scavenger hunt is gonna be great (the organizers & FHHS kids who are making it happen are pretty excited). If you sign up today or tomorrow,it's $5/team; it's $10/team after that, so get in there now! - put it on your schedule, so you don't miss it:
Find Joe Friday (Centennial Mystery Hunt): Join Island Rec to celebrate the Town of Friday Harbor's Centennial and learn a little bit of history on October 5th. Get your team or family together and join us on a scavenger hunt around the town of Friday Harbor. Discover intrigue and mystery...people, places and things you never knew...and need to know!
Celebrate the centennial in a unique way, get souvenirs, prizes, knowledge and exercise all in one. This mystery hunt is a combination of the Amazing Race and Are You Smarter than a Fifth Grader. Registration forms are available at Island Rec. Cost is $10 per team with a maximum of 5 people per team. Day of event registrations will be accepted at the High School Parking Lot from 12-12:45 pm. The hunt begins at 1 pm in the High School Parking Lot on Sunday, October 5th. This event is open to all ages.
From your lips he drew the hallelujah....
This is Canadian Rufus Wainwright singing one of the better versions of Leonard Cohen's mystical song - see what you think:
Quote
We are losing our living systems, social systems, cultural systems, governing systems, stability, and our constitutional health, and we're surrendering it all at the same time.
Paul Hawken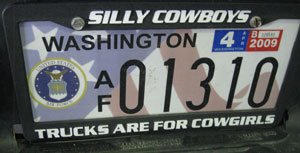 ---
September 24, 2008
About the lights over the water....
Susan Mathews reported to me that she heard from someone that the flares were part of a search, which Mary Elford confirmed, as she called in to report them at the Sheriff's office at 3:30am and was told the Coast Guard was involved in a search for a boat that didn't show up in Victoria as planned.
I was hoping it was UFOs, but I guess we'll have to just keep watching.
Sunrise for you....
Look at David Hogan's beautiful shot of the San Juan Islands at sunrise with Mt.
Rainier in the distance. Taken from the top of Mt. Constitution on Orcas Island. He's got great stuff - click here to see it.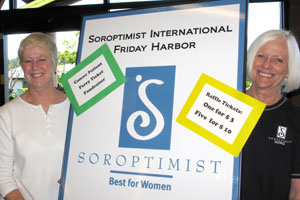 Saturday's Fundraiser event cancelled, but not the fundraiser.....
It's for a great cause: The Soroptimists raise money so that folks with cancer can receive ferry tickets to ease their need to get treatment on the mainland. It's a good program, and it works!
The Bowlathon for this weekend on the 27th has been cancelled, but the fundraiser is still on with members like Cathy Tochluk and Carol Capps selling raffle tickets (right), as Marie DiCristina explains:
The Friday Harbor SOROPTIMIST 4th ANNUAL HARVEST Fundraiser: Soroptimist International of Friday Harbor will hold their 4th Annual Harvest Fundraiser during the month of September. At their Wednesday, October 1 meeting, they will draw raffle ticket name winners.
The public can support this fundraiser by buying a raffle ticket at Kings this Friday (26th) and Saturday (27th) or send a donation to Soroptimist Harvest Fundraiser, PO Box 2856, Friday Harbor, WA 98250. The Bowl A Thon/Dinner at Paradise Lanes has been cancelled due to unforeseen circumstances.
These donations fund the Cancer Treatment Support Mission which provides transportation to the mainland for local islanders receiving their cancer treatments. Other Soroptimist Services include High School Scholarships, Women's Emergency Fund, Awards for Young Women, supporting the Family Resource Center, and much, much more. For more information call: Chairpersons Dana Bune 370-5027 or Marie DiCristina 375-7595.
Island matriarch remembered....
She was born the year before President Reagan (who would have been 97 this year), and didn't show up this year with the return of the killer whales this year. Cindy Hansen at the Whale Museum says she's be remembered at this special event:
She was believed to be the oldest whale in the Southern Resident Killer Whale community. The Center for Whale Research, who estimates her birth year as 1910, designated her K7. She was given the name "Lummi" through The Whale Museum's Orca Adoption Program. Lummi was a great-great grandmother – the leader of a 5-generation intact family. Sadly, she did not return to the Salish Sea with her Kpod family this year.
Please join Orca Network and The Whale Museum at the Lime Kiln Point State Park lighthouse o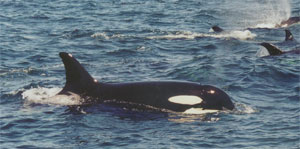 n Friday September 26 at 6:00 pm as we celebrate the life of this amazing whale and pay tribute to her. Hear about the life of Lummi from those who knew her, and join in a special tribute by the Ohileq-sen canoe family from the Lummi Nation. Local artist Jocelyn Russell has generously donated a beautiful original painting of Lummi to be auctioned off at the event, complete with custom framing donated by San Juan Gallery and Framing.
For more information please contact Cindy Hansen at 360 378-4710 ext. 23 or cindy@whalemuseum.org
Whales and toxins....
Peggy Krahn was part of the group that helped get the killer whales around here on the endangered list in 2004. And...she's speaking tonight.
The Whale Museum's lecture series continues with a talk by Dr. Margaret (Peggy) Krahn at the museum at 7 p.m. on Wednesday, September 24. Dr. Krahn will discuss her collaboration with other scientists on research that links levels of persistent organic pollutants to effects such as immune system dysfunction. She is also conducting research to assess the feeding ecology of marine mammals using stable isotope ratios as well as fatty acids and persistent organic pollutants. Here's more.
Quote
Do you know the difference between education and experience?
Education is when you read the fine print; experience is what you get when you don't.
Pete Seeger
---
September 23, 2008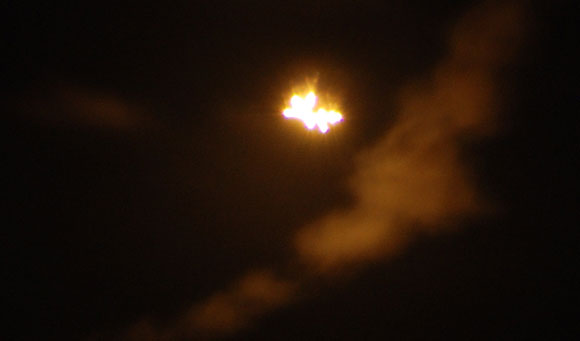 Lights in the sky.....
Far as I can tell, Sandy Buckley & Jeanne Hyde don't sleep in their quest for perfect killer whale pictures, but I didn't realize how dedicated they were, as they shot photos for lights in the sky this morning....here's more from Sandy (click on the links in the note to see large versions of the photos):
This morning I woke up at 4:11 am to strange lights in the sky. They were positioned directly over and beyond Discovery Island but appeared to be further away- over the water in the middle of nowhere. (12:00 from my house looking over the water.)
The "light show," which I can only describe as appearing to be flares shot from a plane circling in the same area, went on until 5:40. You could even smell the show! A novice at night photography (ie: I have NO clue), I called Jeanne Hyde, who took the photos attached. ( I took these two shots (one | two), Jeanne sent these - one | two). She could see this all the way from Andrews Bay! No idea what we watched...are you aware of any exercises going on or know about this?

Sandy Buckley
The Downtown Forum is back....
It's a chance to sit down with other Town businesses & see waht's gong on - the meetings I've been to have been useful & solutions-oriented. Here's what the Chamber of Commerce's Debbie Pigman says:
The Chamber Downtown Forum will resume its monthly meetings on Thursday, September 25 at the Best Western at 8:30am.

The Chamber Downtown Forum is a program offered by the San Juan Island Chamber of Commerce. Its purpose is to provide an opportunity for anyone with interests in the Town of Friday Harbor....employers, employees and other community members.... to communicate. The goal is to foster and facilitate a sense of business community. The group shares ideas, needs, what's working and what's not. The expected results are discussion, planning and action.

The September agenda includes an update of 2008 accomplishments plus time for brainstorming and prioritizing issues for upcoming action plans, led by Liz Illg. For more information, please contact me at chamber@sanjuanisland.org.

The CD is out! Get yours!
Steve Keys told me on the ferry last week it's finally out - a CD of folks playing at Blues Night at the Bella Luna! The release party is tomorrow night from 6-9pm at Bella Luna as Blues Night kicks off for the fall/winter/spring, with door prizes & more. Steve says it'll be a good time as well as good music.
On the CD: Steve Keys, Mike Adams, James Barkshire, Keith Busha, Teddy Deane, Cecil DeMeerleer, Tom Doenges, Steve Dyer, Dan Gillespie, Peter McCarthy, Roger McGilvery, Jonathan Piff, and Joe Romano. In the credits, Steve says he also listed several people who were playing during some of the recording attempts, but who didn't play on these cuts. This included Steve Cutting, Theresa Doolittle, Kate Schuman, and Richard Wills.
Orcas - we're coming!
FHHS soccer and volleyball go to Orcas today to play.
Quote
It is very easy to forgive others their mistakes; it takes more grit and gumption to forgive them for having witnessed your own.
Jessamyn West
---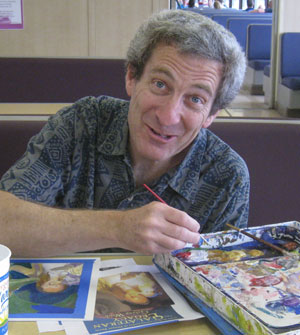 September 22, 2008
Never quits working.....
It was fun to run into Bryn Barnard on the ferry on Friday as he was taking Wynn to Seattle University to start school...far as I can figure, he never takes a break from making beautiful stuff.
He's working on a cover for a children's book, as you can see....check his stuff (his art, books, and writing) out at your local favorite bookstore or library...he rocks.
Drawing a bead on Robin....
One of the talented people on this island is Robin Atkins, and she's one of the great ones who knows about beading....if you haven't seen her well-written, well-presented blog lately, it's time you did.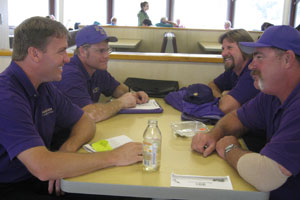 Football gets the job done....
The FHHS coaching staff did a great job of prepping the kids for a tough LaConner team, and the boys delivered the goods, winning Friday night 43-6 at the Braves' stadium. That's (from left) Mark, Darrin, Greg, and Shannon getting their game faces on, on the boat Friday.
Next up: The guys travel to Nooksack Valley next Saturday.
Tom May to play on Saturday (and Friday)....don't stay away....
Oren & Peggy tell me this is gonna be a great one at the Ale House:
Ian,
Tom May, a well respected folksinger, will be performing at the Ale House this Friday and Saturday, Sept. 26th & 27th. It is a special treat; could you help us get the word out?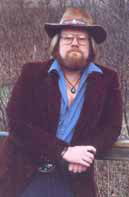 Tom has toured with and opened for many well known artists, Gordon Lightfoot, Alabama, Willie Nelson, and many others. He currently performs and tours solo or with his acoustic trio, and has released ten critically acclaimed, widely distributed albums. His most recent release was the 2002 release, "Vested". These recordings have been played on public and commercial radio from coast to coast, as well as overseas.
In addition to his live concert appearances, Tom has appeared on dozens of radio and television programs. National Public Radio's syndicated Mountain Stage , Radio Eirhenn's (Ireland) Andy O'Mahoney show, and the Canadian Broadcast Corporation's Ian Tyson Show (Television) to name a few.
Tom also produces and hosts his own national radio/TV broadcast, River City Folk. The show is heard weekly on over 200 radio stations from Alaska to New York. River City Folk highlights the vitality of the acoustic music scene by featuring diverse performers and styles.
It's at the Top Side 8pm-11pm, both nights - hope you can come!
Thanks, Oren & Peggy
Amazed by you, baby....
I don't think I've ever met anyone who doesn't like this song by Lonestar:
Quote
Who, being loved, is poor?
Oscar Wilde
---
September 19, 2008
Taking a walk....
The Scenic Walkers are going out at 10am this morning...you can come, too. Sponsored by Island Rec & Senior Services. Here's more.
It's too nice to stay inside, don't ya think?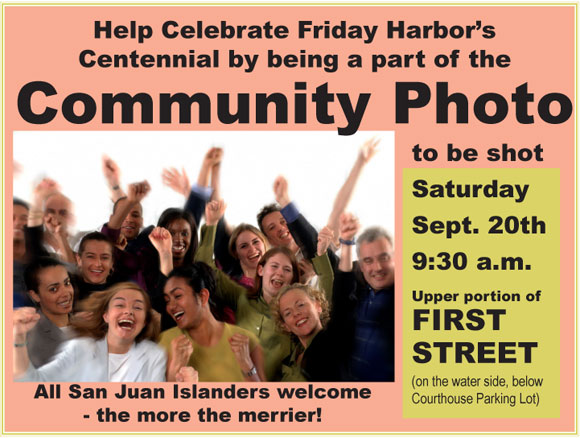 Tiger football update.....
I was wondering how our younger football teams were doing this year, and Donny tells me they (and the new fields, which are coming along - see the posting two days ago) are having a good year. Here's more:
Thanks Ian, We are really excited about the new fields, come on down and check them out. I have just updated the FHAA Blog with the Tiger football scores. Our Junior Tigers are undefeated at 3-0 and it looks like, once again, they are the team to beat this year. This weekend the Seniors and Juniors are heading to Orcas for the traditional Island Cup. I just picked up the trophies from the middle school trophy case last night and Mrs. Spratt said "Make sure you guys bring those back now!"
We will do our best - wish us luck! - Donny Galt
Britt...maybe on the Food Network?
Lorie Narum's niece Britt is a frequent visitor to the island who put togther this cool little video with her son Canyon about their life with food...in Alaska. Check it out...it's fun!
Also, Britt's main page in YouTube has a little shout out from the governor to Canyon...check it here.
Tom Rush is coming to town....
I know it's still a couple of weeks till Tom comes to town to do his show here at the Community Theatre, but I figure you better get your tickets now. Here's Tom singing "The Remember Song," which has over 3.6 million views on YouTube. Fun show with a fun guy....here's more about the show.
The plans for making a permanent Farmers Market....how is it coming?
About three weeks ago, the folks who are trying to set up a permanent spot for islanders to buy year-round local produce had a fundraiser (and to some extent, an awareness-raiser) as that project continues to gather steam. Here's more from Jane Burton Bell and Lovel Pratt:
The San Juan Islands Agricultural Guild (Ag Guild) had a lively and successful Benefit Dinner & Auction on August 24th to raise funds for the Permanent Farmers' Market. Pouring rain sent our 'garden party' running to a warm, dry, inviting Mullis Center. Nearly $30,000 dollars was raised before we sat down to feast on local bounty. Thanks go to all who contributed: farmers and food producers, chefs, waiters and gofers, attendees, speakers, musicians, auction item donors and buyers, and of course our worthy auctioneers. Together we raised 'seed money' to make our dream of a Permanent Farmers Market a reality, and had a great night at the same time!
The Ag Guild is a 501(c)(3) non-profit organization with the primary purpose to foster sustainable agriculture in San Juan County. Building a Permanent Farmers' Market on San Juan Island is the Ag Guild's first project.
A Permanent Farmers' Market will provide
• A year-round location for our Farmers' Market to thrive
• The freshest, most flavorful, and most nutritious local farm-raised and prepared foods all year
• Mid-week and winter Farmers' Markets that can include farmers from all our islands
• A fun and festive community gathering space
• Increased opportunities to buy local and reduce our carbon footprint
The Ag Guild is currently conducting a feasibility study with support from the San Juan County Economic Development Council's $30,000 Rural Opportunity Fund Grant from the Washington State Department of Community, Trade and Economic Development; and technical assistance from the Northwest Agriculture Business Center.
For more information visit the Ag Guild's website at http://www.sjiagguild.com/ or contact Project Director Lovel Pratt at 378-7172 or lovel@rockisland.com.
Quote
Nothing separates the generations more than music. By the time a child is eight or nine, he has developed a passion for his own music that is even stronger than his passions for procrastination and weird clothes.
Bill Cosby
---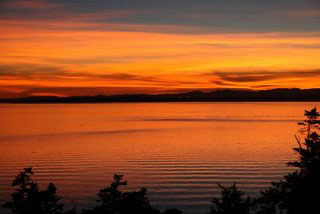 September 18, 2008
What's the next step for Mar Vista?
Sandy Buckley (and several others) have told me that there's a petition going around to pull together an effort to purchase Mar Vista (that's the view, right, from the resort) - here's more from Sandy's blog.
New clothes at Dominique's....
Teri just wrote & said you need to know:
We are very excited to have a brand new line of jeans designed by Marina Tia (originally of Friday Harbor, now a fashion designer in LA). We have the first production run of Karma Jeans and they are gorgeous! Stop in and ask us about them!
Politics rears its dangerous head, smells like old socks....
Someone told me that voting in the USA is always picking the least of two evils....so I got a picture of that. Click here for more.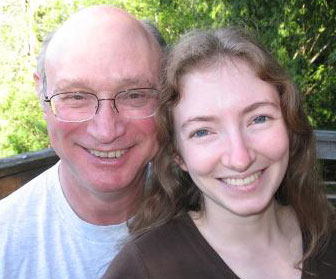 Remember Richard?
He used to work at the Fitness Club....he went off-island for a while, got married to Sam (right), and now has a massage business here on the island. Check out his website and welcome back!
Skate Jam & BMX results are in....
You saw the pictures of the guys skating & biking (click here & scroll down if you didn't!), and here are the results & rankings after the Jam - check 'em out!
Running into folks in Canada....
Remember I mentioned to you that Don English (and his boat) crossed paths with Nan & Steve Simpson in Canada? Here's more from Don:
Hi Ian, My running into the Simpsons gets even more bizarre. The last time I saw Nan before their departure she said, "maybe we'll run into each other somewhere up there." Well - they were going from Pender Harbor to Namiamo and I happened to be going from Namiamo to Pender and guess what - we almost ran into each (literally) other in the middle of the Straits of Georgia passing within a few hundred yards of each other - the chances of this happening is like winning a lottery!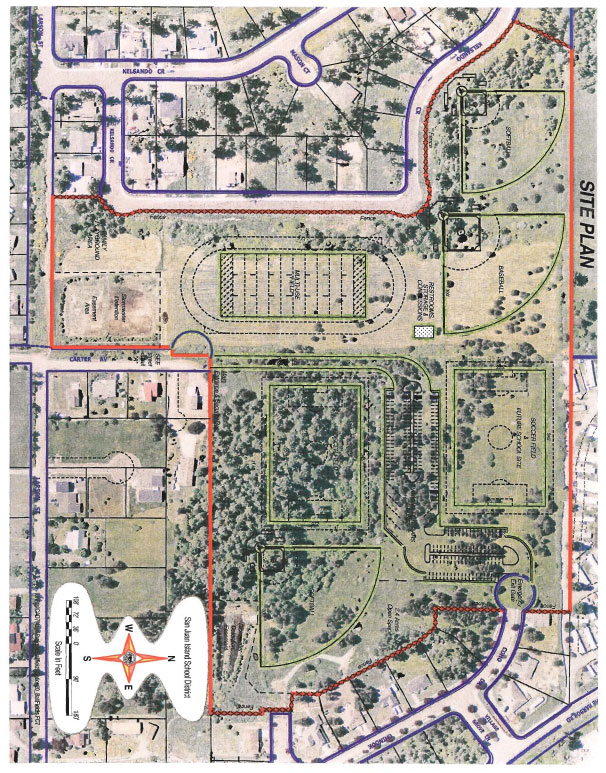 Progress report: FHAA says Grading Of Sports Fields, Construction of Clubhouse Underway...
Donny Galt and Charlyn Warner tell me that some of the fields may be ready for 2009...here's more (click the picture at right for a larger view of where everything goes):
The Friday Harbor Athletic Association, in partnership with the San Juan Island School District, is excited to announce the completion of the infrastructure of San Juan Island Community Park; a $2.5 million privately funded project. Upon completion, the San Juan Island Community Park will feature six practice and playing fields (one football field, two soccer fields, two softball fields, and one baseball field), approximately one-mile of walking trails, picnic areas, a clubhouse complete with restrooms and concessions and a reservation for a future school, if required. Two playing fields are scheduled for completion in the summer of 2009, and the final completion is slated for the summer of 2010, weather and funding permitting.

"We are excited to announce the completion of the infrastructure of the San Juan Island Community Park," said Donny Galt Jr., president of the Friday Harbor Athletic Association. "This milestone has been achieved through the generosity of several members in our community who have donated their time and resources to make this project come to life."
The $1 million cost of the infrastructure was funded entirely through private donations, with work completed through volunteer labor from members of the Friday Harbor Community. With the infrastructure finished, volunteers are beginning to grade the sports fields, and are working to complete the San Juan Island Community Park clubhouse.
The San Juan Island School District, San Juan Island Parks and Recreation, The Friday Harbor Athletic Association, San Juan Youth Soccer, San Juan Baseball & Softball and local community groups currently share the two baseball fields, and the one multi-use sports field located at Friday Harbor Elementary School. With multiple sports teams and leagues sharing this one facility, scheduling and coordinating practices and athletic events has become increasingly difficult. The Friday Harbor Athletic Association and SJI School District hope that with the completion of the San Juan Island Community Park the Island will have the ability to host additional athletic events and offer new programs to our San Juan Island community.
Saving dogs, too...
You already know that Amy Traxler helps with the Marine Mammal Stranding Network, but she also helps with dogs, too - she just wrote me about a project she's been involved in that you may find interesting, too:
Hi Ian: Just wanted to let you know that, out of the 12 dogs we rescued from a high-kill shelter in California in August, we have two dogs still looking for homes. Both are available through S.P.O.T. (Saving Pets One at a Time – www.savingpetsoneatatime.org), a wonderful organization that has helped me place both batches of dogs that I've brought up here. Both these little guys are small-medium sized dogs at 20#-30#.
One is a little male corgi-mix named "Scooter" - a sweetheart of a dog but a high-energy little guy. Someone who can spend a lot of time with him – running, hiking, going to the dog park, etc. – would be perfect for him. He also likes to go exploring so needs to have a very secure area where he can be left unattended.
The second dog is a little female named "Dixie." Everyone that looks at her thinks she's a mix of something different so I think it's safe to just call her a Heinz 57. The shelter staff in CA had no luck placing her and, even though they euthanize more dogs than I care to know about, had a soft spot in their heart for her so asked me specifically to take her up here in the hopes someone would open up their home to her. She's a very sweet, soft-natured dog who just wants to be around "her person."
If anyone is interested in either of these dogs, just visit S.P.O.T. online, read the bios, call their foster mom, etc. They're both great dogs who deserve a second chance! Thanks for posting this Ian!! (The dogs appreciate it. . . .)
Amy Traxler, S.P.O.T. foster mom
United Way of San Juan County Holds 3rd Annual Day of Caring on Wednesday, September 24th
Press release from the United Way and Bonnie Gilmore: Volunteers are needed on San Juan Island to participate in United Way's third annual Day of Caring on Wednesday, September 24th , from 9am-1pm. In 2007, participants cleared brush and cleaned gutters for seniors and raked and cleaned the children's playground at the county fairgrounds. This year the scope of the event will be expanded through a partnership with the Land Bank and San Juan Trails Committee developing a community trail. Other volunteers will again assist seniors with home and garden projects. United Way Day of Caring events are designed to help those who may not need ongoing assistance from human services programs but may need a few hours of support to make their lives easier. Larger projects benefit a wide range of island residents.
Director Bonnie Gilmore hopes to see the event continue to grow as a way for United Way to give back to a community that very generously supports its agencies and programs. Volunteers will meet at the Mullis Center at 9:00 am for registration and job assignments and can work for any part of the event. Day of Caring is a way that everyone can give, with the gift of a few hours of your time. For information on how you or your business can help, please contact Gilmore at 378-4121 or 378-5911.
September 22 is CarFree Day!
Tracy Roberson wants you to know this is the day to bike or walk to work:
Every September 22, people from around the world get together in the streets, intersections, and neighborhood blocks to remind the world that we don't have to accept our car-dominated society.
But we do not want just one day of celebration and then a return to "normal" life. When people get out of their cars, they should stay out of their cars. It is up to us, it is up to our cities, and our governments to help create permanent change to benefit pedestrians, cyclists, and other people who do not drive cars.
Let World Carfree Day be a showcase for just how our cities might look like, feel like, and sound like without cars…365 days a year.
As the climate heats up, World Carfree Day is the perfect time to take the heat off the planet, and put it on city planners and politicians to give priority to cycling, walking and public transport, instead of to the automobile.
So take the time, browse the links and resources provided, and join in on the celebrations! Here's more.
Quote
The Internet is the most important single development in the history of human communication since the invention of call waiting.
Dave Barry