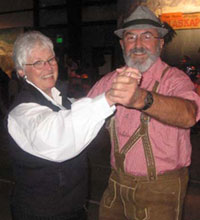 Click here for last week's news...

October 3, 2008
Just to remind you about what to do this weekend....
You KNEW Oktoberfest was this weekend, didn't you? Here's more, so you won't be late for the Chicken Dance.
Speaking of which....there are a ton of things to do this weekend - click here for the full list.
Girls' soccer wins again....
The girls made it 4 wins in the last five games with a 3-0 thumping of Concrete last night, staying unbeaten in league. Wahoo!
OK, that's enough for now....
Hey, remember I told you Johanna was going to Honduras and could take stuff for Bernadette there (click here if you don't know what I'm talking about....)?
Well, Johanna called to say she's full up & thank you, so for now, you can stand down on that call for help. She DID say if you have any silk scarves Bernadette can always use those for women who need something to cover their heads after cancer treatments that she has room for scarves!
I love the way out community helps each other!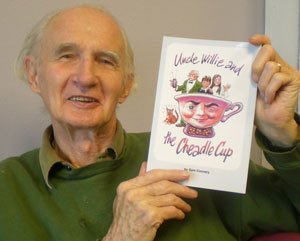 Sam's new book....
I happen to know about this one, because I got to work on the project. Sam Connery (right) has written & illustrated a delightful little kid's book called "Uncle Willie & the Cheadle Cup," which is now available at the bookstores & Island Studios around town. I got to read the manuscript before we laid it out & it's a easy story to like...be sure and get your copy now! Sam tells me he's already sold something like 300 copies, which is an awesome start for a self-published book.
Laura at Griffin Bay Books is hosting a signing/reading/visit with Sam from 2-4pm on Saturday the 11th (like, next week, not tomorrow), so there's your chance to get a signed copy. See ya there!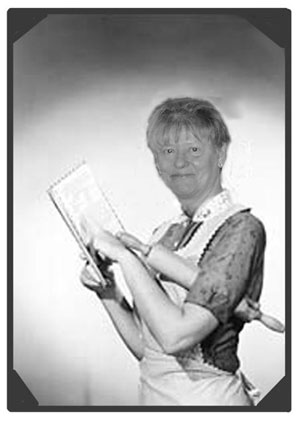 Sharon Sandwith (right) hangs up her apron!
Shannon, Roger and Marlis invite you to come celebrate this wonderful lady's years of service (both in and out of the school lunchroom!)
Come on down to the San Juan Island Grange on Saturday, October 4th, from 2-5 p.m.
What was happening at the State Fair....
It was great to see how our great kids did at the Fair this year, in this report from 4-H's Cindy Gauthier:
San Juan County 4-H members have returned home from State Fair with ribbons in hand and experiences to share. The State Fair wraps up the 4-H year and soon clubs will be meeting to award completion certificates and pins for a great year's worth or work.
We had a small but mighty group of contestants at the State Fair in Puyallup this year, which was open from September 5-21. There is almost always a San Juan County participant at the Fair in one barn or another, so if you plan to make a visit in future years, please look for them and cheer them on. Still Life exhibits are displayed the entire time and can be enjoyed in the Pavilion Building.
Beth Ware from San Juan Island participated in the Senior Western Games horse division. She was very excited to win a high blue in showmanship. The gaming classes proved very competitive this year with some very fast times. She won mostly white ribbons and one red. Beth was very happy to represent San Juan County and had a great experience.
Megan Brown from San Juan Island participated in the Senior Performance horse division and proved to be tough competition for others participating. She was awarded five blue ribbons, one red and a call back for Stock Seat Equitation class, which means she was one of the top two in her class to compete for the Grand and Reserve. Megan's horse Jax was not too happy to be at the Fair, but Megan made sure he was in top form when he entered the show arena.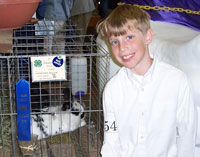 Christopher Hallock (right) from San Juan Island had a great first time visit showing his bunny named Shrek. Christopher won a blue ribbon in Showmanship and a red for herdsmanship. Shrek did very well winning a blue, best of variety, and best opposite sex for his breed. Christopher really enjoyed himself and hopes that he can go again next year. Hopefully some other San Juan county rabbit 4-H members will join him.
Derekk Buffum from Lopez traveled to Puyallup and rode his horse in the Intermediate Western Games division. He was nervous and excited about this new experience, but had so much fun he is enthusiastically preparing for a return trip next year if he qualifies. He received four red ribbons, one white, and one blue. He joined up with other small counties and had a blast making new friends while doing his herdsmanship duties. He plans to continue contacting his new friends and hopes to meet up and ride with them.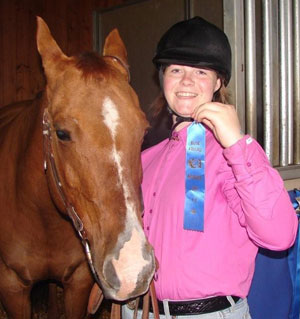 MacKenzie Brown from San Juan Island wrapped up the three week Fair in the Intermediate Performance horse division. She had a great time and was excited to win two blue ribbons along with two reds and two whites. MacKenzie's horse, Lula, did really well and behaved perfectly, though she did get restless from being in a stall when not being ridden. MacKenzie really enjoyed being at State and seeing all of the other exhibits. It was a great experience over all!
Grace Thompson from Orcas Island participated in the Senior dog division. She had a great time with her first time visit to the State Fair. It was really tough competition but she enjoyed meeting other dog 4-H members and getting a chance to try out her handling skills at this very competitive level.
Geneva Mottet, Coral Black and Clinton Gauthier sent a variety of still life exhibits to be judged and displayed in the 4-H Building for the duration of the Fair. To qualify to participate at State, these exhibits must win a blue ribbon at the San Juan County Fair. Clinton won two blue ribbons at State Fair with his Diving Duck and Bocce Ball photos. He has just recently joined the photography club at WSU where he attending as a Freshman this year.
Coral Black sent her beautiful scenic sunset photo and received a blue ribbon and Award of Merit, which is the highest recognition awarded to photography at the State Fair. Coral just purchased a new camera and I am sure we will be seeing more great photos from her in the future.
Geneva Mottet participated with a variety of items. Her beaded leather knife sheath won a blue ribbon as well as her educational poster on rat health. Her knitted potholder, duct tape vest, and packing tape purse received red ribbons. Geneva was very active this year with cat, dog, rat, and a multitude of still life projects. She was also a member and helped as a teen leader with the astronomy/rocketry clubs on both Lopez and San Juan Islands.
These 4-H members would like to extend their appreciation to the San Juan County Fair Board for the financial assistance they received to help cover the expense of traveling, meals or postage to participate at the State Fair. Additional thanks goes to the community members who purchased food and drinks from the 4-H San Juan Island Rambler's food booth during the SJ County Fair. The annual proceeds from this booth help to fund the San Juan Island youth to attend State Fair. Thank You!
The new 4-H year has just begun, so please call Cindy Gauthier at the WSU Extension Office at 370-7662 to learn about joining a 4-H club as a member, leader or to find out more about how you can support our local 4-H program.
Open gyms kick into gear.....
Abby & Sally over at Island Rec let me know that the open gym schedule starts next week - here's the deal:
Badminton and Ping Pong kicks off Island Rec's Open Gym season beginning Monday October 6. Badminton for teens and adults meets in Turnbull Gym on Monday and Friday evenings from 7-9pm. The program is open to adults and teens 15 and older. Fee is $2 a night on $46 for the season that runs through January 2008. Persons new to either game are encouraged to drop by and try it out and see how much fun and exercise it can be! Extra racquets and paddles are available.
On October 7 Men's Basketball Season begins running on Tuesday and Thursday evenings from 8-10pm. Drop in fee is $2 or $46 for the season pass. This program is open for ages 15 and older. Up to date schedules can be found on www.islandrec.org and posted on Turnbull Gym door. There are nights when these programs are not open due to school events that has priority use of the facility.
November is the start for Community Open Gym; Roller Hockey for ages 5-adults; Indoor Soccer and Family Open Skate. Get ready for an active and fun winter season!
For more information call Island Rec at 378-4953, visit www.islandrec.org or take a peek inside your Island Rec's Fall/Winter program guide.
Land Bank grows ....
Diane from the Land Bank just sent me this exciting news about the acquisition of part of the late Wade Sundstrom's farm:
SAN JUAN ISLAND FARMLAND SAVED: The San Juan County Land Bank, with support from the San Juan Preservation Trust, purchased 120 acres of the Wade Sundstrom farm on September 19th. The acquisition includes 80 acres along San Juan Valley Road and a separate 40-acre tract along Douglas Road. The purchase price was $2.1 million.
The Land Bank will work with the Preservation Trust to craft a conservation easement on the property eliminating all potential residential development. "The goal of the acquisition is to see that this land stays a working farm into the future. Having the Preservation Trust partner with us was a key to making the purchase a success," said Lincoln Bormann, Land Bank Director.
Tim Seifert, Executive Director of the San Juan Preservation Trust stated, "We're extremely pleased to be part of this project. The farm in many ways is the gateway to the valley. Keeping it in agriculture is a huge step in preserving the character of the Island." The Preservation Trust will contribute $500,000 to the project.
"The Sundstrom family played an important part in saving the farm as well," Bormann added. "They had higher offers from people who wanted to develop the property. Instead they chose to honor their heritage."
"I know my family, extended family, and the community, appreciate the value of preserving this property," said Betsy Dues, Wade Sundstrom's daughter. "In the years to come when our family visits the farm and looks out over cattle grazing in the fields and takes in the amazing sunsets, we will all be forever grateful."
Quote
All the people like us are We, and everyone else is They.
Rudyard Kipling
---
October 2, 2008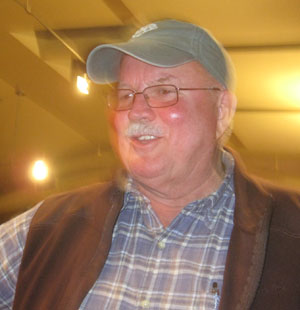 Dennis rides into the sunset....
When I ran into Dennis & Gayle Hazelton last night, I got a chance to say hey & to congratulate him on his retirement this week (he's done, now - his retirement party is Saturday at the Legion at 4pm, if you'd like to drop by!)
Dennis has been the Customs guy here for nearly two decades, but he's also one of the people who helped me & my family move to the island. You see, he ran a print shop in Eugene in the late '80s that I used when I was the marketing dude at the Eugene YMCA, and his easy manner & competent work made him easy to like & easy to work with. I found out he was living here, and he and Gayle helped welcome us to the island in 1994. You'll still see her at Saturday Market selling her soaps and all.
The last few years have obviously put more pressure on his position, with the changes & increase in focus that have come with immigration issues and customs work, in this country. He's done a good job, and whoever takes his place is gonna have his/her hands full, for sure. (For more info about Dennis, the San Juan Islander has a nice writeup about him.)
New gm at Lakedale....
Scott Hale is the new general manager at Lakedale - originally from Central New York, he is most recently from the Florida Keys, and says he is very excited to be a part of this island paradise! Drop by & tell him hey!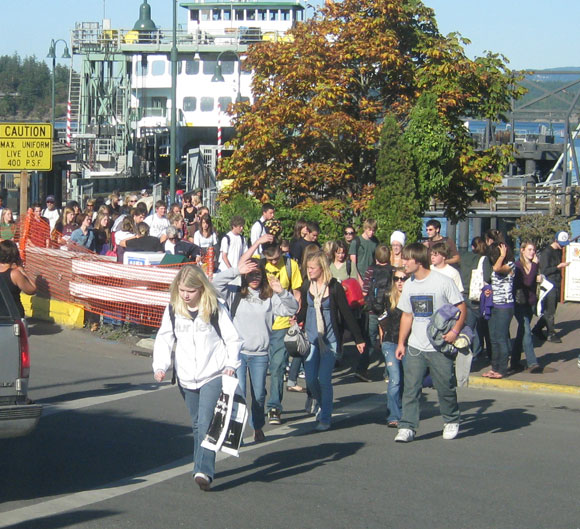 Over 100 FHHS students took the day to visit the College Fair in Seattle on Monday, as
you might have guessed when you saw this mob get off the ferry on Monday afternoon.
CDs are for sale - got yours?
Steve Keys says the Bella Luna Social Club CD rocks, and is available at these places (so far): From the stage at Blues Night on Wednesdays, as well as several shops in town including "Isle Be Jamming", "Funk & Junk" and "Island Studios" art gallery.
Also, he says our illustrious Mayor David Jones is handling sales of CD's.
What to do with the oil spill....
Of course it's important to think ahead about what to do if we have an oil spill, here in our waters....here's an Australian reaction when the front fell off a boat in Aussie waters. Click here to view the video.
Getting volleyball going again.....
You know, Island Rec used to have Open Volleyball in the evenings, but interest waned & the program was scaled back.
Now, there have been several inquiries & expressions of interest in getting this going again, so the interested folks asked me if I'd post this announcement so you can call Sally & say you're interested - so drop her a note, willya? Then we can play:
There have been recent inquiries made with Island Rec on the possibility of having Open Volleyball back on the weekly schedule. Please contact Sally Thomsen (play@islandrec.org) if you or someone you know would like to participate. Maybe we can get the ball rolling on the court again!
Announcement about Curves....
You know, this is pretty good to hear - I know they do great things at Curves. Cady Davies asked if I'd let you know about this:
Women of San Juan Island - News Flash!
Well, sort of, but now that I have your attention.
I just want to let you know about an opportunity at Curves.
They are letting women come for free for a week to check it out.
I have been going to Curves for about 3 years. This is what I like about it.
1. It's easy and mindless and only takes 40 minutes, (includes 10 minutes of stretching)
2. It's close, within walking distance from my work, and I can go at a time that suits me
3. When I first went, I lost 20lbs easily and going keeps the 20 lbs off
4. If I go 2-3 times a week during the winter, I can get back on my bike in Spring without killing or hurting myself, I'm already in shape
5. It's affordable and when it comes directly out of my account, I don't have to think about it. (Mindless again)
6. I stretch 2-3 times a week too (When do you do that?)
7. Because the machines are hydraulic, the harder you pull the harder they get, so it is always at the right challenge for you
Did I mention stretching? This is an extra bonus that really helps keep my back from hurting. And, if you like to go with a friend it is easy enough that you can chatter the whole time. I like going in the morning and sometimes I wake up half way around. Right now they are also discounting the start up fee from $75 to $25

My favorite quote: "I have to exercise in the morning before my brain figures out what I'm doing" Martha Doble

Sincerely, Cady Davies
Anti-bullying message delivered....
Debbi Fincher helped set it up - she says last week's anti-bullying assembly at the elementary school was well-received by the kids - here's more from that morning: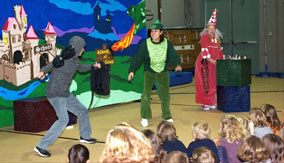 A little note of good things happening at FHES this morning, Taproot Theatre Touring Group came to present their new show, a bullying prevention theme, "Alexander and the Dragon". The sponsors are FHES PTA and San Juan Island Prevention Coalition. The 1st through 5th graders went on a magical journey in this production as a student realizes his friend is bullying the new kid at school. They help the kids to remember the 3 R's: recognize, refuse, report the bullying behavior. The students of FHES also signed a "banner contract" with the word RESPECT on it, to help start the school year off on a positive note. Our new Principal, Gary Pflueger, has jumped right in and has shown the meaning of respect, thank you!
Meet your local firefighter....
Keri from the Town tells me Daniel is this month's pick - here's the scoop: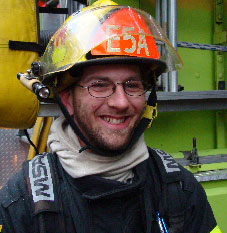 Daniel was born and grew up in Pasco WA. He moved to the island with his partner Nickie two years ago and they have a beautiful daughter named Louise. Daniel has extended family here in Friday Harbor, Uncle Jim Ricks, Aunt Betsy Dayton, and several cousins.
Asking him about his favorite foods, he points out that they joined the C.S.A (community supported agriculture) from Heritage Farms, and they buy local meat at the San Juan Island Co-op. His ideal day includes coffee, bacon, and a 4am fire call with ice-cream.
He likes living in Friday Harbor because everyone knows everyone, but finds that the hardest part about it too. He likes the solid community and they have made wonderful friends.
Daniel works for the Town of Friday Harbor and Volunteers as a town Firefighter. He has also recently been accepted into the EMS class for 2008. He joined the fire department to help people who really need it and it is very exciting. The most exciting part for him in the department is properly executing drills with proper training and the right gear. He likes to find challenges in every skill in the fire department, and has sets his goals to mastering them.
His quote: "We were invented by water as a means of transporting from one place to another." Tom Robbins
Quote
Poetry is just the evidence of life. If your life is burning well, poetry is just the ash.
Leonard Cohen

---
October 1, 2008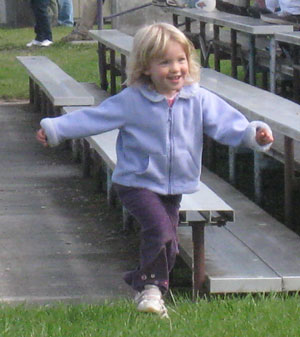 That's Sophie Duke (right) having a great time at Saturday's soccer game at the high school...there were smiles last night, too, as the FHHS girls ran their league record to 4-0 with a nice 3-1 victory over Mount Vernon Christian. The team returns to action on Thursday here against Concrete.
Space opens up....
Jeannie Turner still has a little space in her retreat in Italy in November - check on her YogaPath site for details.
Coming for Artstock this weekend....
Carol Eldridge says in her blog that she is coming this weekend as part of her family's tour of the Northwest - she's an artist with a nice map of the area (with us on it)....check it out here.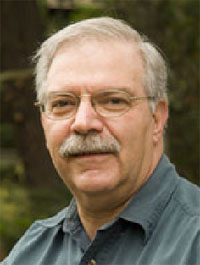 Get your fundraising act together.....
Look, you may know this already, but if you don't, this is something you GOTTA know: Bob Schwartzberg from the Friday Harbor Marine Labs is one of the nation's experts on pulling a fundraising program together. It's a good & wonderful (and kinda rare) thing that he's going to be offering his "Fund Raising for Small Non-profits" workshop at Skagit Valley College (the one on the mainland, not here) a month from now on Nov. 5th & 6th.
If you have a non-profit on this island, you ARE a small non-profit, so get yourself over to this....you'll be glad you did (I know this because I've talked to people who have attended Bob's workshops over the years, and they report they are useful, practical, and motivating. And...their non-profits are still in business.)
Here's the flyer...see what you think & start making plans.
---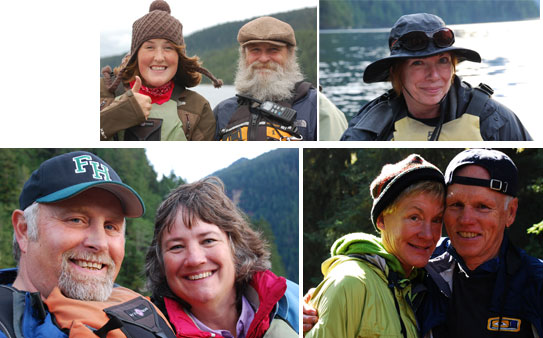 The Pacific Catalyst II comes home....
Shannon Bailey of Pacific Catalyst reports they're back for the winter....
Hi, Ian,
We had several San Juan locals (above) aboard the Catalyst for our final two trips of the season: Joe Cussen and Brenda Beckett, as well as Al and Fritzie Mauldin, and Randi Dooley Park, and of course daughter Kestrel Bailey, who helped out as crew along side her dad and I. It was great to have time to share and play with them...but its good to be home. Catalyst is back in Friday Harbor till the end of April, with time out for maintenance and haul out this fall.
Godspeed, Shannon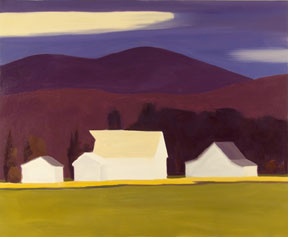 Landscapes in pastels & oils....
Lisa Gilley and David Ridgway share this weekend's opening at waterworks....the show runs from October 4 - 26. Ruth Offen has more:
The gallery's October show will feature the landscape of two artists, Lisa Gilley from Marestone Island and David Ridgway of Orcas Island (that's his painting to the right). These artists share a love of clean simplified landscape. Embellished with color these paintings evoke a time perhaps that was earlier in the century, but in representation are contemporary. Very architectural and geometric in space with a local patina of timelessness.
Doing great things with our friends in Honduras....
Liza Michaelson sent me this note, but we gotta act fast to load up Johanna before she goes:
Bernadette Mason, a graduate of Friday Harbor high is a midwife on a small Caribbean island. She operates an organization called Island to Island connecting our island to hers.
On Oct 7th Johanna Smith from Friday Harbor is going to visit Bernadette, and she has offered to carry goods donated by our community to Bernadette for the babies, children and mothers of her island. The Friday Harbor thrift house has donated summer clothing for infants but Johanna still has room in her bag. Especially nice: receiving blankets, any clothing for HOT weather for small children, babies, colorful scarves to wear on the heads for women undergoing cancer treatment, children's picture books.
Please drop any contributions off at the Whale museum before Oct 6 to Johanna. Thanks!!! Liza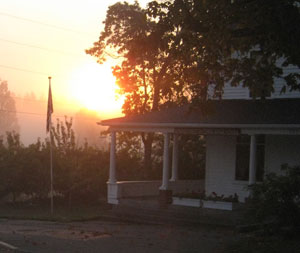 That was the sun peeking through the fog and around the corner at Spring Street International School this morning.
Yawn.
Day of caring - a success!
Marty Huelette asked if she could she could share a little writeup about how the United Way's Day of Caring went, last week - you bet! Here's the scoop about folks helping folks here on our island:
What makes people come out on the first rainy day of autumn to help neighbors who aren't able to do their end-of-season yard chores?
What spurs folks who could be warm and dry to come out of their offices and homes to help build a much needed trail segment on the Land Bank property alongside Cattle Point Road, near American Camp. It is, simply put, the act of caring. And around the islands there are a lot of people who engaged in that act during the recent United Way of San Juan County Kick-off event.
On San Juan, a local landscape company, Island Gardens, sent a whole crew of workers to help with yard and gutter clean up at the homes of folks identified as needing some help by Kurt VanHyning of the Senior Center. Others cut up a downed tree and cleaned the tables and chairs at the Mullis Center. Island business people, San Juan Trails Committee and Land Bank workers, and workers from the United Way Board and supported programs helped with the trail extension project.
On Lopez Island the entire first grade class showed up for their project working on a trail at the Lopez Center. Other volunteers helped with landscaping at new housing units. On Orcas a full crew of local volunteers helped with gutter cleaning. Over 75 volunteers worked at the various sites on three islands.
Doug McCutcheon, Preserve Steward for the Land Bank estimated that there were at least 25 volunteers at that site and he summed up the sentiments: "The work party was a great joy for me and I hope everyone enjoyed it despite the weather. It was great to put some names to faces that I've seen around the island for years. This project will serve the community in many ways for years to come -- both recreationally and as a non-motorized transportation corridor. It is my hope that a hundred years from now people will be using this trail and appreciating the foresight and effort of our current community members."
Local businesses deserve huge thanks for sending workers and supplies to the Day of Caring. Businesses who participated in the event on San Juan Island were Browne's Home Center, Island Gardens and Key Bank. The photo below includes a number of our super volunteers - thank you!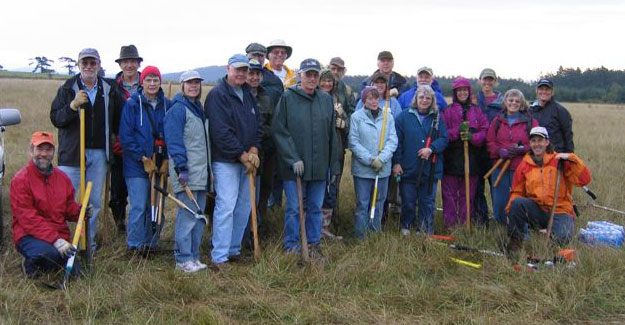 Quote
A point of view can be a dangerous luxury when substituted for insight and understanding.
Marshall McLuhan
---
September 30, 2008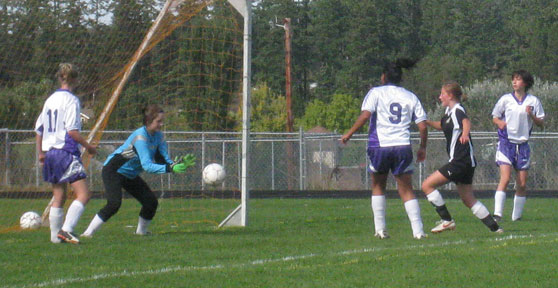 Goalkeeper Hannah Snow stops Meridian's shot last Saturday....
The FHHS soccer girls are in action today against Mount Vernon Christian -
here's a gallery of shots of the girls in their Saturday game.
---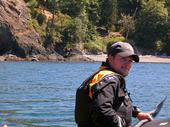 It's the end-of-the-year at Discovery Kayaks.....
You know Jason (left) at DSK - he's the one with the cool blog with info about kayak gear & some of his trips on the water - he yells me: "Discovery Sea Kayaks is having an End Of Season Sale starting Monday Sept 29th and will end Sunday Oct 5th. All Clothing ranges from 35% to 50% plus all new kayak equipment is 20% off. We are also selling lots of used kayaks!"
Speaking of end of the year....
Kathleen Dolsen tells me that today is Westcott Bay Sea Farms' last day open till May...so drop in for one last visit!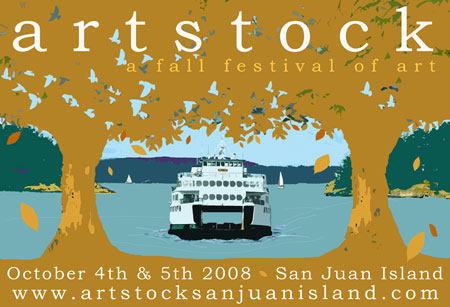 Quote
Today's verse is from Jackson Browne's "Before the Deluge," written in 1973 but prophetic as we look around our world in its present glory, beauty, and confusion. Here's the entire song's lyrics, and here's my version singing it, from Things Seen & Unseen.
Some of them were angry
At the way the earth was abused
By the men who learned how to forge her beauty into power
And they struggled to protect her from them
Only to be confused
By the magnitude of her fury in the final hour
And when the sand was gone and the time arrived
In the naked dawn only a few survived
And in attempts to understand a thing so simple and so huge
Believed that they were meant to live after the deluge


---

Proof that it's fall - cool, crisp sunny days, all the colors in the trees, and the loadout of pumpkins at the Marketplace late last week for Halloween. Photo by Josie Cleland.
September 29, 2008
Sports update from the weekend.....
It was a collection of close ones:
The football team (2-2) traveled to Nooksack Valley, where they held the Pioneers to 226 yards but came up short in a 28-14 loss. After three away games, the guys play here on Saturday against Seattle Christian, and have scheduled a rematch with Nooksack for homecoming on the 18th.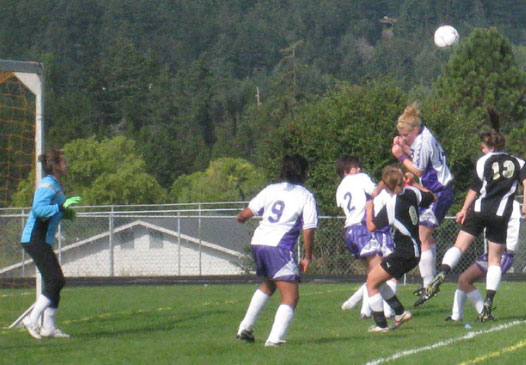 Meanwhile, the volleyball team had its two-game winning streak snapped as they won one but dropped three to lose to a talented Meridian squad...the match was closer than it sounds, as the girls told me they felt we could have won if we had forced the fifth game. The girls play away three times this week.
The FHHS soccer squad played some of it best defense of the year in nearly upsetting Meridian on Saturday (that's Maggie Anderson rising above the defensive crowd to head the ball away for the Wolverines and keeper Hannah Snow - click here for a 38-picture gallery of the game by Josie Cleland.) With the 2-1 non-league loss, FHHS is still 3-0 in its league matches as we host Mount Vernon Christian tomorrow.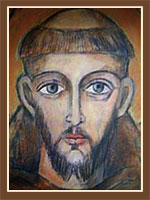 Blessing the animals...
This Saturday at 11am, it's the annual Blessing of the Animals for St. Francis' Day over at St. Francis Catholic Church. Bring your pets - all are welcome. Donations will be collected for the animal shelter and Wolf Hollow. Here's more.
Here's a bit more about Brother Francesco.
Leadership San Juan is recruiting....

There's still time to sign up (by November 7th) for the next Leadership San Juan class, which begins in January, according to Cynthia Stark-Wickman. Here's more info.
Today's musical offering, from the 50's & 60's....
John Simon sent me this cool website that is a jukebox for the tunes of the turn of THAT decade - check it out only if you don't need to get any work done today. It's pretty cool - here it is.
You'll be humming the Everly Brothers all day....
Speaking of music....
Blues Night at Bella Luna is back again till the end of the spring - 6pm every Wednesday. See ya there.
Quote for the day
This is kind of a long one from Paul Harvey for today:
We tried so hard to make things better for our kids that we made them worse. For my grandchildren, I'd like better.
I'd really like for them to know about hand me down clothes and homemade ice cream and leftover meat loaf sandwiches. I really would.
I hope you learn humility by being humiliated, and that you learn honesty by being cheated.
I hope you learn to make your own bed and mow the lawn and wash the car.
And I really hope nobody gives you a brand new car when you are sixteen.
It will be good if at least one time you can see puppies born and your old dog put to sleep.
I hope you get a black eye fighting for something you believe in.
I hope you have to share a bedroom with your younger brother/sister. And it's all right if you have to draw a line down the middle of the room,but when he wants to crawl under the covers with you because he's scared, I hope you let him.
When you want to see a movie and your little brother/sister wants to tag along, I hope you'll let him/her.
I hope you have to walk uphill to school with your friends and that you live in a town where you can do it safely.
On rainy days when you have to catch a ride, I hope you don't ask your driver to drop you two blocks away so you won't be seen riding with someone as uncool as your Mom.
If you want a slingshot, I hope your Dad teaches you how to make one instead of buying one.
I hope you learn to dig in the dirt and read books.
When you learn to use computers, I hope you also learn to add and subtract in your head.
I hope you get teased by your friends when you have your first crush on a boy/girl, and when you talk back to your mother that you learn what ivory soap tastes like.

I don't care if you try a beer once, but I hope you don't like it.. And if a friend offers you dope or a joint, I hope you realize he is not your friend
I sure hope you make time to sit on a porch with your Grandma/Grandpa and go fishing with them.
May you feel sorrow at a funeral and joy during the holidays.
I hope your mother punishes you when you throw a baseball through your neighbor's window and that she hugs you and kisses you at Christmas time when you give her a plaster mold of your hand.
These things I wish for you - tough times and disappointment, hard work and happiness. To me, it's the only way to appreciate life.

Written with a pen. Sealed with a kiss. I'm here for you. And if I die before you do, I'll go to heaven and wait for you.
---