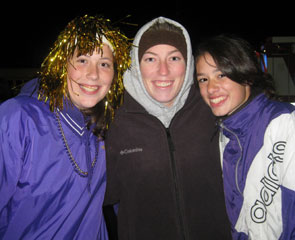 Click here for last week's news...

---
October 17, 2008
It's Homecoming Weekend!
You're pretty likely to see a lot of purple & gold this weekend, with the parade tonight at 4:45 & the football game tomorrow at 3pm, with most of us the enthusiastic FHHS supporters that we are (like golden-haired Margaret Nash, Kiersten Radden, and Megan Goudie at last weekend's game).
The soccer team (9-3) did their part last night to kick things off with an impressive 3-0 win over Orcas to remain undefeated in league; the volleyball team's homecoming game is tomorrow at noon.
Purple & Gold fever is so pervasive that our opponents in the football game have ALSO agreed to go purple. Now THAT'S school spirit, even if it happens to be their school colors.
Things get pretty wild and crazy at the Homecoming Parades - here are the photo galleries I took last year and the yaer before - see how many people you know in the pictures!
The 2007 Homecoming Parade
The 2006 Homecoming Parade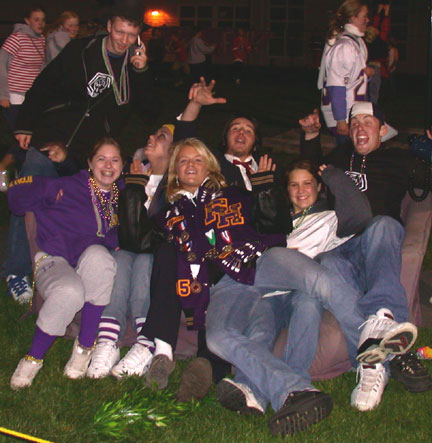 That was the "Senior Couch" at Homecoming in 2004....
set up in the endzone, only people in the twelfth grade could sit there.
---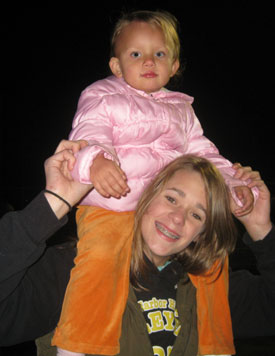 October 16, 2008
That was Kia Johns (right) at the FHHS football game last weekend, with her friend Kai aboard. This weekend's game is the homecoming game at 3pm on Saturday - see you there!
Last weekend....
Don't miss this one - RUMORS plays at the Community Theatre tonight and Friday with its last show on Saturday. (This one is REALLY funny.... here's more.)
Enough with the bottled water already.....
So many people have been using those reusable bags for shopping - they get it! - that it's time to start taking about bottled water. Studies have been showing for years that it's not any better than tap water (in many cases, it IS tap water), and sometimes is worse (here's one case). Our island doesn't need more stuff in the landfill - time for you to get a filter for your home tap (especailly if you live in Town), and ditch the bottled stuff.
Meanwhile, after the pep rally....
On Friday, the Homecoming Parade is at 4:45pm with the pep rally afterwards and then...ya gotta wait for the football game & dance the next day.
Or not.
Sylvia tells me there's a cool thing happening on Friday night:
Hey, Ian! Thanks for being willing to help get the word out about Friday's post-pep rally party! With lots of help from the community, the Presbyterian church is hosting a party for all high school youth from 6-9:30 pm this Friday after the Homecoming pep rally.
Since there is no football game or dance that night, all high school youth are welcome to head over to the Presbyterian church for some dinner and a safe space to chill out for the evening.
There will be a 16-player Halo 3 game going, using a hub with four X-Box 360s hooked up, Poker & Texas hold 'em games, an artist wall, various Wii games and hopefully some live music and of course, free food and brownies. This event will be alcohol and drug free.
If you have questions about this event, feel free to call the Presbyterian Church @ 378-4544.
Again, thanks for your help, Ian, and the work you do with keeping us up-to-speed with the Update.
Sylvia Sullard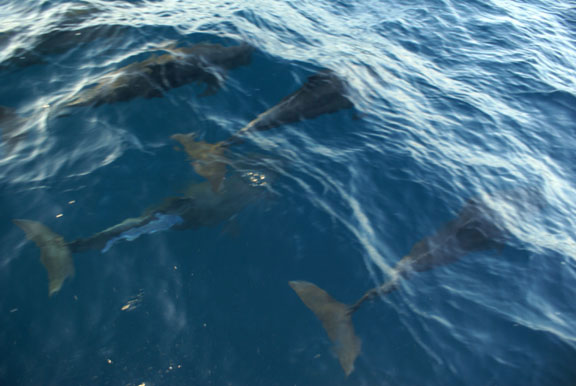 Dolphins in Panama, in a photo by Susea McGearhart last week...what IS that
white thing on the dolphin? Click on the photo for a larger version.
Susea checks in, just ahead of the Dolphin talk....
Looks to me like she's doing research on dolphins close-up as she & Gene continue their cruise - here's their report:
Hola Ian, from Panama!

Your website is so fun for us to read. Its intimacy with the locals and the happenings in Friday Harbor make us feel like we're close to home even though were 5,000 miles away.

You mentioned Thomas White's book signing this Friday. It was late in the afternoon having sailed all day from Costa Rica into Panama. We blasted across the shipping lanes as quickly as possible, with the plan to continue overnight to Isla Pedro Gonzales in the Las Perlas Islands when this pod of spinner dolphins surrounded us. Never have we had dolphins stay with us so long (about 45 minutes). They were especially joyful, leaping up in the air, and chirping loudly.

I sat up at the bow pulpit shooting pictures and cheering them on. I could see scars on one dolphin's head and back. But the strangest sight of all was to see the baby, or whatever it is, latched onto one of the dolphins. At first I just thought it was the lighting and reflections, but it stayed attached regardless of which side of Moody Blues' bow it had raced around to. But it was not one leaping in the air or spinning over to look up at me.

Perhaps if you go to the book signing you can find out what is latched onto the dolphin in the below photos for us. Is it a dolphin that just had a baby or is it some sort of sucker fish?

Hasta luego and gracias for all the FH updates!

Susea & Gene
www.moodybluescruise.com
That 990 workshop....
Here's the details (for signing up & all) - and here's the deal for Friday's workshop:
This is an important workshop for nonprofits because the 990 is the document that keeps the IRS tax-exempt status for all nonprofits. There are significant changes for the 2008 tax year, including the necessity for more detailed record-keeping, and certain policies and procedures that one might want to be in place before the end of the year, so that answers on the 990 reflect good management and optimal transparency. The 990 used to be just a financial document, but the now contains far more information about the organization, all of which is available on the internet for anyone, such as potential donors, potential members, etc. to see.
You can look up the 990 for your own (or any) nonprofit organization on Guidestar.org for past years. The new 990 (starting for the fiscal year 2008) will be far more specific and detailed.
The auction at the Museum!
It's this weekend! Here's more from Kevin:
The San Juan Historical Museum invites you to join us for our 2008 Autumn Auction on Saturday, October 18, from 4 p.m. to 8 p.m. at the Mullis Center. Tickets are $20 and will be available at the door.

Our harvest-themed evening will include an hors d'oeuvre buffet featuring "A Taste of Friday Harbor," cash bar, entertainment by the One More Time Band, and Sugar on the Floor, led by folk musician Michael Cohen. In addition, there will be a very special appearance by historian Mike Vouri as General George Pickett.

Among the wonderful live and silent items up for bid will be museum-quality antiques, the ever popular night in our historic jail, mainland getaways, a full truckload of gravel and firewood, books, island services, numerous gift certificates, historical photographs, scenic tours, a performance of the popular play "The Life and Times of General George Pickett" in your home-complete with a catered dinner-and much more!

Munch on great food, mingle with your neighbors, find "that perfect gift" – and make a bid! All of the proceeds from the evening will benefit the San Juan Historical Museum, and will assist us in preserving island history. We will see you there!
Quote
I would say that the thrust of my life has been initially about getting free, and then realizing that my freedom is not independent of everybody else. Then I am arriving at that circle where one works on oneself as a gift to other people so that one doesn't create more suffering. I help people as a work on myself and I work on myself to help people.
Ram Dass
---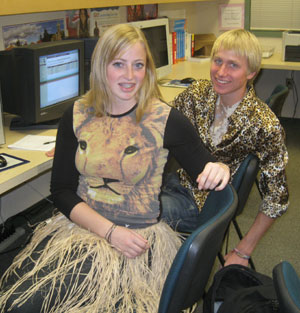 October 15, 2008
That was Brook Jangaard and Michael Sandifer yesterday at Friday Harbor High as Homecoming Week continues...you can kinda tell Tuesday was Jungle Day for Spirit Week by the way the kids are dressed. (Wednesday is "Dress for the Test!" Day, 'cause the kids all take the PSAT, while Thursday is Go Green! Recycle! Day, and Friday is, of course, Purple & Gold Day.)
Now you know what to wear.
The Homecoming Parade is at 4:45 through town, with the pep rally following at the high school gym. Here are the directions for the parade route.
Wolverine women roll on,
beat LaConner 3-1....
OK, I've been watching a lot of FHHS girls soccer since Cindi Baker started the program back in 1995, and have seen some awesome games...last night's is definitely in the top five all-time games.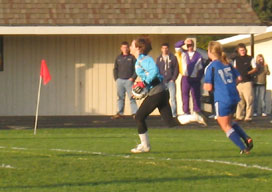 The girls came out ready to play, and played a hard, closely-marked first half to a scoreless draw. Then the second half pretty much showed why the team is still unbeaten in league. Sophomore Elle Guard hit from 25 yards out just unnder the bar & just over the keep for the first score, followed ten minutes later by the gutsiest goal I've seen a Wolverine player make - Clara Brand shot from 15 yards out and followed her shot as it rebounded off the bar, headed THAT rebound off the top bar again, then settled things with her third shot in five seconds to the left lower post. Awesome.
Ever-steady, ever-ready Whitney Porter put the game out of reach a minute and a half later on a breakaway. A late penalty kick was the only way the Braves could score on keeper Hannah Snow (above, with ball), but that came too little too late.
The next match is a big one - Orcas comes to play unbeaten-in-league FHHS here Thursday for a 5:45 game that will test whether the game between these two earlier this season was a fluke as we won a tough one in overtime. If you haven't seen the girls yet this season, this is a chance to see island soccer at its best. See ya there.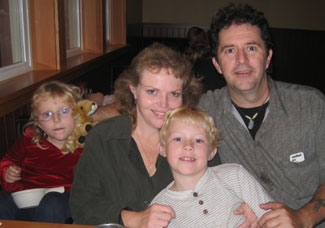 It's been ten years.....
Congrats to Kenneth and Angie Atwell, who celebrated their tenth anniversary last night at Haley's with Emily & Erich...wahoo!
Angie works at Skagit Valley College - San Juan Center with the Elderhostel program, while Kenneth & the kids run Spirit Tree Books & Gifts next to Radio Shack.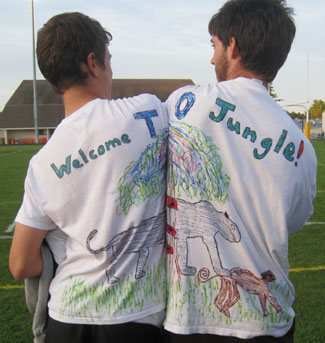 More in the jungle....
That would be seniors Miki & Pablo (right), all decked out in their wearable-art shirts for Jungle Day yesterday at FHHS.
Class of '98 pulls it together for homecoming....
Cady had told me about this last week, and Stephanie Piconi confirmed it, from her daughter Cember:
Hi Ian,
For your Update, Cember said, the class of '98 is having a class reunion at the Peppermill on Saturday, the 18th of October. Cady Seiler works at the Peppermill, and was instrumental in coordinating the reunion. So far, 63 people have sent in a R.S.V.P. to partake in the event That's about all I know. Have a great day, Steph
More sad news for Southern Resident Orcas
Susan Berta & Howie Garret do a super job keeping track of the orcas, and it's a drag to hear this report from them on the Cenetr of Whale Research findings:
It has been a difficult year for the endangered Southern Resident orca population, and after wrapping up their annual survey in late September, the Center for Whale Research has reported that seven whales are missing at this time, and with the addition of one new surviving calf, the population is now believed to be at 83 (click here for Orca Network's births/deaths page).
In addition to 98 year old female K7/"Lummi", the elder of K pod, also missing are:
• 23 year old L67/"Splash" (Luna's mom), and
• six year old L101/"Aurora" (Luna's brother),
• 58 year old female L21/"Ankh",
• 36 year old female J11/"Blossom",
• and two unnamed calves, J43 (missing last winter) and
L111 born in August 2008 to L47, missing by the end of August).
Only one calf born this year survives, K42, born in June.
It has been apparent to those observing the whales this summer that salmon have not been in abundance - all three pods have had to leave the Salish Sea area on and off during the summer in search of salmon, and when they were present, they often were traveling in widely spread out groups, which typically means they are having to spread out to find enough salmon to feed the pod.
Our hope is for a strong chum salmon run this fall in Puget Sound, so the whales can get some nutrition before the winter season, when they leave the inland waters in search of food up and down the coast.
But if we don't act NOW to restore the Chinook salmon runs in the Pacific, this trend will likely continue, and the population is already so small that its survival hangs in the balance.
What can we do about all this?
Support salmon restoration efforts, reduced harvests, taking down dams, stopping farmed salmon operations, stop using pesticides, fertilizers or chemicals in your home and garden, and contact your elected officials to make sure they know how important salmon, orcas, and their habitats are to you. Think about these issues when you vote - who will best help clean up our waters, and save our salmon and orcas from extinction?
And visit our News Page for some recent articles on salmon restoration efforts as well as some of the human impacts that have led to the demise of our once healthy, abundant salmon runs.
If we don't save the salmon, there is no hope for the orcas -
Susan & Howard, Orca Network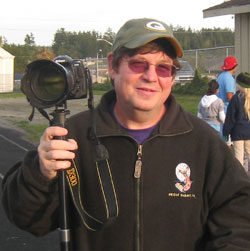 Yep, that's Matt Pranger (right)....
I've been taking so many pictures of people growing their beards for the Centennial contest, it was nice to see someone going in the other direction.
Thank you from the Soroptimists!
Marie DiCristina dropped me this note that their fundraiser went pretty well:
A big thank you to all the people who helped with the 2008 Soroptimist Harvest Fundraiser. This fundraiser provides transportation funds for island cancer patients to the mainland for treatments and other Soroptimist services. This year our Harvest Bowl-A-Thon was cancelled due to unforeseen circumstances but the Harvest Fundraiser was held in its place. We have wonderful support from Soroptimist volunteers manning tables at the markets with raffle ticket sales. Thank you to our wonderful community who supported by purchasing those Opportunity Drawing tickets or just making a donation. This event raised to date, $ 4,833.72 with more donations still coming in!

A special thank you to the businesses and individuals who made contributions: Lori Stokes, San Juan Florist, Laura Tuttle, Annette Schaffer, Bette Cantrell, The Toy Box, Sharon Pigman, Paradise Lanes, Kings Printing, San Juan Islander, San Juan Journal, San Juan Update, Susan Wingate, The Ale House, Garuda & I, Serendipity, Loea Design, Dominique's, Friday Harbor Drug, Joshua Reedy of Spa D' Bune, Crème Brulee, Dr. Pat Hansen, Islanders Bank, Dana Bune, Marketplace, Vinny's Restorante, Richard Wills of Spa D' Bune, Samantha Wills of Spa D' Bune, Harbor Gallery, Ellen Roberts, DiCristina Photography and Friday Harbor House.

For more information regarding Friday Harbor Soroptimist International please visit www.sifri.org . The Bowl-A-Thon Fiesta Fundraiser and Dinner Party will resume in May 2009. Thank you all again!

Quote
Don't gamble; take all your savings and buy some good stock and hold it till it goes up, then sell it. If it don't go up, don't buy it.
Will Rogers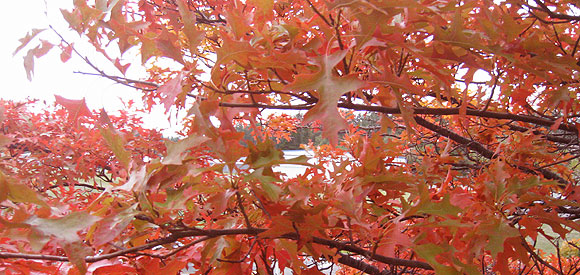 Now you know it's fall...shot in yesterday's early morning mist, by Josie Cleland.
---
October 14, 2008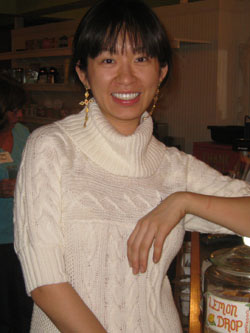 Ada's got things going....
Ada Hung (right) at Mi Piace Coffeehouse above the ferry landing, has a coffee tasting set for Friday at 10am, with different roasters showing off their wares...then, a week later, she has FHHS musicians Zack Reitan, Rhiannan Franklin, and Spencer Bune playing from 2-4pm on Saturday the 25th to raise money and consciousness for the Invisible Children campaign.