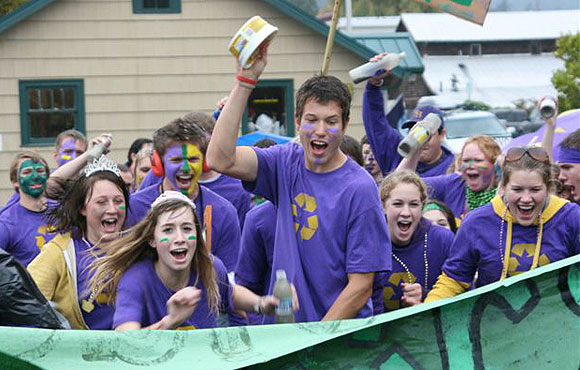 The 2008 Homecoming Parade was a blast, as FHHS students took to the streets to show their support for their school...here is a 40-photo gallery by senior parent Juan Lopez (click here!) and an 85-photo gallery by freshman parent Josie Cleland - see how many kids you know!
And...check out the past - here's photos from the The 2007 Homecoming Parade and The 2006 Homecoming Parade!
---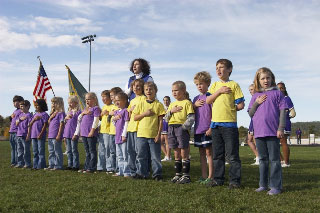 Click here for last week's news...

October 24, 2008
See that fox in the masthead?
I went out to American Camp on Tuesday and saw that red fox looking back at me, so I took a picture of him for you.
Second grade singers!
Yep, that's the second-graders with ace teacher Shannon Evans singing the national anthem at last Saturday's football game - they rock! Next - the Super Bowl! (photo by Ken Serratt)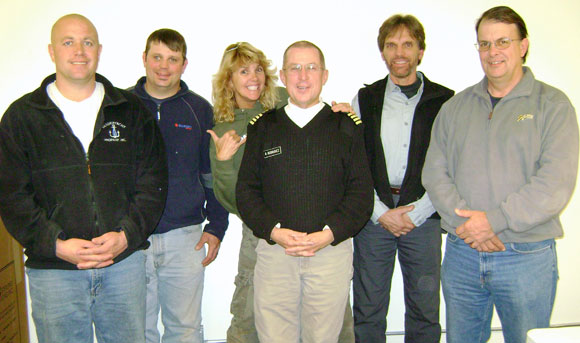 Richard Rodriguez tells me that Zenith Maritime has graduated seven new captains (that's, from left, Craig Vander Yacht, Kelby Anderson, Deb Fritz, instructor Capt. Richard Rodriguez, Levi Ross and Mike Close. Not pictured, Richard Millson and Capt. Chris Chesley who earned a Sailing Endorsement). He says graduates have qualified to operate vessels up to 100 tons. The course focuses on teaching practical applications rather than test preparation. The course is approved by the United States Coast Guard and as such tests on site in Friday Harbor. Zenith Maritime trains mariners to become Captains across the United States. Zenith graduates and operate vessels up to 200'.

Capt. Rodriguez has certified over 300 mariners as Captains in Western Washington in the last six seasons. During the summer season he is the primary Vessel Assist responder in the San Juans. If you haven't seen it lately, his blog is one of the more interesting and better written ones around - check it out!
The PTA Garage Sale is tomorrow....

...and it's gonna be huge! Tanja from the FHES sale has more, including how you can help:
Hi! Just a little reminder that tomorrow is the PTA garage sale in the elementary school gym. Drop off tonight is: 2:30 - 3:30 pm and 5:00 - 8:00. If you have any last minute items before the sale, we'll be at the school at 8:00 am.
The sale is from 9:00 am to 2:00 pm. There's already some great stuff...from children's books and toys, to a twin mattress to an overhead light/fan. Come check it out! There will be muffins and treats to buy, as well as (hopefully) coffee!
Thanks for all your help and participation. These programs couldn't continue without all your generous help!
Best Wishes,
Tanja Williamson
Thanks from the Soroptimists!
Marie sent over this update about their fall fundraiser:
A big thank you to all the people who helped with the 2008 Soroptimist Harvest Fundraiser. This fundraiser provides transportation funds for island cancer patients to the mainland for treatments and other Soroptimist services.
This year our Harvest Bowl-A-Thon was cancelled due to unforeseen circumstances but the Harvest Fundraiser was held in its place. We have wonderful support from Soroptimist volunteers manning tables at the markets with raffle ticket sales. Thank you to our wonderful community who supported by purchasing those Opportunity Drawing tickets or just making a donation. This event raised to date, $ 4,833.72 with more donations still coming in!

A special thank you to the businesses and individuals who made contributions: Lori Stokes, San Juan Florist, Laura Tuttle, Annette Schaffer, Bette Cantrell, The Toy Box, Sharon Pigman, Paradise Lanes, Kings Printing, San Juan Islander, San Juan Journal, San Juan Update, Susan Wingate, The Ale House, Garuda & I, Serendipity, Loea Design, Dominique's, Friday Harbor Drug, Joshua Reedy of Spa D' Bune, Crème Brulee, Dr. Pat Hansen, Islanders Bank, Dana Bune, Marketplace, Vinny's Restorante, Richard Wills of Spa D' Bune, Samantha Wills of Spa D' Bune, Harbor Gallery, Ellen Roberts, DiCristina Photography and Friday Harbor House.

For more information regarding Friday Harbor Soroptimist International please visit www.sifri.org . The Bowl-A-Thon Fiesta Fundraiser and Dinner Party will resume in May 2009. Thank you all again!

Marie DiCristina
Soroptimist Public Awareness
There's a fundraiser tonight....
You can help support Gary & Margo Posenjaks' work in Alaska AND eat spaghetti tonight - here's more.
The County Council is talking water on Monday....
They're looking at an ordinance about Critical Aquifer Recharge Areas...here's more.
And if you don't think this matters to you, think again. YOU try drinking out of a dry well....
Quote
Can anything be stupider than that a man has the right to kill me because he lives on the other side of a river and his ruler has a quarrel with mine, though I have not quarrelled with him?
Blaise Pascal
---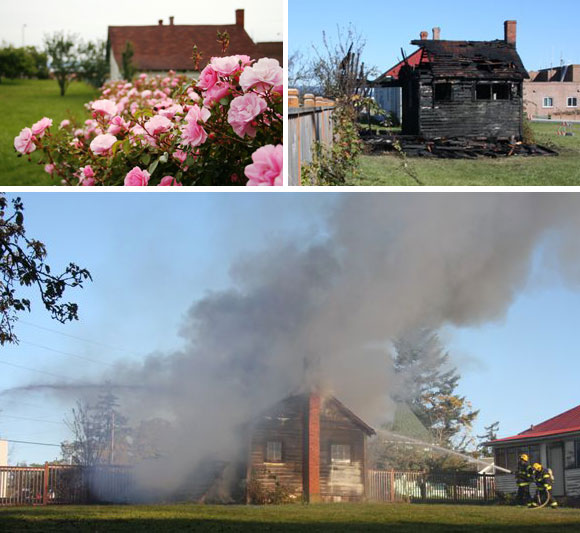 You've gone by it a million times and didn't notice it - the little house behind the pawn shop, across from the high school. On county property, the place caught fire
Wednesday morning. The pictures above show it before the fire last May, after
the fire, and during the blaze. Fire officials tell me they believe there was no power to the building, and that the cause of the fire is under investigation. (Photos by Jane Buck)
October 23, 2008
What the schools have been up to, in the past year.....
It's easy to see all the budget problems and forget the great things our school around here have been doing the past year or so....go to the San Juan Public Schools Foundation webpage (click here!) and see if you don't puff up with pride reading what the kids & teachers have been doing.
Pretty cool place to go to school.
Where's Jessie?
One of our favorite FHHS grads from the late 90's was Jessica Oldwyn - she's living in Wenatchee these days working at Toucan Beads with her folks, but she currently is visiting Thailand - check her blog (and leave comments!) about how her adventure is going!
That's her with Terresa Sundstrum (right) at her brother Kaal's wedding last year here on the island.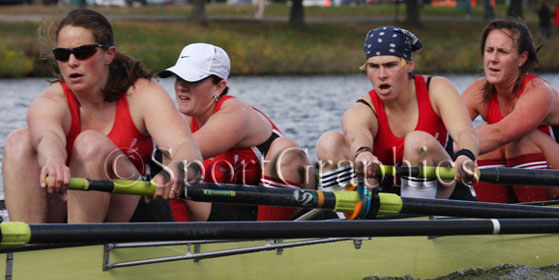 Islander Emily Bayuk-Johnson (third from left) is on the crew team that came in third in
Boston last week.
Where's Emily?
It was cool to hear from Emily Bayuk-Johnson (FHHS '07) - here's the scoop:
Hello Ian,
I'm living in Seattle to take a break from the books and get a real edumacation in crew.:) Just got back from The Head of the Charles in Boston. The Charles is a three-mile course that snakes from Boston University to Harvard. The weather was just about perfect for our event last Saturday, sunny, little bit of a wind. All the trees were bursting with color, cradling the scenic brick buildings of Boston. 300,000 people came out for the event: rowers, spectators, and venders alike. The boat I was in rowed 17:37. 5 for bronze, coming in behind Yale University and the Dutch National team. There were 45 boats in our event. Our coxswain took the turns beautifully, passing Villanova University before the Weeks Footbridge and steering a straight course with no added penalties. A truly great row!
I got a job coaching crew for Holy Names Academy (a Catholic all girls school) which is very demanding and soooo much fun. I also coach adults in a learn to row program through the same boathouse as the girls. Lake Union Boathouse in Seattle is one of the best facilities/clubs I have rowed with and I am very happy rowing and working for them. Great people, great equipment, great support.
Hope you are doing well on the island; I really like checking your Update page! Thank you, Ian! Emily Bayuk-Johnson
High school teen swim night....
Paul from the Fitness Center has a deal for Friday night:
San Juan Island Fitness in cooperation with the PTA offer "High School Teen Swim Night". The first in a series will be held on Friday, October 24 from 8 to 10 p.m. Cost is only $8.00 per person and will include swimming, court games and refreshments. The event is open to anyone attending Friday Harbor High School or Spring Street students of high school age. A portion of the proceeds go to the high school PTA. For more information, call 378-4449 or visit www.sanjuanislandfitness.com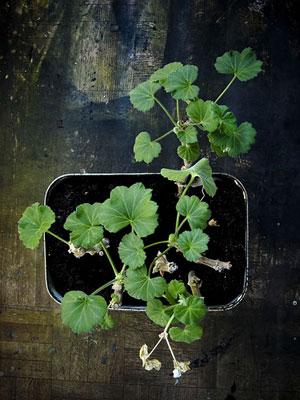 The Plant Swap!
Sandy Strelou reports the first one was great:
The first annual San Juan Island Gardeners' Plant Swap was held on October 12th at the fairgrounds. We had a nice turnout for a first-time event and there were millions of plants (okay, I exaggerate).
Everyone who participated got to take home plenty. There was a wide variety of plants offered, including corms/bulbs, shrubs, herbs, fruit, natives, ornamental, houseplants, and packaged seed--all of it proven successful for our island climate and conditions. Everything was labeled and we had garden books on hand to help participating gardeners figure out what plant material would work in their particular gardens.
And the best part is that everything was free! We plan to hold another plant swap next May, so tell all your gardener-readers to save their garden-extras for next spring!

Sandy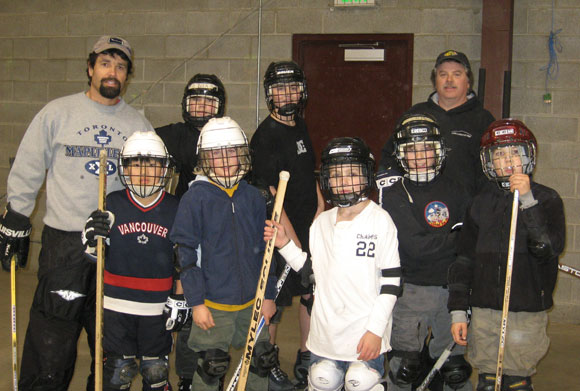 Next week the winter's indoor activities get going in the Fairgrounds building, including roller hockey. This is a good time to sign up with Island Rec...see the info below!
Signups begin for indoor activities.....
Abby from Island Rec says it all begins next week & the week after:
Early sunsets are upon us so it is now time to come play indoors at the fair building. The indoor season starts rolling with Family Open Skate on Saturday November 1. It is good fun, great music and good exercise for people of all ages. Program begins ½ hour earlier this year opening at 6:30 and running till:30pm. Cost is $3 per person or $8 per family. Skaters must supply their own skates and helmets.
Roller Hockey volunteer coaches will be on hand on Tuesdays beginning November 4 to coach 5-8 year olds from 5:30-6:30 pm and 9-14 at 6:30-7:30 pm. Adults 15 and older play from 7:30-9pm. Drop in fee is $4 for youth and $6 for the adult hour and half session. Discounted Season passes and partial scholarships are available.
Experience is not necessary. Skaters should provide their own skates, sticks and knee guards. Helmets and gloves made available through a grant from San Juan Island Community Foundation will be available to use.
Indoor Soccer kicks off its season on Thursday November 8 from 6:30-8:30. Drop-in fee is $5 or purchase a discounted season pass.
The indoor season runs through mid-February. Check the monthly schedules posted on www.islandrec.org for update information or call Island Rec at 378-4953.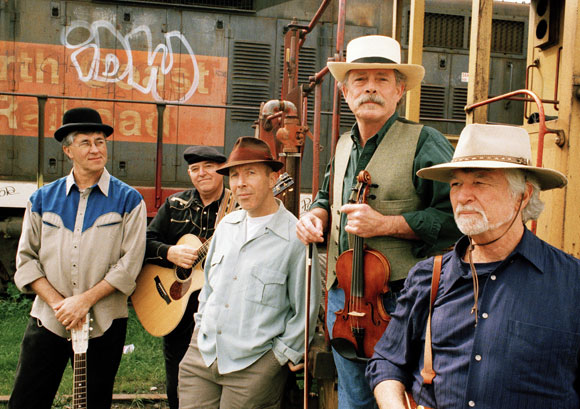 Marley's Ghost Appears at San Juan Community Theatre...
Jan from the Community Theatre says this is gonna be a good one if you like acoustic music - here's more from her:
No, the San Juan Community Theatre is not haunted…or is it?
It will be visited this Saturday, October 25, at 7:30 p.m., however, by a group of hauntingly talented musicians—Marley's Ghost— for a Halloween bash complete with a costume contest* and a chance to win the group's latest CD, "Spooked."
This eclectic quintet of acoustic musicians combines a bit of English roots, reggae, gospel, country and Scottish bagpipes—plus plenty of irrepressible humor—to make for a howling fun evening. The group has built a reputation among roots-music lovers for its instrumental virtuosity, majestic harmonies and animated live performances. Billboard Magazine said of "Spooked": "Traditional seafaring tunes, abolitionist anthems, cowboy songs, spirituals and a Bob Dylan track ("Wicked Messenger") are vibrantly brought to life…."
Learn more about the band and their music at www.marleysghost.com
Tickets for Marley's Ghost are $24 for adults and 12 for student reserved, with $5 student RUSH at the door. A private donor has made provision for free tickets to anyone needing financial assistance to attend a Theatre event. Tickets may be purchased on-line at www.sjctheatre.org or at the SJCT box office (378-3210). The box office is open Tuesday through Friday from 11 a.m. to 4 p.m., Saturdays from 11 a.m. to 2 p.m. and one hour before the show.
The evening's Business Partner is Elements Hotel and Spa.
*Halloween costumes are optional; costumes are available to rent from the Theatre by emailing costumes@sjctheatre.org to set up an appointment.
Quote
"Of all the offspring of Time, Error is the most ancient, and is so old and familiar an acquaintance, that Truth, when discovered, comes upon most of us like an intruder, and meets the intruder's welcome."
Charles Mackay, economist, 1841
---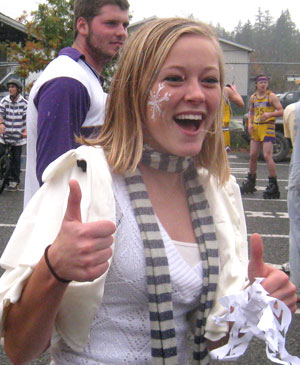 October 22, 2008
The 2008 Homecoming Parade was a blast, as FHHS students (including sophomore Elle Guard, left) took to the streets to show their support for their school...here is a 40-photo gallery by senior parent Juan Lopez (click here!) and an 85-photo gallery by freshman parent Josie Cleland - see how many kids you know!
The Post Office is looking good.....
Besides painting the front, you may have noticed the Dan the new postmaster has done some garden work as well out front...the place is looking pretty good.
Affordable opera comes this way....
Jill Urbach from the Presbyterian Church says this is gonna be a good one - and a great chance to get exposed to opera without having to leave the comfort of your island:
Friday Harbor Presbyterian Church is pleased to host the Puget Sound Concert Opera as it performs Mozart's La Clemenza di Tito at the church on Saturday, October 25 at 2:00 PM. La Clemenza di Tito is a fascinating tale of deception, political intrigue, and a devious assassination plot, culminating in the noble gesture of the great Roman emperor, Titus.
Puget Sound Concert Opera dedicates itself to performing operas concert style with piano. The concert opera format is family-friendly, allowing audience members to see, hear and feel the music up close and personal. Friday Harbor's own renowned singer, Corinne Stevens, will be performing. Suggested donation for the performance is $15 general audience, $10 for students and seniors.
More singing....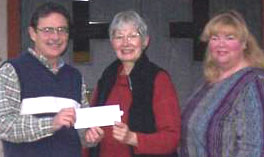 Sonja Zarek (middle) and Kathleen Wilson (right) present Rev. Doug Simonsen from St. David's (left) with a check for half of the proceeds from the concert; they presented Father Raymond Heffernan from St. Francis with the other half.
That Benefit Concert at the first of the month went real well - both musically & for raising money - here's more from Kathleen Wilson:
The Benefit Concert held on October 4, 2008 was a wonderful success raising over $1,400 to be shared between the Catholic and Episcopal Churches for their building maintenance funds. 100% of these donations will go directly to repairing and maintaining the church buildings.


The concert featured:
Vocalist: Kathleen Wilson
Piano/Musical Director: Sonja Zarek
Saxophone: Teddy Deane
Drums: Dan Gillespie
Special Guest Vocalists / *Guitar: Pat Gislason* and Lynn Buck Wade
I Have a Dream Chorus: Kathryn Root, Samantha Finch, Cady Wilson, Chase Wilson and Cameron Wilson
Sound: Tom Doenges

I had hoped to have a night of music that everyone of all ages would enjoy, that would give you a smile, bring back a beloved memory or lighten the soul in the way that only music can give you joy. From the feedback we have received so far, everyone seemed to really enjoy the evening. In addition, we got to support two wonderful buildings that have been very generous to the islands throughout the years.

I would like to thank those listed above for their gracious donation of time and talents. What a special group of musicians and "good hearted" people we had for this concert.

I would especially like to thank Sonja Zarek for her extraordinary gift of music to not only me for the past three years, but the entire community. Without her, this night absolutely would never have happened. Thank you so much Sonja, you are now adopted as a true Wilson!

Finally, thank you to everyone to who supported this cause by attending the concert and for those who could not attend, but would like to donate to the building/maintenance funds, please contact St. Francis' Catholic Church (378-2910) or St. David's Episcopal Church (378-5360).
Promoted....
Great to hear from Bob Coleman that Islanders Bank has promoted Michele Morton to assistant vice-president of branch administration - way to go!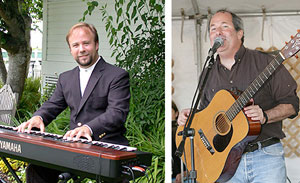 Speaking of singing....
Joe Bongiorno (FHHS class of '87) & I will be alternating sets at Island Studios from 1-4pm on Saturday - you can hear samples of his wonderful piano work here, and samples from my last album here.
Or better yet, drop by to hear it live. Here's more.
Quote
Words of wisdom are gifts from the wise….Enlightenment requires an astute listener.
Five Killer of the Cherokee Nation
---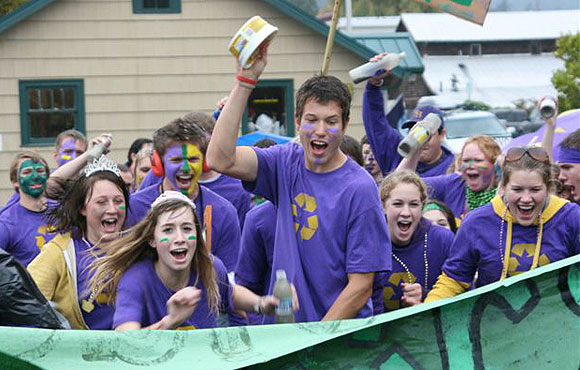 The 2008 Homecoming Parade was a blast, as FHHS students took to the streets to show their support for their school...here is a 40-photo gallery by senior parent Juan Lopez (click here!) and an 85-photo gallery by freshman parent Josie Cleland - see how many kids you know!
---
October 21, 2008
No school next Monday, on the 27th....
It's a professional development day for the teachers, so that's why your kids are still at home, probably in bed.... :)
What WAS that thing?
Remember that white thing attached to the dolphin, on that picture that Susea sent in (click here, and check under the Oct. 16th posting....). I asked what you thought it was, and the guesses were pretty wide-ranging. Shannon Fitzgerald thought it might be a remora:
I bet the large pale thing on the dolphin is a remora. Remoras are fish with suckers and they are known for attaching themselves to sharks a free ride and meal. Here's more about them.
Now if there had been a flying saucer in the photo....

Meanwhile, Josie said she'd guess it might be a cookie-cutter shark (right), while Susea added her two-cents worth about what kind of dolphins they were:
Thanks Ian,
I saw your site and the photo, it sure reproduced well. But I think they are Bottlenosed Dolphin, not Spinner Dolphins because their snout is shorter. Maybe one of the Balcombs will know. But I bet Thomas White will.
Thanks for the help.
A su salud!
Susea
Auditions continue tonight....

Auditions for a variety of roles in the 18th annual Islands Playwrights Festival were scheduled for last night (Monday) and Tuesday, October 20 and 21, at 7:00 p.m. inside the San Juan Community Theatre's Gubelman Theatre.
The four one-act plays and two monologues by local playwrights were selected by professional judges from throughout the country earlier this year.
Holiday Decorating Contest....
The Town sure gets dressed up for the holidays - here's the word from the Chamber's Debbie Pigman so you can start planning now:
The San Juan Island Chamber of Commerce Christmas Committee is busy with plans for the 2008 Island Lights Fest Christmas Decorating Contest in the town of Friday Harbor. The goal is to turn our town into a "Winter Wonderland" destination for all to enjoy.
Entrants will be divided into five groups: Retail, Real Estate, Accommodations, Lodging, and Services. There are no entry fees. The Christmas Committee encourages everyone to decorate in the spirit of the season, be part of history as we celebrate 100 years of community enjoyment and involvement.
Festive ribbons will be awarded to the First, Second and Third prize winners for best decorated in each of the above groups. Every entrant will be recognized with a certificate of participation.
Judging for the contest will be Thursday evening, December 4, starting at 5:00pm.
Join your neighbors and light up the town, inviting visitors and locals to our 2008 "Winter Wonderland".
The deadline for entry is Monday, December 1. Pick up entry forms at the Chamber office, call 378-5240 or email chamber@sanjuanisland.org for further information.
More about bottled water....
After I mentioned the good reasons not to use bottled water, a reader tacked on this essay on bottled water in the Seattle Times. You gotta read it...you'll look at that bottle of water a whole new way.
Quote
Without wearing any mask we are conscious of, we have a special face for each friend.
Oliver Wendell Holmes
---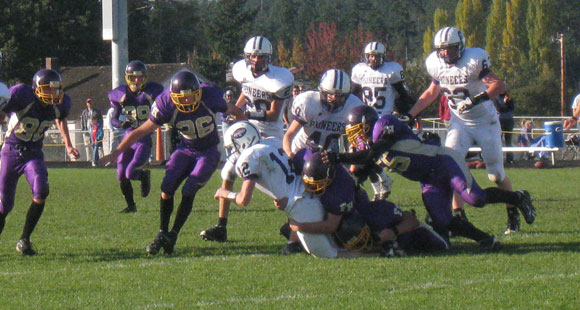 Gotta love our football team - that's the Purple Swarm gang-tackling the
Nooksack QB on Saturday in the homecoming game...in spite of the
team's hustle, Nooksack Valley escaped with a 22-7 win. (Photo by Josie Cleland.)
October 20, 2008
Homecoming was a blast.....
That's FHHS principal Fred Woods and ASB prez Pablo Lopez before the Homecoming Parade on Friday evening...the Parade was great (I have pix for you tomorrow), the dance was great, the second graders singing before the game was awesome, the pep rally rocked, the Class of '98 reunion was well-attended...heck, the whole thing was awesome.
Bead show - it's happening next Sunday....
Peggy Long has so much happening at the Garuda & I - here's more:
If you missed the Da Beads Trunk Show we had on Memorial Day, you now have another chance! Sunday October 26th from 9:00 until 8:00, we will be hosting one of our favorite suppliers at The Garuda and I. Da Beads will be bringing in a great selection of their best beads. Come early for the best deals! We will have coffee and pastries for early shoppers as well as earlybird specials!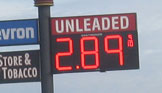 Gas on the mainland....
Yesterday, I was coming toward Anacortes & stopped to get gas at the reservation (right)...prices seem to be dropping all over the place.
It was $4.00/gallon at the Big Store this morning.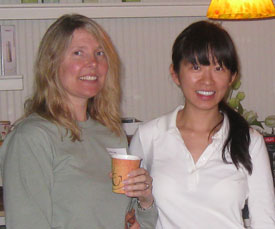 Coffee afficiandos, unite!
On Friday, Ada had a coffee tasting at Mi Piace Coffeehouse, and a lot of people came by.
That's Laurie Spaulding (left, with Ada on the right), who dropped by from the Friday Harbor Labs dining hall to see what the different roasters had to offer.
The idea was that people would help Ada choose between the different vendors who were offering their different wares....I'll ask her and see who she says won.
Meanwhile, she says she's now open 7am-4pm every day except Tuesday, and she has an October special: Buy one panini and get the second one half price!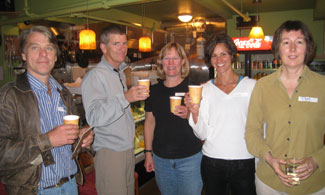 Also, a free biscotti with any 16oz. drink!
Also in attendance (from left): Tom, Howard, Jenny, Gina & Pam. (Photos by Josie.)
Advanced placement classes at the high school....
Ya know, there are a lot of kids taking them....taccording to the school district, this year 38% of the high school students are taking Advance Placement (AP) classes. Out of the 108 students enrolled in AP classes:
* 56 are taking 1 AP class
* 40 are taking 2 AP classes
* 11 are taking 3 AP classes
* 1 student is taking 4 AP classes


Down at the bird sanctuary at Jackson's Beach on Sunday......
Quote
And when ye trust in Him, ye are sure--and need never be afraid of the material things. For, does He not feed the birds of the air? Does He not give the color to the lily, the incense to the violet? How much more is that as may be in His very presence, if ye apply self to become worthy of acceptance in His home.
Edgar Cayce