December 11, 2008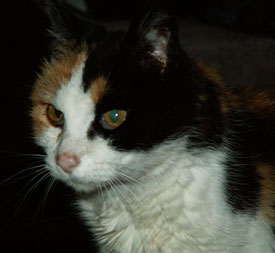 Home at last....
Leslie from the Animal Shelter sent me this cool little story to share with you:
Christmas miracles do still happen, no matter how small. Case in point, the Friday Harbor Animal Shelter. On October first, a local contractor brought in a very thin, sickly, old calico female cat. He had found her at a house he was working on. He had seen her hanging around for about a month after the previous family moved away. He regularly took food to her, but noticed she was losing weight rapidly and decided to bring her to the animal shelter. Upon her arrival, the shelter staff named the cat 'Crystal' and put her into a warm cage with soft bedding, food and water.
On evaluating the cat's health, the shelter vet decided to have blood work done on her for a deeper look. Crystal was found to have hyper-thyroidism and was put on medication to help rectify this. Over the course of the next few months, Crystal began to gain weight. Even though her thyroid problem was coming under control, Crystal was still frail due to her age. The shelter staff made her an office cat and felt Crystal would live her life out with the shelter crew.
Last week, upon seeing our fall newsletter, a very nice couple by the name of Ann and Don Jarrell came to the shelter in search of a specific cat they saw in the publication. They pointed out Crystal's picture and asked if they could meet her. Crystal was asleep in one of the bookcase cubbies in the office. Upon retrieving her out of her bed, the woman pulled out of her pocket a picture of a cat they had lost 3 years earlier. It was the same cat! Her real name was 'Marie'. Ann scooped up the cat in her arms and she was purring within seconds. Ann and Don explained to the staff that 'Marie' had left home about 3 years ago when a new cat was brought into the house. Because of her age, they assumed she had possibly been injured or died in the wild.
After a short consideration, Ann and Don decided to take 'Marie' home to live out her life. The staff had to hold back their tears in saying goodbye to Marie, and sent her home with her family.
Two days later, the shelter director called the Jarrell's to check up on Marie's progress. Ann told the staff that upon Marie's arrival home, she immediately found her favorite spot on the back of the love seat, and proceeded to claim it back as hers.
Ann also informed the shelter crew that Marie was always their son's favorite pet. Their son and his wife will be coming home for Christmas, and they do not yet know of Marie's return. The Jarrell's are hoping to save that for a surprise!
Christmas miracles do happen, no matter how small.
Speaking of miracles....
You can be part of making one happen, even without a cat - here's more from Bonnie Gilmore:
As United Way of San Juan County wraps up its campaign, we look forward to continuing to provide essential support to more than thirty human services programs in 2009. For more than a decade, your United Way has worked with local programs to make a significant community impact; helping hundreds of individuals, children and families throughout our county. In November of each year, agency programs develop and submit grant requests to United Way which are carefully reviewed and considered by a committee of qualified professionals. Requests for funding for 2009 exceed $165,000, representing a significant community need. Your financial partnership will make a valuable difference in our ability to continue help others.
As you plan your holiday giving, please consider the following:
More than thirty local programs depend on United Way for their operating expenses; those funds that allow them to keep their doors open day after day and provide services for the entire community. United Way of San Juan County is unique in that we do fund operating expenses and not only capital projects.

We understand that there are many organizations asking for your donor dollars – that's one of the benefits of helping through United Way where your dollars can reach literally hundreds, expanding the impact that your donation makes.

We're cost effective. We take on the expense of fund raising, leaving agencies to do what they do best – provide services to those who, particularly in our difficult economy, need help the most.

You can give with trust and confidence, knowing that the United Way Board is made up of local professionals who carefully screen how donations are spent in order to make certain that real changes come about because of your investment.
Please include United Way of San Juan County in your holiday giving, remembering that we are not one organization asking for your help, our message is on behalf of many. Donations should be sent to United Way of San Juan County. P.O. Box 3181, Friday Harbor, WA 98250.
Thank you in advance, and happy holidays!
Bonnie Gilmore, Executive Director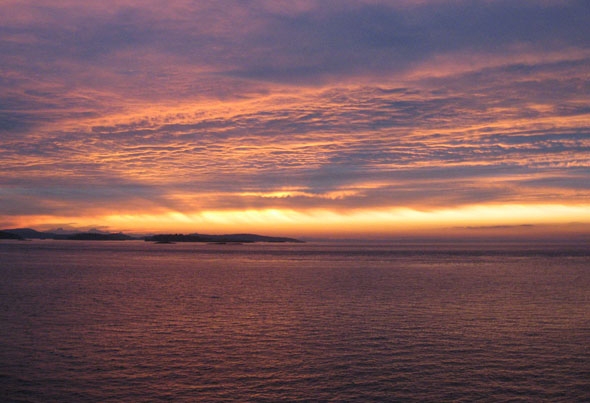 From Steve Marler: Hi Ian! Your sunset photo in last Friday's Update was great. On Saturday morning, I snapped the attached photo of an equally impressive sunrise from Cattle Point. "Red sky at night, sailor's delight. Red sky at morn, sailors take warn." If you get both within 24 hours, does that mean the weather's going to be just fine? :o)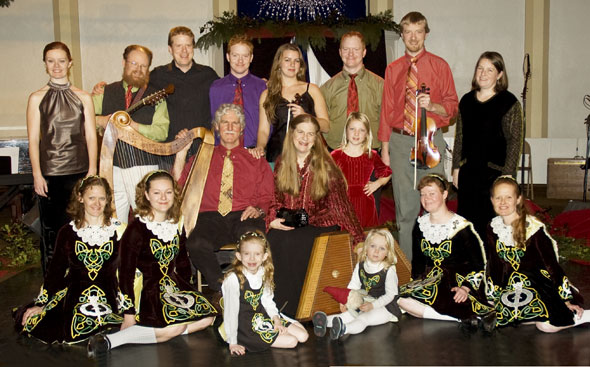 Celtic music at the Community Theatre tonight (with the group above!)....
I heard these guys a couple of years ago, and they're awesome! Here's more from Jan at SJCT about Magical Strings:
The Holidays Take a Celtic Twist on Thursday, December 11: Seattle-area media call them the "Von Trapp Family of the Northwest."
Philip and Pam Boulding have been sharing their musical magic with worldwide audiences for 25 years, intertwining Celtic roots with classical/world music influences.
On Thursday, December 11 at 7:30 p.m., the Bouldings bring their children and friends to the San Juan Community Theatre as they present Magical Strings, a Celtic yuletide concert and festival of music, dance, singing, story-telling and juggling on the Whittier stage.
The gala unites three generations of performing artists and weaves the music of different lands into a tapestry symbolizing the timeless yuletide journey from darkness to light. Joining the Bouldings will be the Raney Irish Dancers, Scottish fiddle band, The McKassons, juggler virtuoso Thomas Arthur, and vocalists Mark and Colleen Raney.
The Washington Post has called the family's performances "warm, graceful and sonically gorgeous…." Learn more about this musically-talented family at www.magicalstrings.com.
The evening's business partners are Juniper Lane Guest House and M & W Auto. Tickets are $22 for adults, $11 for student reserved, with $5 student RUSH available at the door. A private donor has made provision for free tickets to anyone needing financial assistance to attend a Theatre event.
Winners of the Chamber of Commerce Decorating Contest!
Debbie says these are the winners:
The categories and winners of the 2008 Island Lights Fest Decorating contest are:
Lodging
First Place - Earthbox Motel & Spa
Second Place - Best Western Friday Harbor Suites
Third Place - Birdrock Hotel

Real Estate
First Place - Island Group Sotheby's International Realty
Second Place - John L. Scott Realty
Third Place - Windermere Realty

Services
First Place - Islanders Bank
Second Place - Printonyx
Third Place - Stillpoint School

Restaurants
First Place - Roy's Espresso
Second Place - Vinny's Ristorante
Third Place- Rocky Bay

Retail
First Place (tie!) - Dominique's House and Bison Gallery
Second Place - The Toy Box
Third Place - Home Port Flooring
Quote
Frisbeetarianism is the belief that when you die, your soul goes up on the roof and gets stuck.
George Carlin
---
December 10, 2008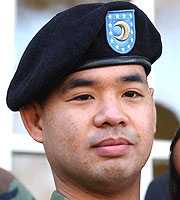 Chaplain Yee to speak....
Tonight at St. David's, Amnesty International is sponsoring a talk by Chaplain James Yee at 7pm. A Muslim clergyman, he was detained by the US after objecting to the treatment of prisoners he witnessed at Guantanamo Bay prison. Not to be missed...here's more about the presentation.
Sound - and its effect on the killer whales....
Scott Veirs was interviewed by KOMO...here's more.
Got your wreath yet?
Ginny from the Class of 2009 says there area few left (that's mine on the office door, here at By Design):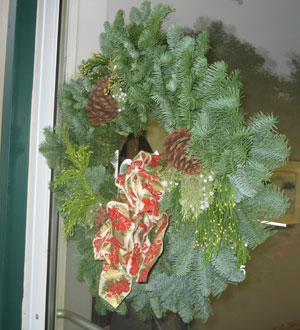 FHHS PTSA has holiday wreaths available. Please call Ginny at 317-5820 or email virginia015@centurytel.net to order. We will be glad to deliver or they will be available for pick up in town. Wreaths are fresh and fragrant with a holiday bow for $25. These wreaths make wonderful gifts! Happy Holidays!
Dorothy's birthday!
Janna Gingras told me you're invited to drop by the bowling alley - this is pretty cool:
Hi Ian ,
I don't know if you know Dorothy Martyn. She is our neighbor and also on our Wednesday Night bowling team (along with Dana Bune, Marie DiCristina and Liz and I.)
Dorothy is turning 85 on Wednesday and the whole bowling league is going to surprise her with a cake, cards, balloons, etc. Bowlers get there about 6:15 and bowling starts at 6:30, if you want to drop in and wish her a happy birthday and take a picture.
Janna
Time to get fit!
There's a new fitness club on the island, according to Heather Clark, who will be operating the club with her husband Ken - here's more (and here's their website):
A new fitness center is opening on San Juan Island in January 2009. The new gym, Xtreme Fitness San Juan Island, located in the Beaverton Business Park at 70 Saltsprings Road (3/4 of a mile past the library), will allow islanders and visitors alike affordable access to a great selection of fitness equipment in a 4,000 square foot open floor plan. The gym will feature affordable membership, flat screen televisions, over 5,000 lbs. of free weights, child sitting, a variety of heavy and speed bags, cardio equipment, circuit training machines, a relaxation lounge, espresso and juice bar, as well as off-hours unattended secured gym use.
Xtreme Fitness San Juan Island is a family owned and operated fitness facility, and at its helm is owner Ken Clark. Ken is a professional stuntman. You may have seen his work on films such as Indiana Jones, CSI, Sopranos, and over 100 other film and TV credits. Ken knows the importance of keeping physically fit. The ability to withstand the physical punishment doled out by the stunt profession is directly related to what kind of physical condition one is in. In between taking stunt jobs in Hollywood and working frantically on getting this new business off the ground Ken is a volunteer firefighter for the county, and is working with the department as their fitness coordinator.
"Don't let the name fool you, at Xtreme Fitness SJI we are confident that we offer everything you need to add strength, drop pounds and increase your stamina, no matter what your fitness level, and we offer a clean comfortable environment to do it in", explains Ken. Adds wife Heather, "I just think you need to take care of the body you have, whether you are a bodybuilder, a runner, a retiree, a house wife or all four…"
Ken and his wife of thirteen years, Heather, moved to San Juan Island almost 4 years ago to raise their two young girls away from (as their six year old would say) "the hustle and bustle of the big city". They have never regretted their move. "It is the absolute best place to raise children, a really amazing community", says Heather.
You can contact Xtreme Fitness San Juan Island via their website at www.Xtremefitnesssji.com or come on by and get a pre-opening tour.
Adds Ken, "We are really looking forward to serving you and hope to provide you with the support you need to achieve your fitness goals."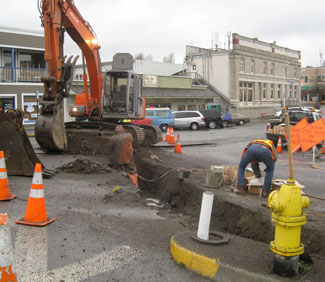 Still working on the streets....
The Town's gonna suspend work on the sewer project (as mentioned below) so that folks can shop for the next couple of weeks...so they're working hard till Friday at the top of the ferry lanes, as you can see.
Quote
The Eskimo has fifty-two names for snow because it is important to them; there ought to be as many for love.
Margaret Atwood

---
December 9, 2008
Pretty sure it's gonna snow....
The reports are calling for cold & probably snow this weekend....here's a good checklist to run down to make sure you're ready for crummy weather on our beautiful island - click here.
Dead Man's Bay....here's why it's called that.....
I know you've wondered, 'cause you asked me. Here's the story of why it's called Dead Man's Bay, mixed into this story about where Deception Pass gets its name. - click here.
Kinda gross. We'll check in about Smallpox Bay & Massacre Bay a little later.
History online....
The first of what promises to be a treasure trove of historical documents has been placed online by a joint program of the Historical Museum & the Library - click here for more, and to see the pictures.
Blood drive...it's tomorrow....
What ya do - is you look at your calendar of stuff you gotta do, then make an appointment with yourself to drop by the Grange sometime between 12 and 6 on Wednesday & donate blood.
You'll feel better about yourself if you do, I promise.
Band concerts set....
Tonight it's the middle school band concert at 7pm at the Communty Theatre, followed Wednesday at 7pm with the FHHS bands. Free - and a chance to see the island's kids at their best. See ya there!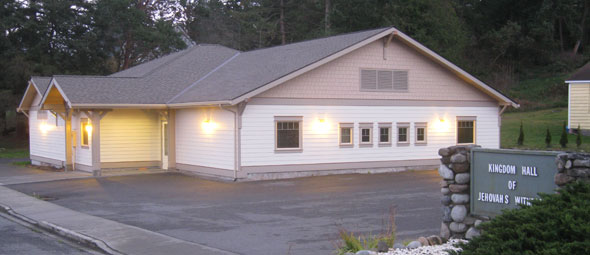 Sure looks & feels better - the Kingdom Hall was renovated by scores of Witnesses
from all over western Washington, and looks brighter & cheerier with its new
windows (it now HAS some), new roof (much needed), and fresh coat of paint.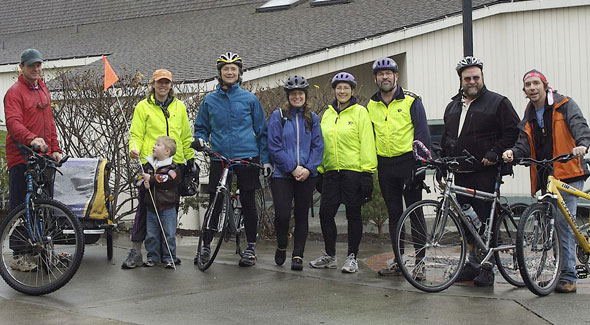 The Family Bike Ride on Saturday was awesome...Participants included (not in any order, above) Jeff, Tracy & Dylan Roberson, Sally Hawkins, Scott Boye, Dick Coffey, Michael and Betsy Wingren, Tim Dustrude, Shannon Dean, Wayne Helgoth, Paul Ahart, Judy & Dick Packard, Tom & Maria Small. Some riders went straight home after the ride and so are not included in the group photo.
Quote
For every minute you remain angry, you give up sixty seconds of peace of mind.
Ralph Waldo Emerson
---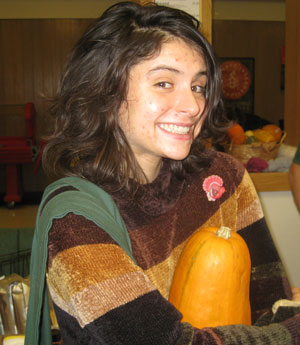 December 8, 2008
Farmers' Market was cool - that's Sarah from Café Demeter last weekend with her purchase...the Market was open in the FHHS Dining Hall, and will be happening next on Saturday the 20th, same place.
I also like how they're now calling the former Commons the Dining Hall, on the strength of the Experience Food Project. Kinda reminds me of Hogwarts....
Olga podcast ....
Bruce Harvie's podcast from Radio Free Olga features San Juan Island musicians (even me!) this week - check it out!
Sewer update....
Nice move, I'd say - Debbie Pigman from the Chamber reports they're gonna suspend operations for a bit:
Last Thursday the Friday Harbor Town Council approved a request from concerned business owners to silence the Strider Construction operations of the Sewer Project from December 15-December 29, Although the cost of the silence is about $9,000 for the Town, the Council recognizes the importance of this holiday shopping period and the negative affect the ongoing road and parking disruption would have on retail sales and services.
Merry Christmas!
Debbie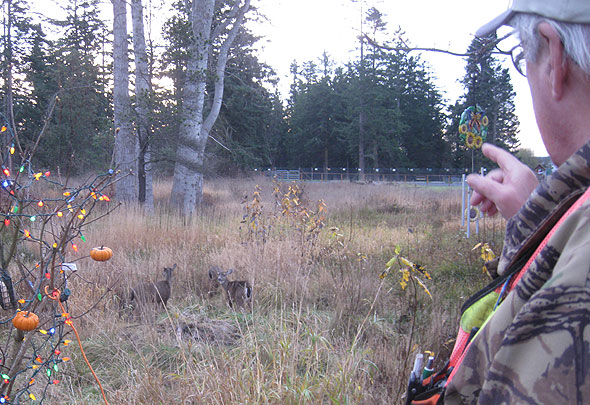 When I stopped by to say hey to David at the exit of Browne's Home Center (he's the guy who checks the loads & tell ya to have a Marvelous Monday), he took a moment to introduce me to his crows, some chickadees, and the deer you see above, who were hanging around most of the morning. That's the Dog Park in the background, by the way.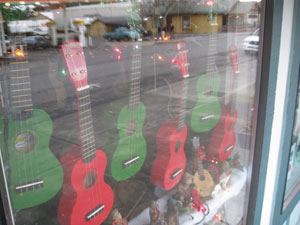 Christmas at Isle Be Jammin'.....
Those are Kirk's color-coordinated ukeleles in the window of his music shop next to The Spirit Tree on Argyle...you know, you CAN give the gift of music to someone for Christmas. Get your loved one a gift certificate with Kirk teaching 'em guitar. Think about it.
Speaking of the Spririt Tree....
Just talked to Kenneth - he says he's closing the shop, and has a sale going on right now till December 24th. Drop by & say hey - I really like what he's doing there - it'll be cool to see what his next project is.
Passing...
When I was coaching the FHHS girls soccer team about ten years ago, one of the things that brightened the girls' and my day was Vi King coming out to walk the track while we were practicing. She'd cheer for us & we would cheer for her....she passed away Friday at the age of 91. The San Juan Islander has more...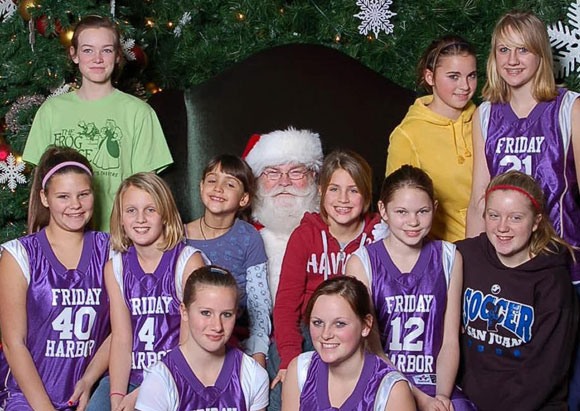 Andra reports on Tiger basketball: The middle school Lady Tigers just finished up their S.W.I.S.H. Basketball season with an impressive 5 and 3 season. The girls will finish play with a post season tournament on December 20th at Skagit Valley College. After victories over Orcas, Coupeville, Sedro Wooley, Stanwood and La Conner the Lady Tigers go into the tournament as the #3 seed out of 9 teams. Pictured, in no particular order, Elizabeth Starr, Santa Claus, Kelly Ashcraft, Sierra Truesdale, Ashley Brown, Kaylen and Kendra Meeker, McKinley Pillsbury, Kai Williams and Jean Melbourne. Also pictured, ball girls Samantha and Andie. Not pictured, Tabatha Keane and coaches Marty Starr and Patrick Pillsbury.
All of the above would like to wish the island Happy Holidays and give special thanks to Friday Harbor Athletic Association for making it happen. We'd also like to thank High School players Brooke Janguard and Maggie Anderson for pointing us in the right direction.

Quote
Tt's been 33 years since the the Arizona (St. Louis, then) last won a division title, but the NFL team clinched it yesterday.
"My coach was like, `Act like you've been there before, act like you've been there before,"' defensive tackle Darnell Dockett said. "I said `Coach, I ain't been there before. I don't know how to act right now."'