January 2, 2009
Basketball at FHHS....
Home games today & tomorrow - check the Calendar!
If you thought yesterday was cold....
The weather report says it may get as low as 25 degrees tonight, with an inch of snow - stay warm!
Meanwhile, yesterday people around the island jumped in the water for a polar bear swim...here's the "before" picture from Lauren Cohen as her husband Derek Steere & some friends took the plunge (click here for the "after" picture"....):
Happy New Year...oh and a belated congratulations on your wedding! I thought you might like to see how a crazy group of Islanders (and a few friends) spent New Years Day.
They did a Polar Bear Swim at San Juan County Park. I've attached a before and after photo. They are (left to right in the before photo):
Derek Steere, Shelley Alan, Elaine Columna, Derek Columna, Sharyn Columna, Francie Hansen, Parin Columna, and Abby the Dog.
Hope all is well!
Lauren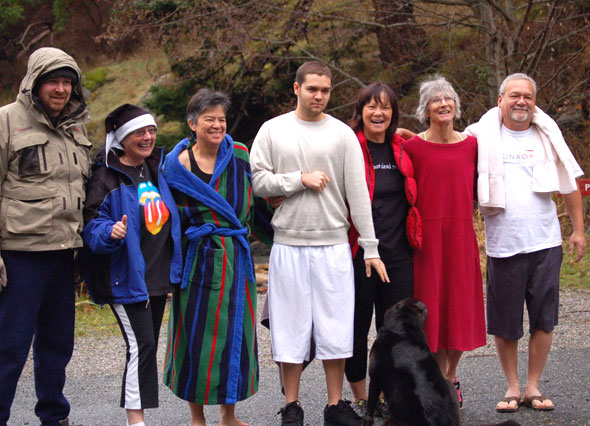 The Report on Dan....
We knew something was up when the last three shows of Jacob Marley's "Christmas Carol" were unexpectedly cancelled.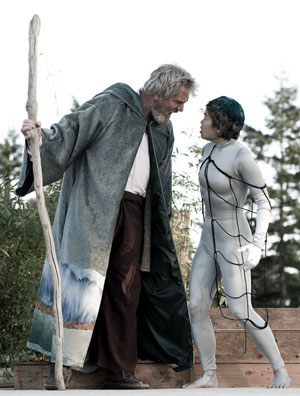 The good news, as we see in this note from Helen, is that Dan (right, in a photo by John Sinclair from last summer's The Tempest) is doing OK:
Would you please let folks know that Dan's bypass surgery went well yesterday. He is still in a great deal of pain and his blood pressure is low, but he is being well looked after, and we expect to return home next week sometime, all being well. He is in ICU for another day at least - at St Joseph's in Bellingham, then will be in the cardiology department.
Many thanks to all for the kind words and thoughts, plus special thanks to Krista Strutz (who is with me), Dave and Mary Zaretske (in whose house we are staying) the EMT crew, the Sheriff and all who helped strike the Jacob Marley set out at Roche.
Apologies to any audience members who didn't get to see the show, but we hope to reprise it next year when Dan is well and fit.
New Year and new heart!
All the best to all,
Helen
Quote
The idea that men are created free and equal is both true and misleading: men are created different; they lose their social freedom and their individual autonomy in seeking to become like each other.
David Riesman
---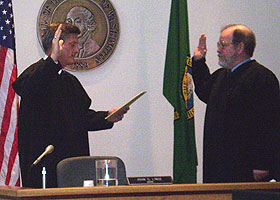 January 1, 2009
Our judge takes office...
After years of sharing a judge with Island County, the county got its own when John Linde was appointed a couple of years ago.
With last year's election, Judge Linde was selected to continue his term of office, and was sworn in yesterday by San Juan County District Court Judge Stewart R. Andrew as the first elected San Juan County Superior Court Judge.
Way to go, John! (Photo by Joan White)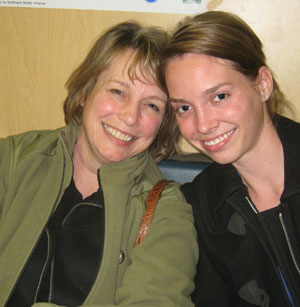 The gospel according to Paull.....
It was cool to see ace FHHS teacher Ruthie Paull on the ferry a couple of nights ago, with daughter Ashley (FHHS '02), who is working on her doctorate in physical therapy.
How to spend Christmas on an island....
Kayla from Issaquah came to see her parents over Christmas here on San Juan Island, and she's pretty funny as she writes up the experience in her blog - check her out here!
It's especially good if you like donuts & prefer salmon for Christmas dinner.
Everything changes....
Especially the ferry schedule...you know this weekend is the weeknd it switched to the winter schedule - check & it out before you travel, or you'll be early for the next ferry....
About Ken....
You know Ken Clark, the guy who is opening Xtreme Fitness this month? Here's the little writeup we did about him a few months ago when he was firefighter of the month....check it out!
Also, Ken says they have gift certificates for friends for the new year. Also, he says he will be offering all interested inquirerers a week free trial run...here's more about Xtreme Fitness.
Island boy gets the business going....
Levi Clark (right) just launched his new website - check it out! He's been doing masonry for over ten years now - see what you think!
Speaking of gift certificates.....
If you're into getting a certificate for someone, heck, check out yoga at Shantaya. I went to Stephanie's class last Friday & it was pretty awesome - she does a great job. Give her a call today - you've always wanted to try it - this is a great time to start!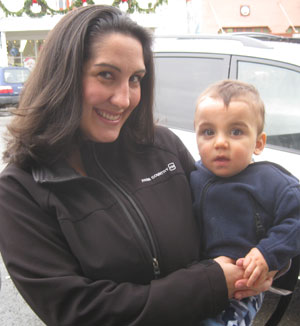 Another baby islander....
It was good to see Lindey Buck with her boy Leon in the streets the other day (right) - she's a good mom - you can tell by the glow.
You know it's this weekend, right?
The Christmas Bird Count is this weekend - if you're ready to sign up to help, check here for the details!
This is the Audubon's yearly deal, which was switched from a couple of weeks ago because of the ice & snow.
All of us - read the book.....
Beth from the Library reports:
"One Community—One Book: San Juan Island Reads "Folly"
As one component of the centennial celebration of Friday Harbor's 100 years, the San Juan Island Library is encouraging adults and teens to read the suspense novel "Folly" by Laurie R. King. It is a chilling mystery if a woman who begins a desperate undertaking that may transform her life—or end it. The novel is set on a fictional island in the San Juans. Its heroine, Rae Newborn, is a woman on the edge: on the edge of sanity, on the edge of tragedy, and now on the edge of the world. She has moved to a tiny San Juan Island named Folly to restore the house of an equally haunted figure, her mysterious great-uncle.
But as her life begins to rebuild itself along with the house, powerful forces are stirring. It is the story of what happens when your worst fears aren't all in your mind.
Multiple copies of the book are available in paperback, large print, and audio CD formats from the San Juan Island Library. English classes at the Friday Harbor High School will be using the book in the curriculum.
The novel was chosen in conjunction with the San Juan Community Theatre's production of Thorton Wilder's classic play, "Our Town." One reason for the selection of "Folly" was because of the way it treats the theme of community in Friday Harbor.
The library will be hosting best-selling and award-winning author Laurie R. King February 11 at 6:00 p.m. King will be speaking at the Friday Harbor Grange Hall on "Community in Our Island Town." The One Community—-One Book program is supported with Library Services and Technology Act Funding provided by the federal institute of Museum and Library Services through the Washington State Library, a division of the Office of the Secretary of State.

Geese on the lawn of that little farmhouse on Mullis Street last week in the snow.
---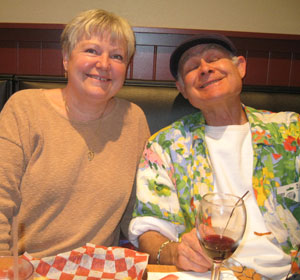 December 31, 2008
Dan Levin (right) doesn't just make great jewelry - seems to me he makes people's lives happier, too...I don't believe I've ever seen him & Diane when they weren't smiling.
Today's the day....
County Clerk Joan White tells me the swearing in is today:
Today at 12:05pm, The Honorable John O. Linde will be sworn in as the First Elected San Juan County Superior Court Judge in the Superior Courtroom on the Second Floor.
Of Malls & Italy.....
It tickled me a few years ago when we had a production at Christmastime of "Amahl & the Night Visitors" happening, and I saw County Commisioner Darcie Nielsen & asked her, "Are you going to Amahl for Christmas?" and she replied, "No, I always shop locally."
Similarly, I asked someone if they were going to Grease next week, and they said, "No, but I've always wanted to go to Italy."
What, no meat?
If you're thinking about decreasing or ditching meat in your diet for the new year, this article will be interesting to you - check it out!
Quote
Brains, integrity, and force may be all very well, but what you need today is Charm. Go ahead and work on your economic programs if you want to, I'll develop my radio personality.
Gracie Allen (1895-1964)

---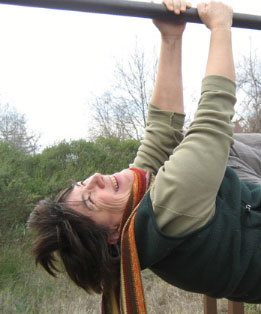 December 30, 2008
New Year's Party on tap at the Mullis Center....
Here's more details...bring the kids!
Checking in on Beth....
I dropped by yesterday to ask Keith at Harbor Books how Beth Hudson (right) is doing in the hospital. It still all sounds very serious & she's still in critical condition. He sent me some pictures of her from her daughter Bridget to share, including one of them together - click here to see them. You can drop by Islanders Bank & make a donation to her healthcare fund, if you like.
And get well, Beth....
Sign up for classes...
Hard to believe it's time to think about school - don't we have another week?!!?? But it's time to plan if you're going to register for classes at Skagit Valley College - San Juan Center next week. Click on the "What's Hot at Skagit!" button to the left for the catalog of what's offered in Winter Term.
And yep, there's still room in my Photoshop class - but it starts Monday, so sign up!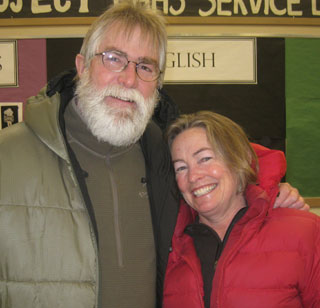 It was good to see Gary and Marilyn at the Farmers' Market a week ago - can you tell he's growing his beard for the Centennial Beard Growing Contest? Ho, ho, ho!
Happy New Deer....
There were deer outside Alex Shapiro's house the other day - here are some of her pictures.
Meanwhile at the Coho....
Ana Maria not only wrote in with news about the restaurant, she even wrote a song for you:
Well the weather outside is frightful,
But inside is so delightful,
There is no better place to go,
Then to Nichols Street and Coho!
Ring in the New Year with Coho Restaurant! Join us for our Food and Sparkling Wine Extravaganza - 8 courses paired with 7 sparkling wines. Seating is limited. For reservations, please call 378-3587 or email reservations@cohorestaurant.com. We look forward to beginning 2009 with you.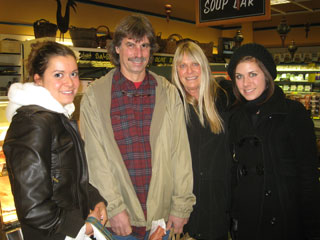 That's the Mancuso family at the grocery store: soon-to-graduate-from-college Ariel (left) and just-graduated-from-college Ayanna (right) were shopping with Yvonne & Bob last week.
Half off...
Teri at Dominque's Clothing tells me everything in the store except for jewelry is half off! Starting today! Go see!
On sale till Groundhog's Day....
With a slogan like "Like will power, only easier," you know islander Rebecca Barnard has a good idea. Check here to learn more about the way she invents, develops, designs and manufactures motivational systems for everything from weight loss to sleep to quitting smoking, all based on the science of olfactory memory and the brain's ancient limbic system. And...LIMBASLIM is 10% from now till February 2. She tells me the LimbaSlim system now comes in a beautifully designed, reusable jewelry-style box, and the LimbaSniffer is upgraded to a very snazzy metal one.
Did you know James Weber does the guitar and sound engineering on the CD?
Please tell your friends!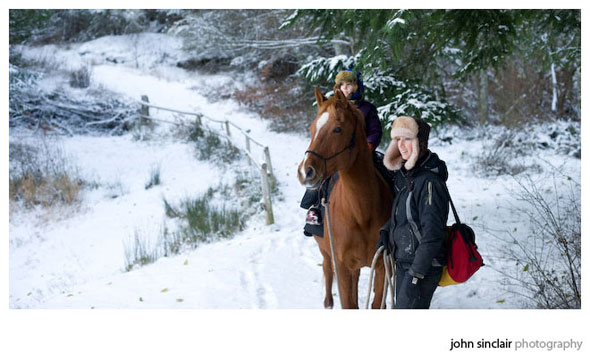 That's Cameron on horseback, with Elsa in the snow. Photo by John Sinclair.
New board members....
I just got a note from Debbie Pigman telling me who the new board members are for next year:
I am pleased to announce our 2009 Chamber of Commerce Board of Directors: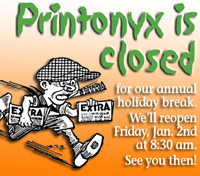 Joy Sevier - San Juan Wireless, President
Peggy Long - Garuda & I, Naknek Charters & Diving, Vice President
Yvonne Swanberg - San Juan Vineyards, Secretary
Ruth Offen - waterworks gallery, Treasurer
Mike Taylor - Whidbey Island Bank
Mark Gardner - Rainshadow Photographics
Julie Corey - Friday Harbor Mortgage
Libbey Oswald - Valmark, Inc.
Sam Jacobson - Roche Harbor
Mike Close - San Juan Island Marine Center
Nancy Hanson - The Toy Box, Immediate Past-President
What is a sno-orca? Or snorka?
Kari Koski reported one in her front yard - check it out.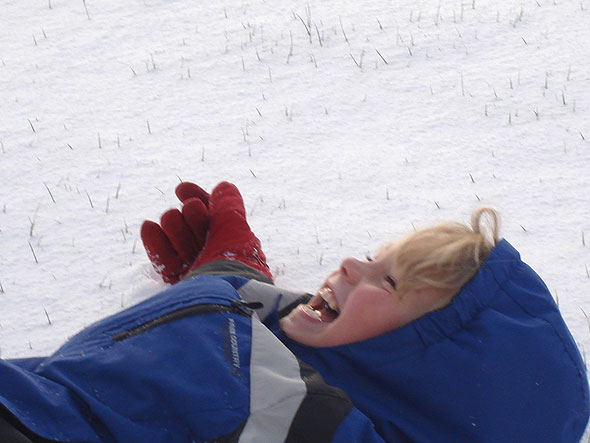 That's Jeanine Earnhart's grandson (and Laura Holden's son) Silas in last week's snow - she says, "Snow just makes ya laugh! At least Silas Holden thinks so! Ian, this is my grandson, and his laugh says it all!"
Quote
A dreamer is one who can only find his way by moonlight, and his punishment is that he sees the dawn before the rest of the world. - Oscar Wilde